Printer Specification
1 USB 2.0; 1 Ethernet; 1 Wireless 802.11b/g/n
464.058 x 560.07 x 145.542 mm
HP 6230
Inkjet Printer
The HP 6230 Printer is specifically engineered to enhance productivity and facilitate mobile printing. It enables the creation of professional color documents and marketing materials at a more economical cost per page compared to laser printers. Additionally, it offers the convenience of effortless mobile printing. This printer is compatible only with cartridges that possess a brand new or reused HP chip. To ensure the effectiveness of its security measures, the printer regularly receives firmware updates, which enable it to block cartridges with non-HP chips, even if they were functional in the past. By utilizing a reused HP chip, users can take advantage of reused, remanufactured, and refilled cartridges.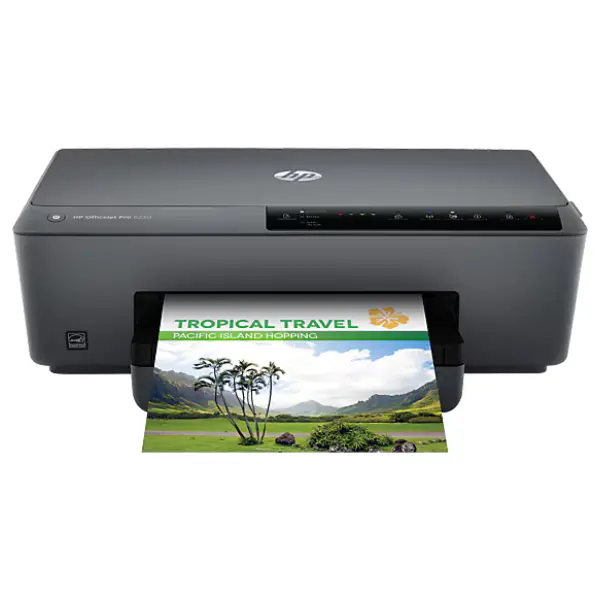 Professional colors are cheaper than lasers:
The HP 6230 Printer utilizes Original HP pigment inks to deliver prints of professional quality. It is a budget-friendly choice for those who require frequent printing, thanks to the availability of high-yield individual ink cartridges from HP. With fast printing speeds of up to 18 pages per minute (ppm) for black-and-white and 10 ppm for color, it ensures efficient and timely printing. Moreover, the printer offers the convenience of automatic double-sided printing, enabling users to save up to 50% on paper. It also allows for the creation of borderless color brochures, enhancing the versatility of printed materials.
Print on your terms:
The HP 6230 Printer provides the convenience of wireless printing from various devices such as smartphones, tablets, and notebooks, eliminating the requirement for a router or local network access. Additionally, it enables on-the-go printing of photos, documents, and other content through the HP ePrint feature. Connection to a local network and the internet can be established wirelessly or via the 10/100 Ethernet port. To enhance productivity, users can take advantage of the free HP Mobile Printing app, which offers additional features and functionality.
Performance features to keep your business running:
The HP 6230 Printer features a spacious paper tray that can hold up to 225 sheets, reducing the need for frequent reloading and accommodating large printing tasks. With a robust monthly duty cycle of up to 15,000 pages, it is designed to deliver consistent and reliable color printing. For long-lasting prints that resist fading over time, HP advises the use of ColorLok® paper to achieve optimal quality.
2-sided printing:
The HP 6230 Printer offers seamless wireless printing from mobile devices, eliminating the requirement to input a Wi-Fi code or password. This convenient feature enables effortless printing directly from your mobile device, eliminating the need for any additional steps or information entry.
Unleash your printing:
The HP 6230 Printer is equipped with an automatic duplex printing function that enables printing on both sides of a page. By utilizing this feature, users can reduce paper consumption by up to 50%, resulting in cost savings and a positive environmental impact.
With HP ePrint, you can print from virtually anywhere:
The HP 6230 Printer offers the convenient HP ePrint feature, enabling users to print photos, documents, and other content while on the go. With HP ePrint, you can utilize your mobile device to send an email or attachment directly to the printers unique email address, and the printer will promptly print it for you. This functionality allows for printing from smartphones, tablets, and notebooks, even in the absence of a local network connection.
Printer remote control:
The HP 6230 Printer can be conveniently managed using the HP All-in-One Printer Remote app on a smartphone or tablet. This app grants users remote control and management capabilities, enabling them to monitor ink levels, check print status, and even print documents and images from their mobile devices. Furthermore, the app facilitates scanning and saving of documents and images directly to the mobile device, with the added ability to share them via email or cloud services. It offers a convenient and flexible solution for managing and controlling the printer from any location.
Easy mobile printing from HP:
The HP Printer provides effortless printing from smartphones, tablets, or notebooks, whether you're in the office, at home, or on the move. It offers a high level of convenience and flexibility, enabling you to print from any device, regardless of your location or the time of day. This feature is particularly valuable for individuals who require the ability to print documents or images while they are away from their usual office or home setup.
4 individual inks:
The HP Printer utilizes individual ink cartridges, allowing for the replacement of only the specific cartridge that is depleted. This approach offers both cost-efficiency and flexibility in ink usage since you are not required to replace all cartridges simultaneously, but only the one that is running out of ink. This feature is particularly advantageous for individuals who print infrequently or predominantly use one color, as it prevents unnecessary waste and expense.