Point Of Sale Spec
DC Input: +24VDC±10% AC Input: 100 - 240V, 50/60Hz, Single Phase
Find similar
Fujitsu

FP2000
Receipt, Printer,
No.1 printing speed in POS thermal printer:
The maximum is 400 mm / sec. Printing speed FP-2200. This is the world's first thermal printer for POS printing. The FP-2100 and FP-2000 also print faster than previous models Optimized motor / firmware technology and fast paper feed increase productivity. This saves customers from wasting time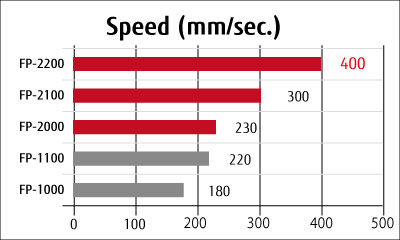 Printing thin paper 53µm:
30% Discount for paper consumption operating expenses The FP-2000 series supports printing on thin paper 53 microns Compared to the 75 micron thickness, the checksum consumption difference is 30%. The FP-2000 series helps to reduce paper consumption by end users. Paper 53 50m 50mm wide and 58mm wide is not supported.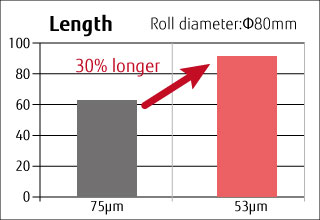 Paper curl adjustment functions FP-2200 only:
As the edges of the roll paper get closer, the curl of the paper becomes stronger, making it difficult to transfer the receipt directly and display the surface of the receipt.
Selectable interface cards to accomodate end users needs:
USB is a standard interface card with a drawer connector and an AC connector on the main board. In addition, several optional interface boards are available, depending on the end user's environment.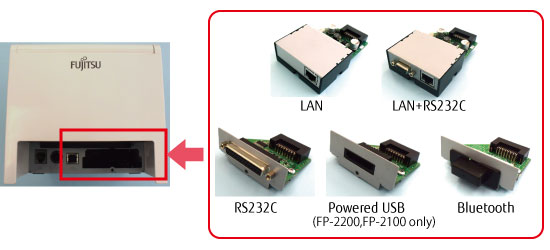 Similar printing quality with major printer maker:
The FP-2000 series has added "180dpi mode" as a new function. The print result after replacing the POS printer using the FP-2000 series is the same as this situation. One thermal head can print at 203dpi and can simulate print results at 180dpi.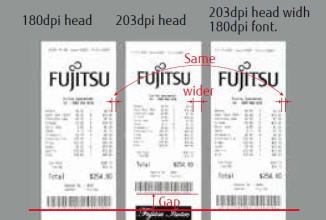 Automatic optimum printing mode:
The printer calculates the density of the print data before printing. Depending on the print density, the printer adjusts the output and speed for crisp printing. The FP-2000 series maintains high print quality even with low power consumption of the POS system.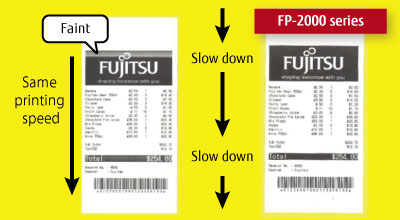 Completed drivers and software:
A variety of drivers and software are available with a simple software installer that prepares the drivers and software needed to connect.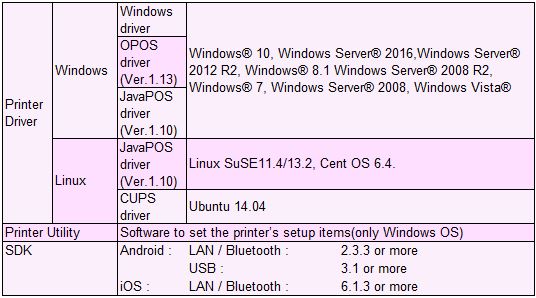 Support of decreasing rush current FP-2000, FP-2100 only:
The FP-2100 and FP-2000 are supported by lower surge current circuits to reduce peak surge inrush current. This support prevents the printer system from crashing if the specified FUJITSU AC adapter is not used or if a powered USB port is used.