Printer Specification
Copy ,
Network ,
Print ,
Scan ,
Wi-Fi
Epson L6190
Wi-Fi Duplex All in One Ink Tank Printer
The compact integrated tank design allows for convenient and space-saving usage.
Achieve fast print speeds of up to 15ipm for black and 8.0ipm for color.
Experience the convenience of auto-duplex printing, which enables printing on both sides of the paper automatically.
The printer is equipped with fax and ADF (Automatic Document Feeder) capability for added functionality.
Connectivity options include Ethernet and Wi-Fi Direct, providing flexible and seamless networking capabilities.
Enjoy borderless printing up to A4 size, allowing you to create professional-looking prints without any borders.
Refilling ink is a spill-free process, ensuring a clean and hassle-free experience.
The printer comes with a warranty of 2 years or 50,000 pages, whichever comes first, providing peace of mind and assurance.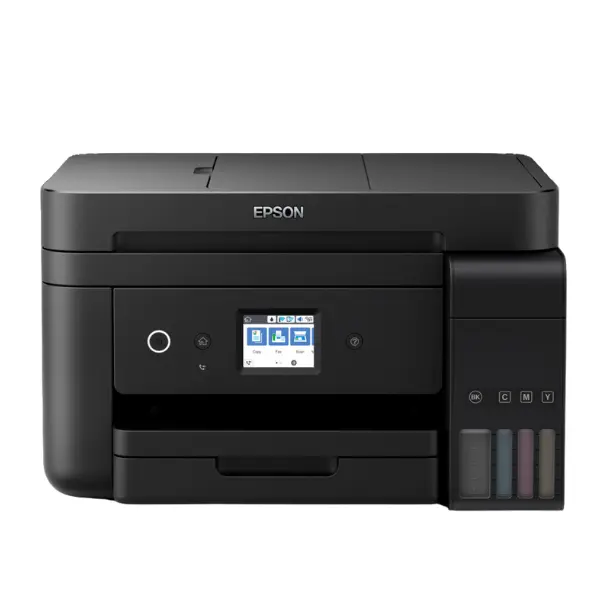 Maximum speed, low duplex cost:
The Epson L6190 Ink Tank Printer offers fast and borderless printing up to A4 size. Its PrecisionCore™ printheads enhance print speed, making it more efficient. The printer features a compact design with built-in ink tanks, taking up minimal space. Additionally, it uses cost-effective ink bottles and has an automatic two-sided printing feature that saves paper. With the EpsonConnect network printing feature set, you can broaden your connectivity options. this Epson printer provides an affordable and convenient solution for your printing needs.
Compact design, spill-free refilling:
The printer incorporates a new, compact and elegant reservoir design, offering the smallest footprint* of any ink tank printer using sealed ink tanks.
Enjoy packaging with unique open bottles that fit just for each tank.
Excellent quality and cost reduction:
You will be amazed by the reliable quality provided by the high resolution of 4800 dpi. The L6190 prints black and white documents with crisp, water- and smudge-resistant text. You can also print glossy lab-quality photos on photo paper.
Wi-Fi & Wi-Fi Direct Connectivity:
Explore convenient wireless connectivity with Kyodo Printer and simple, flexible mobile printing. The optional Wi-Fi Direct feature allows you to connect up to four devices to the printer without a router. The L6190 comes with Ethernet, which provides excellent connectivity, making it easy to share printers between workgroups and use resources efficiently.
Epson Connect enabled:
Use the powerful features of Epson Connect to print documents wirelessly from anywhere in the world.
High printing speed:
The Epson PrecisionCore print head offers print speeds of up to 15 ppm and draft print speeds of up to 33 ppm for standard printing. It provides a versatile, high-speed, high-quality solution for commercial, industrial and office printing. The L6190 supports automatic two-sided printing at up to 6.5 ipm, which saves up to 50% paper.
Automatic document feeder:
The Epson L6190 is equipped with a 30-page automatic document feeder that makes it easy to scan and copy multi-page documents.
LCD Screen:
Enjoy easy setup and PC-free operation with the 2.4-inch color LCD panel.
Fax storage for up to 100 pages:
The L6190's PC Fax and Fax feature lets you send digital faxes using up to 100 pages of PC memory. This computer can receive incoming faxes when the printer runs out of paper or ink.
Epson Security Guarantee:
To get the most out of your printer, take advantage of a warranty of up to two years or 50,000 copies. Epson's warranty includes a print head warranty, which is very important to many printers.
Lighting quality. Permanent value:
Genuine Epson ink bottles are designed for high-quality batch printing on L-series printers. Each bottle is individually sealed to ensure ink purity and has a smart nib designed for easy refilling. Choose genuine Epson inks to ensure your L-series printers are always of the highest quality.