Epson L1800
A3 Photo Ink Tank Printer
Epson has unveiled an unprecedented advancement in printing technology with the introduction of the world's first budget-friendly 6-colour A3+ original ink tank system printer. This innovative printer boasts a remarkable yield of up to 1,500 4R photos, ensuring a reliable and efficient printing experience.
With a print speed of up to 15 pages per minute, the Epson printer guarantees swift and timely completion of your printing tasks. Additionally, its high-yield ink bottles further enhance productivity by providing an extended supply of ink, minimizing the need for frequent replacements.
To instill confidence in its product, Epson offers a comprehensive 1-year warranty or the option of printing up to 9,000 pages, whichever comes first. This commitment to customer satisfaction ensures peace of mind and support throughout your printing journey.
With the Epson L1800, printing borderless, photo-quality images up to A3+ size has become a reality. Whether you need to print large-scale photographs or graphics, this printer delivers exceptional color reproduction, capturing intricate details and leaving a lasting impression on the viewer.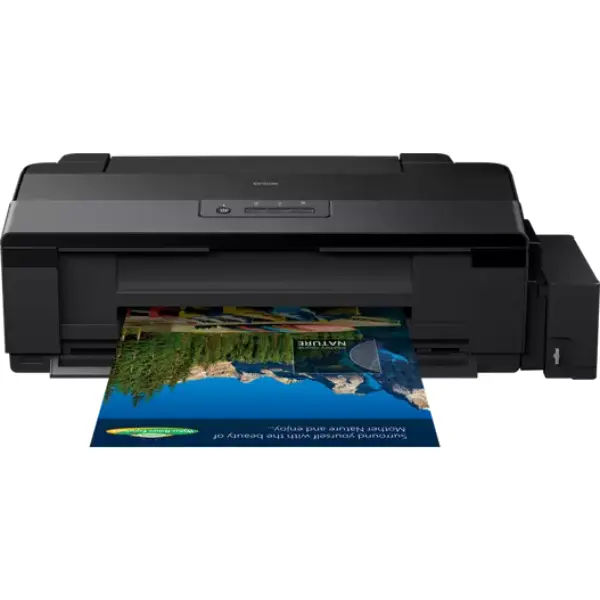 Big savings at the end of the page:
You can enjoy additional savings on the integrated high-capacity ink tank and genuine photo ink, all at an affordable price of S $ 15.90. The L1800 printer includes 6 photo inks and has the capability to produce up to 1500 borderless 4R photos.
Excellent print quality:
Epson's well-known MicroPiezo™ printheads, specifically designed for uninterrupted printing, are not just dependable but also deliver an impressive resolution of 5760dpi. With the L1800 printer, you can enjoy outstanding color accuracy, smooth gradients, and rich tones on every print. Furthermore, it offers an expanded gamut featuring six photographic colors, enhancing the overall print quality.
Designed for performance:
The L1800 printer is specifically engineered for fast printing, capable of producing up to 15 pages per minute in draft mode for black and white documents. Additionally, it can print a borderless 4R image in just 45 seconds, ensuring quick and efficient printing of your photos.
Media flexibility:
The L1800 printer is versatile and compatible with a wide range of media, accommodating printing on various sizes from 4R photos to A3+. It effortlessly handles all types of printing tasks, regardless of their complexity, making it suitable for both simple and intricate print jobs.
One year warranty for peace of mind:
To maximize the performance of your printer while minimizing the need for maintenance, you can take advantage of a one-year warranty or a limit of 9,000 prints, whichever occurs first. This ensures that you can enjoy worry-free printing while benefiting from the warranty coverage or the specified number of prints.
Trouble-free operation:
The Epson ink tank system, which is an integral part of the printer, is specifically designed for hassle-free and convenient refilling. The printer features a dedicated tube system that guarantees a continuous and dependable supply of ink, ensuring uninterrupted printing operations.
Lighting quality. Permanent value:
Each genuine Epson ink bottle is meticulously sealed to maintain the purity of its contents, guaranteeing optimal quality for mass printing on L-series printers. By selecting genuine Epson ink bottles, you can enjoy long-lasting print quality and simultaneously lower your printing expenses when using L-series printers.