Printer Specification
USB, Ethernet, Wireless LAN IEEE 802.11a/b/g/n/ac, Wi-Fi Direct
Epson EcoTank L6570
Ink Tank Printer
The Epson EcoTank L6570 is a versatile printer that combines multiple functions including printing, scanning, copying, and faxing. It boasts impressive features such as a high print resolution of 4800 dpi, fast print speeds of 25 pages per minute (ppm) in both black and color, and an ISO print speed of 21 ppm. The printer supports Wi-Fi printing and is compatible with the Smart Panel App for convenient operation. It uses pigment black ink, ensuring smudge and fade-resistant prints. Additionally, it supports duplex scanning and is equipped with two 250-sheet front trays, a 50-sheet rear feed, and a 50-sheet automatic document feeder (ADF). With mobile printing options, Ethernet connectivity, and a user-friendly 10.9cm LCD touchscreen, the Epson EcoTank L6570 is designed to offer efficiency and convenience.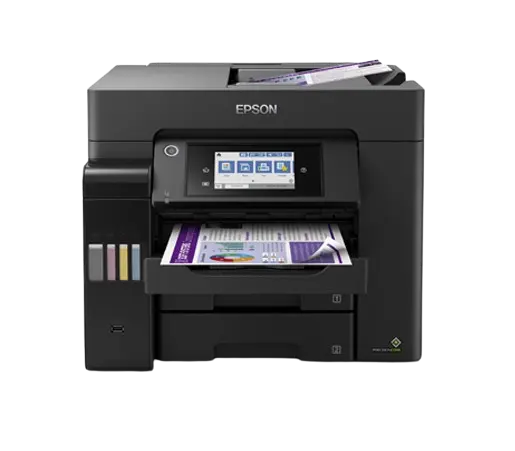 Maximize your productivity with efficient time management:
The printer excels in speed and efficiency, providing a swift first-page output in just 5½ seconds and maintaining a rapid print speed of 25 pages per minute (ppm) for both black and color documents. Its efficient performance extends to double-sided printing, allowing you to save time and resources. Additionally, the printer is equipped with a high-speed automatic document feeder, enabling you to swiftly handle everyday tasks with ease.
Feature-rich A4 EcoTank:
Designed for business use, the L6570 is a comprehensive all-in-one device that combines the functionalities of printing, scanning, copying, and faxing. Its user-friendly interface is facilitated by a 10.9cm LCD touchscreen, making it easy to navigate through various features and select desired options. Whether you need to print, scan, copy, or send faxes, the Epson L6570 offers a convenient and efficient solution for your business needs.
Keep on saving:
The EcoTank printer stands out as a budget-friendly option, thanks to its innovative design that incorporates large ink tanks. These tanks can be easily refilled with low-cost ink bottles, enabling you to significantly reduce your printing expenses. With its economical nature, the printer offers a low cost per page, making it an excellent and cost-effective printing solution that helps you save money with every print you make.
End interruptions:
The EcoTank is engineered for minimal maintenance, allowing you to print a substantial number of pages before needing to refill. Its impressive paper-handling capabilities include two front-loading paper trays with a capacity of 250 sheets each, along with a 50-sheet rear feed, resulting in a generous total paper capacity of 550 sheets. With this ample capacity, you'll experience reduced interruptions for reloading paper, making the EcoTank a convenient and highly efficient printing solution.
Print from almost anywhere:
The EcoTank offers seamless printing convenience from various mobile devices, tablets, and laptops through its built-in Wi-Fi and Wi-Fi Direct capabilities. With these features, you can effortlessly connect your smart devices to the printer. Additionally, the Epson iPrint app provides a user-friendly platform for sending documents directly from your smart devices to be printed, allowing you to enjoy the convenience of wireless printing from anywhere you are.
Easy to use & reliable:
Filling EcoTank's large face paint tanks is a breeze thanks to the easy-to-use, drip-free paint bottle design. The printer's heat-free PrecisionCore printhead is known for exceptional speed, quality, reliability and efficiency. The PrecisionCore printhead is designed to last the life of your Epson printer, delivering consistent and efficient print performance, delivering reliable results every time you use EcoTank.