Printer Specification
Print, Scan, Copy, Fax with ADF
USB 2.0 Network: Ethernet (100BASE-TX/10BASE-T), Wi-Fi (IEEE 802.11b/g/n), Wi-Fi Direct (8 connections) Network Protocol: TCP/IPv4, TCP/IPv6, LPD, IPP, PORT9100, WSD Network Management Protocols: SNMP, HTTP, DHCP, BOOTP, APIPA, PING, DDNS, mDNS, SNTP, SLP
Epson
EcoTank L6550
Ink Tank Printer
The Epson EcoTank L6550 is a business printer that focuses on cost-efficiency and productivity enhancement. It offers impressive print speeds of up to 25 ipm for black and white prints and 12 ipm for color prints. The printer supports automatic duplex printing, enabling efficient double-sided printing. With its excellent yield, it can produce up to 7,500 pages in black and white and 6,000 pages in color.
Connectivity options include Wi-Fi, Direct Wi-Fi, and Ethernet, providing flexible and convenient printing from various devices. The printer is compatible with Epson Connect, which offers features like Epson iPrint software, Epson Email Print, Remote Print Driver, and Scan to Cloud, enhancing accessibility and convenience.
The Epson EcoTank L6550 utilizes water-resistant, pigment-based inks, resulting in sharp and vibrant prints. Its high printability, combined with the ink's durability, allows for a large number of black and color pages to be printed. The epson printer features clean and easy ink refilling, along with Epson Heat-Free technology, reducing power consumption and the frequency of consumable replacements. These factors contribute to lower operating costs and increased efficiency.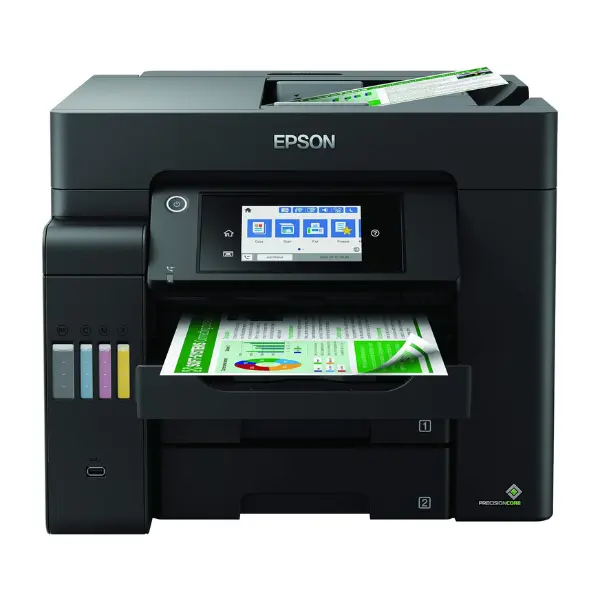 Epson's No Heat Technology:
The Epson EcoTank L6550 incorporates Epson Heat-Free Technology, which enables rapid printing while minimizing energy usage since it doesn't rely on heat for ink ejection. This innovative technology enhances business productivity while also contributing to environmental conservation through reduced energy consumption.
Stable and fast printing:
The Epson EcoTank L6550 incorporates PrecisionCore printhead technology, allowing for rapid and consistent printing speeds. It can achieve impressive rates of up to 32.0 ppm for draft prints and 25 ipm (simplex) for standard black prints. This printer is well-suited for busy office environments that handle significant print volumes.
Low power consumption:
Unlike laser printers, the Epson EcoTank L6550 operates differently by eliminating the need for a fuser unit that requires heating. As a result, it consumes less power and enhances efficiency. Additionally, this design minimizes operating time and electricity consumption by eliminating delays caused by heat buildup in the printhead.
Big Savings and Benefits Page:
The Epson EcoTank L6550 is cost-effective due to its high-yield bottle inks. Each set of ink bottles can produce up to 7,500 pages in black and 6,000 pages in color, reducing the frequency of consumable replacements. This printer's efficiency extends to its reduced need for consumables and replacement parts, allowing for additional cost savings without compromising quality.
Less downtime and less maintenance:
The Epson EcoTank L6550 boasts a straightforward and Heat-Free design, which translates to fewer components that can potentially malfunction. As a result, there is a reduced need for intervention and increased reliability. This leads to significantly minimized downtime and enhanced overall performance.
DuraBright ET Inks:
The Epson EcoTank L6550 utilizes advanced 4-color pigment inks, which deliver sharp, clear, and water-resistant prints. This feature makes it the perfect choice for business printing needs.
Compact design, no-spill refills:
With its compact and sleek design, the Epson EcoTank L6550 occupies minimal space due to its integrated tank. This innovative feature enables the printer to have a small footprint while providing ample functionality. Additionally, the printer's unique bottle nozzle ensures hassle-free and error-free ink refilling, adding to the convenience of its operation.
Network connectivity and offline capabilities:
The Epson EcoTank L6550 offers convenient wireless connectivity options through Ethernet and Wi-Fi. With the inclusion of Wi-Fi Direct, you can effortlessly connect up to 8 devices directly to the printer without the need for a router, providing flexibility and convenience in printing. Additionally, the printer supports mobile printing, further enhancing its overall convenience.
Enable Epson Connect:
Epson Connect enables wireless printing of your documents from any location worldwide. It provides a wide range of features to enhance convenience and flexibility, such as:
Email Print
Remote Print Driver
Scan-to-Cloud
Epson iPrint
Apple AirPrint
Mopria Print Service
With these features, you can easily print from various devices and platforms, allowing for effortless printing from anywhere and at any time.
Multi-function printer:
The Epson EcoTank L6550 is a versatile all-in-one printer designed for A4 paper size. In addition to its printing capabilities, it also offers scanning, copying, and faxing functionalities. With its 50-sheet automatic document feeder, the printer ensures convenient handling of multi-page documents, further enhancing its usability.