Printer Specification
Print, Scan, Copy, Fax with ADF
USB 2.0 Network: Wireless IEEE 802.11b/g/n, Wi-Fi Direct, Ethernet Network Protocol: TCP/IPv4, TCP/IPv6 Network Management Protocols: SNMP, HTTP, DHCP, BOOTP, APIPA, PING, DDNS, mDNS, SNTP, SLP, WSD, LLTD
Epson
EcoTank L6490
Ink Tank printer
The printer boasts of high-speed printing with a rate of up to 17ipm, while also being cost-effective due to its economical ink tank system. Refilling the ink tank is made easy with the front ink tank and enhanced ink bottles, and the printer also supports mobile printing and connectivity through Wi-Fi, Wi-Fi Direct, Ethernet, and free mobile printing apps. It is designed for business use with an A4 multifunctional capability, a 250-sheet front tray, and a 35-sheet ADF.
High performance printing:
The Epson EcoTank L6490 is a versatile A4 printer that offers low printing costs and fast speeds. It features a 250-sheet front paper tray, a 6.1cm LCD touchscreen, and a 35-page automatic document feeder, making it suitable for home offices and small businesses. With its high-capacity ink tanks, you can avoid the hassle of changing cartridges or toners, and enjoy uninterrupted printing.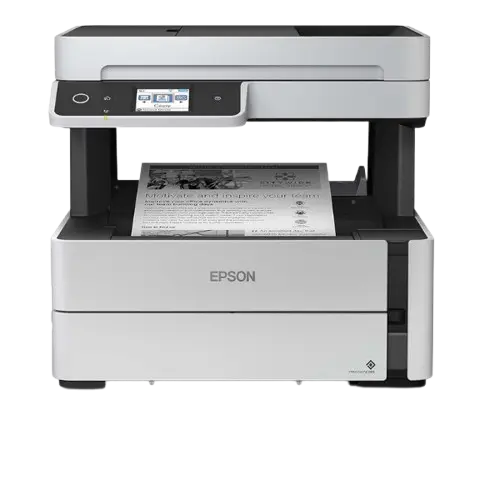 Get more done in less time:
The Epson EcoTank L6490 is a high-performance printer that is designed to meet the needs of modern home offices. With its fast printing speeds, it can deliver the first page in as little as 7 seconds, making it a great choice for anyone who needs to print frequently or in large volumes. Its efficiency and versatility make it a valuable addition to any home office setup.
Multifunction A4 EcoTank:
The Epson EcoTank L6490 is a multifunction printer that can print, copy, scan, and fax. It has several convenient features to make your printing tasks easier, including automatic double-sided printing, a 250-sheet front paper tray, and a 35-page automatic document feeder. The 6.1cm LCD touchscreen allows for easy navigation of the printer's extensive range of features, making it simple to use and convenient for your daily printing needs.
Keep on saving:
The Epson EcoTank L6490 is designed to help you save money on your printing costs. Unlike traditional printers that use cartridges, it features large ink tanks that can be filled with low-cost ink bottles, delivering an incredibly low cost-per-page. This means you can print more for less, and enjoy the peace of mind that comes with knowing you won't have to worry about running out of ink or paying high prices for replacements.
Business-quality printing:
The Epson EcoTank L6490 uses fast-drying EcoTank 112 ink, which is formulated with pigment-based inks for smudge, water, and highlighter resistance. The included ink can produce up to 13,300 pages in black and 5,200 pages in color, offering a high-yield and cost-effective solution for your printing needs. You can enjoy high-quality prints that are durable and long-lasting, without having to worry about constantly replacing ink cartridges.
Print from almost anywhere:
The Epson EcoTank L6490 printer comes with Wi-Fi and Wi-Fi Direct connectivity options, allowing you to easily print from your smart devices. You can send documents to the printer using the Epson iPrint app or the Smart Panel app, giving you the flexibility to print from anywhere in your home or office. This feature makes it convenient to print from your smartphone, tablet, or laptop without having to transfer files to a computer first.
Easy to use and reliable:
Refilling the ink tanks on the Epson EcoTank L6490 is a simple and mess-free process, thanks to the resealable and intuitive ink bottles. Epson's unique Heat-Free PrecisionCore Technology provides improved reliability and reduces downtime, while also having a lower environmental impact. This technology eliminates the need for a warm-up time, which means the first page prints faster and uses less power. With these features, the Epson EcoTank L6490 is a cost-effective and eco-friendly solution for your printing needs.