Printer Specification
USB 2.0, Wi-Fi IEEE 802.11b/g/n, Wi-Fi Direct
Epson
EcoTank L3260
Ink Tank Printer
The Epson EcoTank L3260 is a versatile printer that provides wireless printing, copying, and scanning capabilities, all conveniently controlled through its LCD screen. It stands out for its exceptionally affordable printing, allowing you to save up to 90% on printing expenses.
What makes the EcoTank L3260 even more remarkable is that it comes with a generous supply of ink in the box, providing up to 8,100 black pages and 6,500 color pages. This eliminates the need for frequent ink replacements and ensures uninterrupted printing for extended periods.
Refilling the ink tanks is hassle-free, thanks to the key-lock bottles and front-facing tanks, which prevent spills and make the process cleaner and more convenient. Additionally, the printer can be seamlessly set up, monitored, and controlled wirelessly through the Epson Smart Panel app, enabling you to print, scan, copy, and perform various tasks from your smart device.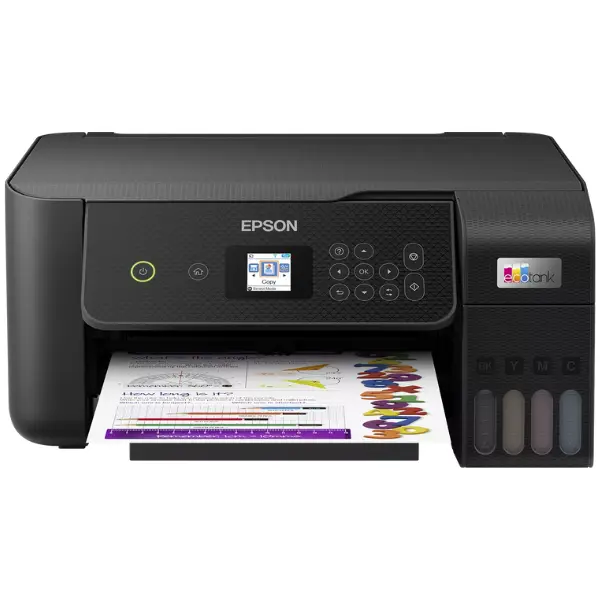 Say good-bye to luxurious cartridges:
Ideal for home use, the Epson EcoTank L3260 is a printer that delivers affordable printing while eliminating the need for frequent cartridge replacements. It achieves this through the use of high-capacity ink tanks that can be effortlessly refilled with key-lock bottles, ensuring a mess-free experience. The innovative design of the bottles guarantees that only the appropriate color can be inserted, simplifying the refilling process even further. With its focus on cost-effectiveness and print quality, the EcoTank L3260 is an excellent choice for home users seeking a reliable and economical printing solution.
Keep on saving:
The Epson EcoTank L3260 is a cost-effective printer that offers significant savings of up to 90% on printing expenses compared to traditional printers that use cartridges. It stands out by providing up to 3 years' worth of ink in the box, enabling even greater cost savings. With the included set of ink bottles, you can produce up to 8,100 black pages and 6,500 color pages, allowing for extensive printing before needing to replenish the ink supply. This makes it a perfect option for home users who require frequent printing without the worry of running out of ink or incurring high costs.
Epson Smart Panel app:
The Epson EcoTank L3260 provides the convenience of the Epson iPrint app, granting you control over your printer through your smart device. With this app, you can effortlessly configure your printer's Wi-Fi connection, print a wide range of documents and photos, and conveniently monitor ink levels and print status from the comfort of your mobile device. It simplifies the printing process and enhances accessibility for a seamless user experience.
Modern flexibility:
With its compact design, the Epson EcoTank L3260 seamlessly fits into any home setup. It offers versatile connectivity options, including both Wi-Fi and Wi-Fi Direct, allowing effortless wireless printing from your mobile devices, tablets, and laptops. This enables you to conveniently connect and print without the need for tangled cables or complicated setups. The printer's wireless capabilities ensure a hassle-free printing experience, making it a practical choice for modern home environments.