Printer Specification
Print, copy, scan ,
Wi-Fi
USB 2.0 Network: Wi-Fi, Wi-Fi Direct Network Protocol: TCP/IPv4, TCP/IPv6 Network Management Protocols: SNMP, HTTP, DHCP, APIPA, PING, DDNS, mDNS, SLP, WSD, LLTD
Epson
EcoTank L3250
Ink Tank Printer
The Epson EcoTank L3250 is a versatile ink tank printer that combines printing, scanning, and copying capabilities. It features a compact design with built-in ink tanks, allowing for easy and mess-free refilling. With high yield ink bottles, the printer can produce up to 4,500 black and white pages and 7,500 color pages, making it cost-effective for businesses. It supports wireless connectivity through Wi-Fi and Wi-Fi Direct, enabling convenient printing from smart devices. The setup process is seamless with the help of the Epson Smart Panel app. Additionally, the printer supports borderless printing up to 4R size and is powered by Epson's Heat-Free Technology for efficient and environmentally friendly operation.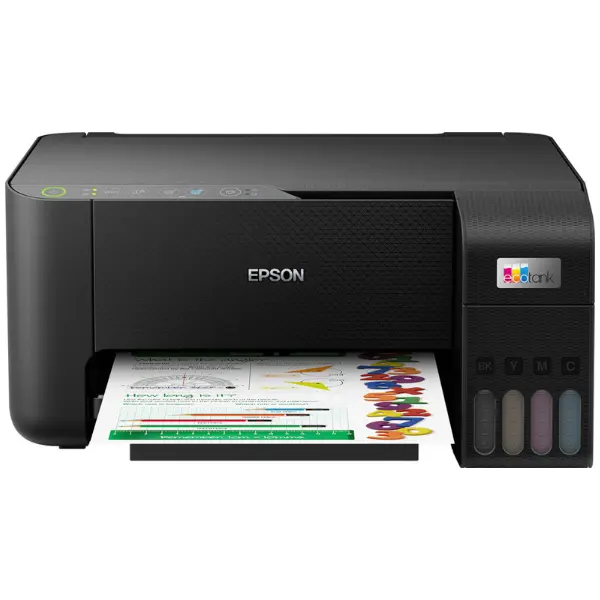 Innovative technology from Epson that operates without generating heat:
Utilizing Epson's innovative Heat-Free Technology, the EcoTank L3250 achieves high-speed printing without the need for heat, resulting in reduced power consumption. This technology enables the Epson printer to eject ink efficiently and quickly, enhancing productivity while maintaining energy efficiency.
Design that saves space and enables spill-free refilling:
With its compact and sleek design, the EcoTank L3250 boasts an integrated ink tank that minimizes its footprint, making it ideal for space-constrained environments. The printer's ingenious bottle nozzle design guarantees hassle-free refilling, preventing spills and errors for effortless maintenance and operation.
Connectivity options including Wi-Fi and Wi-Fi Direct:
Experience the convenience of wireless printing with the EcoTank L3250, offering flexible and effortless shared and mobile printing capabilities. With Wi-Fi Direct functionality, you can connect up to 8 devices directly to the printer, eliminating the need for a separate router. This feature provides seamless connectivity and allows for easy printing from various devices, enhancing flexibility and convenience in your printing workflow.
Enabled with Epson Connect functionality:
Epson Connect provides an extensive array of wireless printing features that enable you to conveniently print documents from anywhere around the globe. These features include:
Email Print: Easily print emails and their attachments from virtually any device capable of sending emails.
Remote Print Driver: Print to a printer located in your office directly from your home computer, offering remote access and printing capabilities.
Epson iPrint app: Print directly from your smartphone or tablet using the dedicated Epson iPrint app, allowing for seamless mobile printing.
Scan to Cloud: Effortlessly scan documents and save them directly to various cloud services, ensuring easy access and storage of your scanned files.
Epson Creative Print app: Print photos directly from your Facebook and Instagram accounts, while also enabling the creation of personalized cards, collages, and other creative projects.
With these features, Epson Connect empowers you to maximize the convenience and versatility of wireless printing, offering flexibility and ease of use for a wide range of printing needs.
Remarkable Quality and Speed:
The EcoTank L3250 is equipped with a remarkable printing resolution of 5760 dpi, ensuring that your prints are of exceptional quality, sharpness, and detail. With its fast print speeds of up to 10ipm for black and 5.0ipm for color, you can efficiently complete your printing tasks without compromising on speed. Moreover, the printer supports borderless printing, allowing you to create stunning, edge-to-edge photos up to 4R in size. Whether it's documents or photographs, the EcoTank L3250 delivers impressive results with its high resolution, speedy performance, and borderless printing capabilities.