Epson
EcoTank L3210
Ink Tank Printer
The Epson EcoTank L3210 is an ink tank printer that offers print, scan, and copy functionalities. Its compact design features integrated ink tanks, allowing for convenient and mess-free refilling. With high yield ink bottles, this printer can produce up to 4,500 pages in black and white and 7,500 pages in color, making it cost-effective for businesses. Additionally, it supports borderless printing up to 4R size, enabling the creation of professional-quality photos.
The Epson EcoTank L3210 Ink Tank Printer is an inkjet printer produced by Epson. It is designed for home or small office use, and offers a low-cost printing solution with its refillable ink tank system.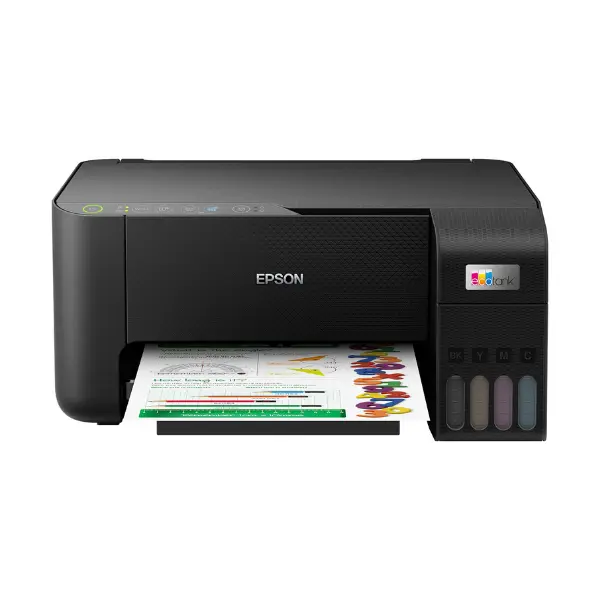 Heat-Free Technology from Epson:
By utilizing Epson Heat-Free Technology, the Epson EcoTank L3210 printer achieves impressive printing speeds while consuming minimal power. This innovative technology eliminates the requirement for heat during the ink ejection process, resulting in a more energy-efficient operation.
Design that saves space and enables spill-free refilling:
With its sleek and compact design, the EcoTank L3210 offers a space-saving solution as the ink tank is seamlessly integrated into the printer. This thoughtful design eliminates clutter and optimizes efficiency. Furthermore, the printer's unique bottle nozzle guarantees hassle-free and precise refilling, preventing any potential spills or errors.
Impressive cost savings and a high yield of pages:
The Epson EcoTank L3210 enables significant savings on printing expenses as it features high-capacity ink bottles that offer an impressive page yield. With each set of bottle inks, you can print up to 4,500 pages in black and 7,500 pages in color, making it an economical printing solution that helps reduce costs.
Exceptional quality and fast performance:
Tailored to cater to the printing requirements of small business owners, the EcoTank L3210 is engineered with features that enhance work productivity. It boasts printing speeds of up to 10.0 ipm for black and white documents and 5.0 ipm for color documents, ensuring efficient and timely printing. Moreover, it offers the convenience of printing borderless photos up to 4R size, meeting the demand for high-quality and professional-looking prints.