4 MB Cache, 4 Core, 8 Threads, 2.3 GHz to 4.0 GHz, 15 W
AMD Radeon RX Vega 10 Graphics
8GB, 1x8GB, DDR4, 2400MHz
512GB M.2 PCIe NVMe Solid State Drive
15.6 inch FHD Anti-glare LED Backlight Non-Touch Narrow Border WVA Display
English Non Backlit Keyboard
3-Cell Battery, 41WHr (Integrated)
1. SD Card Reader | 2. USB 2.0 | 3. RJ-45 | 4. Headset Jack | 5. Wedge Shaped Lock Slot | 6. Power Jack | 7. HDMI 1.4 | 8. USB 3.2 Gen 1 | 9. USB 3.2 Gen 1
358.50 x 235.56 x 18.99 mm
Dell
Vostro 3515
AMD Ryzen 7-3700U 512GB SSD 8GB Ram AMD Radeon RX Vega 10 Graphics 15.6'' Inch FHD
The performance you need:
Daily to-do's, done:
Everyday tasks can be completed with ease with processors up to AMD Ryzen 7.
More in store:
having dual storage options like combining an SSD and an HDD can provide a balance of fast performance and high storage capacity. An SSD (Solid State Drive) has faster read and write speeds compared to an HDD(Hard Disk Drive), which makes it more suitable for storing the operating system and frequently used files and programs. An HDD, on the other hand, has a larger storage capacity and it is more cost-effective. By combining these two storage options, you can get the best of both worlds, fast performance and large storage capacity.
A battery that lasts:
A device with a 41 or 54 Whr (watt-hour) battery can generally provide a decent amount of battery life, allowing you to use the device throughout the day without needing to recharge. However, the actual battery life will depend on various factors such as the device's power consumption, usage patterns, and screen brightness. A battery with a higher capacity generally provides longer battery life than a lower capacity one. However, bigger batteries also tend to add more weight to the device. 41 Whr to 54 Whr is a common range for laptops and ultrabooks, depending on the usage, it could last for a full day or even more.
Recharge in a flash:
Express Charge is a feature that allows you to quickly charge your device to a certain percentage, often 80% in a short amount of time, usually within an hour. This feature can give you the freedom to be on-the-go without worrying about running out of power. Express Charge typically uses higher power charging to achieve this faster charging time, it is not always the case, it depends on the device's charging technology and the specifications of the power adapter. However, it's important to note that charging a device to a high percentage and frequently can decrease the overall battery life in the long run.
Making productivity a priority
Plenty to see here:
A device with a narrow border on three sides, such as the Dell Vostro 3515, can create a more immersive front-screen experience by reducing the amount of visual distractions and allowing the user to focus more on the task at hand. This design can also make the device appear more sleek and modern. This design also increases the screen to body ratio which allows for a larger display to be fitted in a smaller device. This feature can be particularly beneficial for those who frequently use their device for tasks such as video editing, graphic design, or reading.
Increase your comfort:
A larger touchpad, larger keycaps, and a lift hinge design are all features that can improve ergonomics and increase the comfort level of a device. A larger touchpad can make it easier for users to navigate and perform tasks on their device. Larger keycaps can make typing more comfortable, and a lift hinge design can help to improve the typing angle, reducing the strain on the user's wrists. Furthermore, the lift hinge design can also increase airflow to keep the device cool, which can be beneficial for maintaining the device's performance and longevity.
Efficient tools:
A 10-key numeric pad is a feature that can increase the efficiency of a device, particularly for those who frequently use their device for tasks such as data entry or financial calculations. The inclusion of a 10-key numeric pad allows users to quickly enter numbers and perform calculations without having to switch to a separate calculator program. A convenient calculator key that allows for quick access to calculations can also increase efficiency as it can provide quick access to the calculator function, eliminating the need to open a separate calculator app, or even memorize the calculator app's location. This feature can be particularly useful for people in finance, accounting, data entry and other related jobs.
Low blue light:
Dell ComfortView is a software technology that reduces the blue light emissions of a device's screen. Blue light is a type of light that is emitted by electronic screens such as those found in computers, smartphones, and tablets. Prolonged exposure to blue light can cause eye strain, fatigue, and can affect sleep patterns. Dell ComfortView can reduce the blue light emissions of a device's screen, making prolonged screen usage more comfortable and easy on the eyes. This can be particularly beneficial for users who spend long hours in front of a screen, such as students, office workers, or anyone who frequently uses a computer.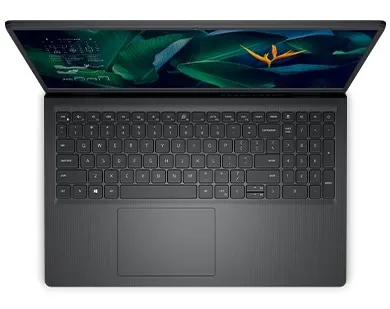 Making productivity a priority:
Linking up:
Having a variety of ports and slots available on a device can provide greater flexibility and convenience for connecting to various devices and peripherals. Different types of ports and slots can include USB, HDMI, Ethernet, SD card readers, audio jacks, and more. This allows users to easily connect to external hard drives, printers, cameras, smartphones, and other devices. Having a variety of ports and slots also allows for greater expansion options, making it easier to upgrade or add new components to the device in the future. This can be particularly useful for professionals or enthusiasts who need to connect multiple devices to their computer at the same time.
No need for spilling tears:
A spill-resistant keyboard is a feature that can reduce the stress of accidental spills by helping to protect the internal components of the keyboard from liquid damage. This can be particularly useful for users who frequently use their device in environments where spills are more likely to occur, such as in a coffee shop or while traveling. Spill-resistant keyboard is designed to prevent liquid from entering the keyboard's internal components, this can be achieved by having a sealed structure, a gutter system or a barrier around the keys. This feature can help to prolong the lifespan of a device and can also save the user from costly repairs or replacements.
Hardware TPM 2.0:
Trusted Platform Module (TPM) 2.0 is a security chip built into the motherboard of a computer that provides an additional layer of security to protect against software-based attacks on data. TPM 2.0 is an important security feature that can help to ensure that a device is not tampered with before it starts up. It can also help to protect against unauthorized access to data by storing passwords and encryption keys in a secure, tamper-proof environment. TPM 2.0 can be used to generate and store encryption keys for disk encryption, secure boot, and network access. This feature can be particularly useful for users who need to protect sensitive data, such as financial information, personal data, or business-critical information.
Simple and secure:
A fingerprint reader is an optional security feature that can be used to enable simple and secure login through Windows Hello with a single touch. This feature uses biometric technology to read a user's fingerprint and match it to the fingerprint that was previously registered on the device. Once the fingerprint has been verified, the user will be logged into the device without the need to enter a password. This feature can be particularly useful for users who want to protect their device from unauthorized access, but also want a convenient way to log in. Fingerprint reader is a very convenient and secure way to log in, it eliminates the need to remember a password, and it helps to prevent unauthorized access to the device, increasing the overall security of the device.
Unite your devices with Dell Mobile connect:
Stay focused and connected:
Some Dell PCs come with features that allow you to interact with your smartphone directly from your PC, this feature is called Dell Mobile Connect. With Dell Mobile Connect, you can stay focused on your tasks while still staying connected to your smartphone. This feature allows you to make calls, send texts, and receive notifications directly from your PC without the need to switch back and forth between devices. This can be particularly useful for users who want to stay productive but also want to stay connected to their smartphone without interrupting their work. This feature can also be used to easily transfer files, photos, and videos between your PC and your smartphone, and even control the music and videos playing on your phone from your PC screen.
Transfer files seamlessly:
Easily transfer various types of files, including photos, videos, music, and documents, between your PC and phone without the need for complicated cloud storage or cables with Dell Vostro 3515.
Mirror Device to PC:
Mirror your Android or iOS device screen onto your PC and interact with apps on a larger display.
Maintain your privacy:
Experience secure and seamless connectivity between your phone and PC with Dell Mobile Connect's point-to-point connection, ensuring that your data is never exposed through unsecured internet connections.