2.6 GHz up to 5.0 - 12 MB cache - 6 cores
NVIDIA GeForce RTX 2070 SUPER
16GB, 2 x 8GB, dual-channel DDR4, 2666MHz
512GB PCIe Gen3 x4 NVMe SSD
15.6" FHD, 300 nits, 100% (sRGB), 3ms, Anti-glare
Alienware M-Series per-key Alien FX RGB keyboard
Touchpad with multi-touch gesture support
86 WHr, 6-cell "smart" lithium-ion battery
1 RJ-45 port, 2 USB 3.1 Gen 1 ports, 1 USB 3.1 Gen1 port with PowerShare, 1 Thunderbolt 3 (USB 3.1 Gen 2) port, Audio port One headset (headphone and microphone combo) port, 1 HDMI 2.0 port
193.59 x 344.16 x 394.87 mm
Dell Alienware M15 the best Laptop
Intel Core I7-10750H 512GB SSD 16GB Ram Nvidia GeForce RTX 2070 SUPER 8GB 15.6" Inch FHD
A NEW LEGEND IS BORN:
The Alienware m15 is a slim and lightweight laptop made of magnesium alloy materials, measuring 20.5mm thin, 360.3mm wide and 276.2mm long and weighing as low as 4.65 lbs. It comes in two color options, Lunar Light and Dark Side of the Moon, and has a stain-resistant coating. The m15 the best Laptop is powered by 10th Gen Intel® Core ™ i9K processors with up to 8 cores and 16 threads for high performance.
ADVANCED ALIENWARE CRYO-TECH:
The the best Laptop Alienware m15 features Advanced Alienware Cryo-Tech, a thermal technology that ensures gaming performance without compromising system stability. It is achieved through various methods such as thermal design, fan design, and airflow optimization. The the best Laptop m15 also has larger fan blades and improved airflow for better cooling of the CPU and GPU cores.
Alienware's latest innovation, Vapor Chamber Technology, enhances heat dissipation by employing advanced techniques. The Alienware m15 laptop incorporates a dedicated vapor chamber positioned between the CPU and copper heat pipes. This strategic placement effectively manages thermal flow, resulting in optimized performance. Unlike solid metal or copper heat pipes, vapor chambers leverage the phase-changing properties of liquid to efficiently transfer heat. Additionally, they offer greater versatility as they can be evenly spread across the entire surface of a chip requiring cooling.
To further prioritize performance, the thin and lightweight chassis of the Alienware m15 features a dual-intake, dual-exhaust airflow design. This design includes two fans that draw in cool air from top and bottom vents, while exhaust is expelled through rear and side vents, ensuring optimal cooling for the essential components.
The high voltage driving fan in the m15 employs fire-resistant liquid-crystal polymer fan blades with sleeve bearings and 3-phase fan control. This configuration minimizes friction and enhances air circulation for improved efficiency. The fan now boasts 132 unique blades, designed to cool both the CPU and GPU effectively.
To intelligently distribute thermal activity across critical components like the CPU and GPU, load-balancing heat pipes are utilized. These four heat pipes, with a diameter of 3.5mm, efficiently dissipate heat and maintain thermal balance.
The Alienware m15 has significantly increased the amount of copper material dedicated to heat dissipation compared to previous models. It features dense copper fin stacks that offer the highest weight-to-copper ratio among previous m15 laptops. Additionally, the size of the heat pipes has been increased by 40%, enhancing overall surface area and heat dissipation capabilities.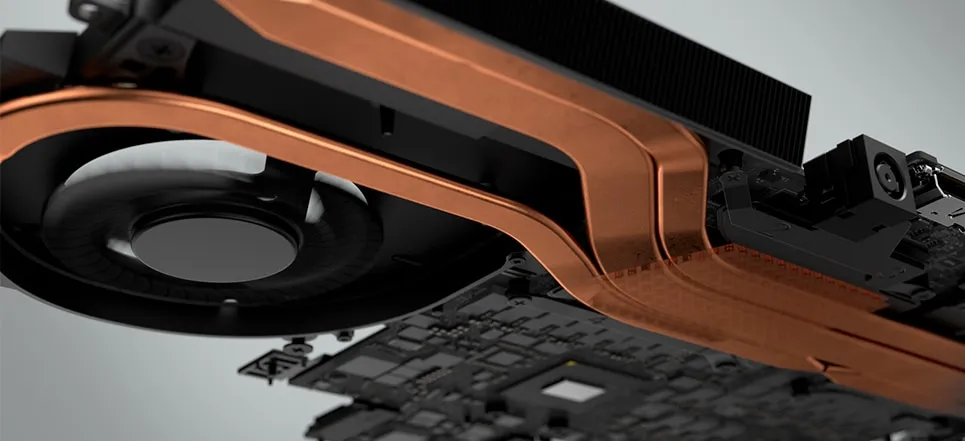 HYPEREFFICIENT VOLTAGE REGULATION:
Hyper-Efficient Voltage Regulation enhances the performance of graphics and processors of the best Laptop Dell Latitude 3520 by increasing the number of voltage regulation phases, leading to improved power signal efficiency and thermal efficiency per core.

By improving efficiency, Hyper-Efficient Voltage Regulation reduces energy loss as heat, allowing for increased workloads over time without overheating the system.

The the best Laptop Dell Alienware m15 features cutting-edge graphics technology with 12-phase voltage regulation for NVIDIA GeForce GTX 1660 Ti and higher, resulting in high performance for an extended period. This design of Dell Vostro 3515 is the most efficient 15" in Alienware history. The m15 also offers the option of AMD Radeon RX 5500M graphics with 10-phase voltage regulation, exclusive to Alienware.

The the best Laptop Alienware m15 features up to 6-phase voltage regulation for configurations with NVIDIA GeForce graphics card, leading to longer high performance gaming. dell laptops With larger CPU inductors in Dell G15 5511, top-end performance is enhanced even further. Non-NVIDIA configurations have 4-phase graphics and processor voltage regulation.