12M Cache, up to 4.90 GHz
NVidia Geforce RTX 2070 8GB
1. (1x) SPDIF Digital Output (Coax), 2. (1x) SPDIF Digital Output (TOSLINK), 3. (1x) RJ-45 Killer Gigabit Ethernet, 4. (5x) SuperSpeed USB 3.0, 5. (1x) Display Port, 6. (1x) SuperSpeed 10Gbps USB 3.1 Type-C, 6. (1x) SuperSpeed 10Gbps USB 3.1 Type-A, 7. (1
Find similar
Dell Alienware
Aurora R8
Dell Alienware Aurora R8 Gaming Desktop Intel Core I7-9700K 1TB HDD+512GB SSD 16GB Ram Nvidia GeForce 8GB RTX2070 Super Win.10
VR-Ready for today and beyond:
Designed to go beyond the demands of modern virtual reality, the new HTC Vive and Oculus certified Aurora are designed to be extremely efficient. The upper bouts featured two cutaways, for easier access to the higher frets. Road Road. With 15 USB ports, this system is more than just designed to accommodate all those who want to connect a VR headset. And with device-free access, it provides easy upgrades for the next VR wave.
Evolved, inside and out:
The Alienware Aurora is slim and compact, and is the first laptop to offer wireless upgrades to graphics cards, hard drives and memory modules.
Designed to keep cool: Inspired by the Area-51 Heat ergos, Aurora has an air intake on the front and right panels and an exhaust fan on top to increase airflow and cool the interior.
Packed with power: Aurora is a small Alienware gaming desktop desktop that offers both dual graphics and liquid cooling.
Pro-Level gaming starts here:
Competitive players and professional sports teams around the world use Alienware to compete at the highest level. As one of the most successful teams in the world, Team Liquid takes the lead in designing the team's official computers, displays, keyboards and mice as Alienware.
Alienware also supports competitive gaming leagues such as ELEAGUE and ESL because the best players in the world expect the unparalleled performance and design that only Alienware can offer.
Engineered for the future:
Innovative, tool-less access: The specially designed Pivoting power supply arm provides strong protection for your graphics card and expansion cards, and is easy to upgrade with memory modules and up to 5 drives for device-less access.
Iconic & quiet design: The AlienFX customizable lighting gives the Aurora a unique dynamic look, but its quiet operation allows you to immerse yourself completely in the game, not distractions.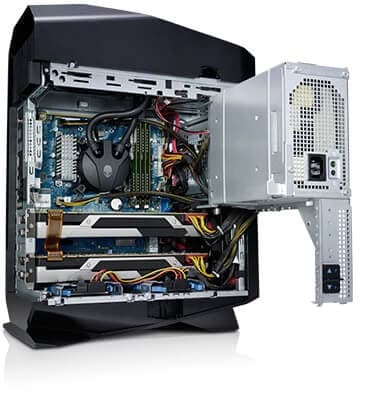 Uncompromising performance:
Engineered to overclock: Alienware Aurora fully supports custom upgrades, available for all cores, including the factory's 9th generation processor. The Intel® Core i9-9900K processor provides Octa-Core up to 4.7GHz and 64GB DDR4 3200MHz memory. The 9900K also supports maximum turbo boost speeds of 5.0GHz to provide better performance for single-thread applications.
Stunning graphics capabilities: Tested and measured by gaming and artificial benchmarks in UHD 4K resolution and beyond, Aurora offers amazing graphics and unique frame rates like NVIDIA® GeForce RTX ™ 2080 Ti and Radeon ™ RX Vega 64 graphics options.
High-speed and hardcore: Increase game performance and capacity up to 5 hard drives using a combination of 1 PCIe NVMe SSD and 4 SSDs.
Killer™ Wireless: The killer 1535 incorporates ExtremeRange ™ technology with two external 5GHz signal amplifiers for improved long-distance performance. External power amplifier and low-noise amplifier work to extend data volume as quickly as possible by extending and enhancing the Wi-Fi range and amplifying your wireless signals. Killer E2500 Delay and Delay technology speeds up the most important network traffic as your game and ensures less unnecessary traffic is expected.
Access your data faster and for less:
Intel Optane M.2 Memory Hard Drive provides SSD performance for installed systems. Based on 3D XPOINT technology, it uses 3D memory layers and high-performance materials that convert 1000 times faster than end memory cells. This 3D XPOINT technology is close to the processor, reducing downtime and improving performance compared to traditional NAND SSDs or faster hard drives. Suitable for players who want SSD-like performance at low cost.
Get deeper than ever before:
The Alienware Aurora is redesigned to support dual graphics cards up to 300W (600W total graphics power) and now has more graphics power than ever before.
Calibrate your controls:
You can now control your hardware and software. An interface transforms your Windows PC into an enhanced gaming experience designed the way you want it to.
View all your games in one place:
Get quick and easy access to the entire games catalog and customize settings for each game. Create unique profiles for any game in your library and keep these settings as you switch between games.
Customize your lighting with alienFX:
Customize themes, macros and terminal options. Upload your own game themes for a real personalized gaming experience. Choose from 16.8 million colors, pre-set animations and brightness controls.
Ports & Slots:
Front Ports
1. (1x) Headphone 1/8" Port 2. (1x) Microphone 1/8" Port 3. (1x) SuperSpeed USB 3.0 Type-C (enabled for charging) 4. (3x) SuperSpeed USB 3.0 Type-A (one enabled for charging)
Rear Ports
1. (1x) SPDIF Digital Output (Coax) 2. (1x) SPDIF Digital Output (TOSLINK) 3. (1x) RJ-45 Killer Gigabit Ethernet 4. (5x) SuperSpeed USB 3.0 5. (1x) Display Port 6. (1x) SuperSpeed 10Gbps USB 3.1 Type-C 7. (1x) SuperSpeed 10Gbps USB 3.1 Type-A 8. (1x) Rear L/R surround 9. (3x) SuperSpeed USB 3.0
Dimensions & Weight:
1. Height: 472.52 mm 2. Depth: 360.5 mm 3. Width: 212 mm Average Weight: 14.819 Kg