Datalogic
CO5300, Cobalto, Scanner,
30 adjustable scan head
The fastest 1D resolution on the market is 20 lines / 1500 scans per second.
Polyphonic speaker and custom sound
Convenient tire holders
An attractive "light ring" around the reading window
Backup mode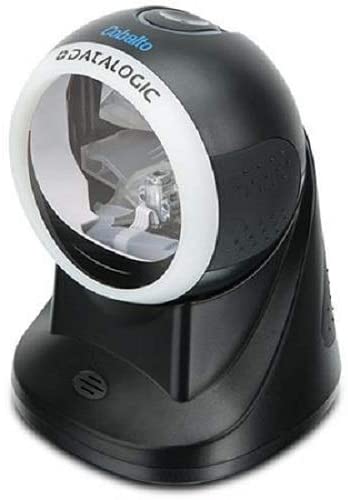 Quickscan Barcode Scanner:
The new Cobalt CO5300 universal laser scanner offers great value for customers who want excellent performance with beautiful, full-featured features. A bright blue "light ring" surrounds the reading window in bright green to highlight good reading. In addition, a high quality polyphonic speaker can be configured to provide the preferred sound or "sound" for better reading. A 20-line universal reading program, 1500 scans per second provides the fastest 1D definition speed and motion tolerance on the market, in applications that require fast and recognizable reading. One line is powered by an ergonomic top capacitive "SCAN" trigger, as well as rubber trim handles and a 30-degree adjustable inspection head, which allows it to be used as a hand reader for scanning large or large objects. The Cobalto CO5300 presentation scanners are ideal for cash register at convenience stores, specialty stores or clothing stores as well as office automation applications such as manual scanning, envelopes and small packages for mail and courier applications. Features Optical "light ring" reading proof Adjustable polyphonic speaker for personal good audio reading. High speed range and motion tolerance for 1D barcodes. Adjustable 30 ° tilting head For larger items. Target apps like PLUs. EASEOFCARE service plans offer a wide range of services to protect your investment and increase productivity and return on investment.