Modem Router
Two 9 dbi Removable Dual-Band Antennas
Wireless On/Off Button, WPS Button, Reset Button, Power Button
One RJ-11 xDSL Port, Four 10/100/1000 Gigabit LAN Ports, One 10/100/1000 Gigabit WAN Port, Two FXS VoIP Ports, 802.11 ac/n/g/b Wireless LAN1, USB 2.0 Port
IEEE 802.11ac, IEEE 802.11n, IEEE 802.11g, IEEE 802.11b, IEEE 802.3, IEEE 802.3u, IEEE 802.3ab, IEEE 802.3az, IEEE 802.3x
D-Link DSL-G2452DG
D-Link DSL-G2452DG Dual Band Wireless AC1200 VDSL2 / ADSL2+ Modem Router with VOIP
Supports multiple WAN connections for flexibility, redundancy and future connectivity.
Built-in ADSL2+/VDSL2 modem for high speed broadband internet connection
relationship
Gigabit WAN port supports high-speed Internet connection today and tomorrow
Four Gigabit LAN ports to connect wired devices for high-speed online activity
Fast 802.11ac wireless network for high-speed connection to all your computers and mobile devices
Super Speed USB 3.0 port for sharing media from a storage device or connecting a 3G/4G mobile wireless network device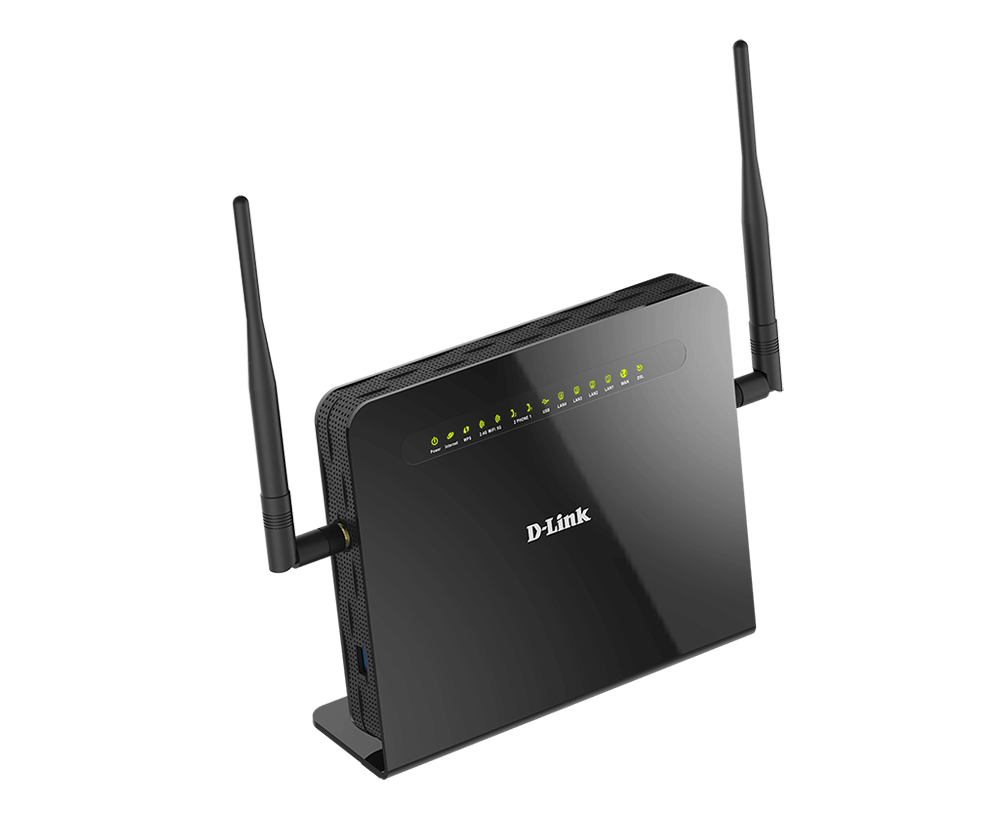 Fast and Reliable Home Network:
The D-Link DSL-G2452DG VDSL2 AC1200 Wireless 4-Port Gigabit Modem Router with VOIP creates a super-fast home network that connects all your devices to a broadband Internet connection. Dual-band 802.11ac simultaneously unlocks the future of high-speed wireless connectivity, allowing you to stream high-definition video, make voice calls over the Internet, and browse the Internet seamlessly from anywhere in your home. Gigabit Ethernet ports provide high-speed wired connectivity to up to four computers or other devices. It provides an elegant, easy-to-use and reliable network for today and tomorrow.
Multiple Failover Redundancy and Future Connectivity:
D-Link DSL-G2452DG AC1200 VDSL2/ADSL2+ Dual Band Wireless VOIP Modem is not only a high-speed VDSL/ADSL modem capable of up to 100Mbps VDSL/24Mbps ADSL, it also has a Gigabit Ethernet WAN port and a USB port. Supporting 3G/4G mobile broadband adapters. This means that if the primary connection method fails, the DSL-G2452DG will automatically revert to the previously selected backup connection.
Voice Over IP:
The DSL-G2452DG supports Voice over IP technology with advanced calling features and is compatible with all industry phone services to receive calls securely. Use the FXS phone port on the DSL-G2452DG to connect to a standard dial plan for VoIP phone calls, and use the router features to connect your entire family or staff to the Internet for fast work at home or in the office.
Smooth Streaming with Wireless AC:
The DSL-G2452DG uses the latest AC wireless technology that delivers transmission speeds of up to 1.2 Gbps (866 AC + 300 N). The router works simultaneously on the 2.4GHz and 5GHz wireless bands using dual-band technology and two external antennas. This allows you to surf the web, chat and send email using the 2.4GHz band while browsing digital media, playing online games or making Internet voice calls on the 5GHz band.
Designed for Optimal Wireless Coverage:
The DSL-G2452DG antennas are carefully designed to ensure there are no dead spots in any environment. A powerful amplifier sends the signal to the farthest corners of your home, while high-gain antennas extend the maximum range of wireless signals. Additionally, multiple external antennas increase wireless reception by delivering signals where you need them most for better performance.
File Sharing Right at Your Fingertips:
The DSL-G2452DG allows you to connect a USB storage device and quickly share documents, movies, photos and music. You can put your music library on a USB stick and share it with the whole house. You can watch pictures on the TV in the living room while a family member is watching a movie on the computer. You can seamlessly transfer media files to multiple devices or save them to your device for offline playback. An intuitive interface allows anyone to instantly interact with the various entertainment features stored on your storage device.