D-Link DGS-1210-52
52-Port Gigabit Smart Managed Switch
The D-Link DGS-1210-52, offers a cost-effective and versatile solution for enhancing the connectivity of your corporate network. It includes:
48 ports supporting 10/100/1000BASE-T for fast and reliable connections.
4 Gigabit GbE/SFP combo ports for added flexibility.
Advanced Layer 2 (L2) switching capabilities and robust security features.
L2+ Static Routing to optimize network traffic.
The choice between "standard mode" and "surveillance mode" for the management user interface, catering to different operational needs.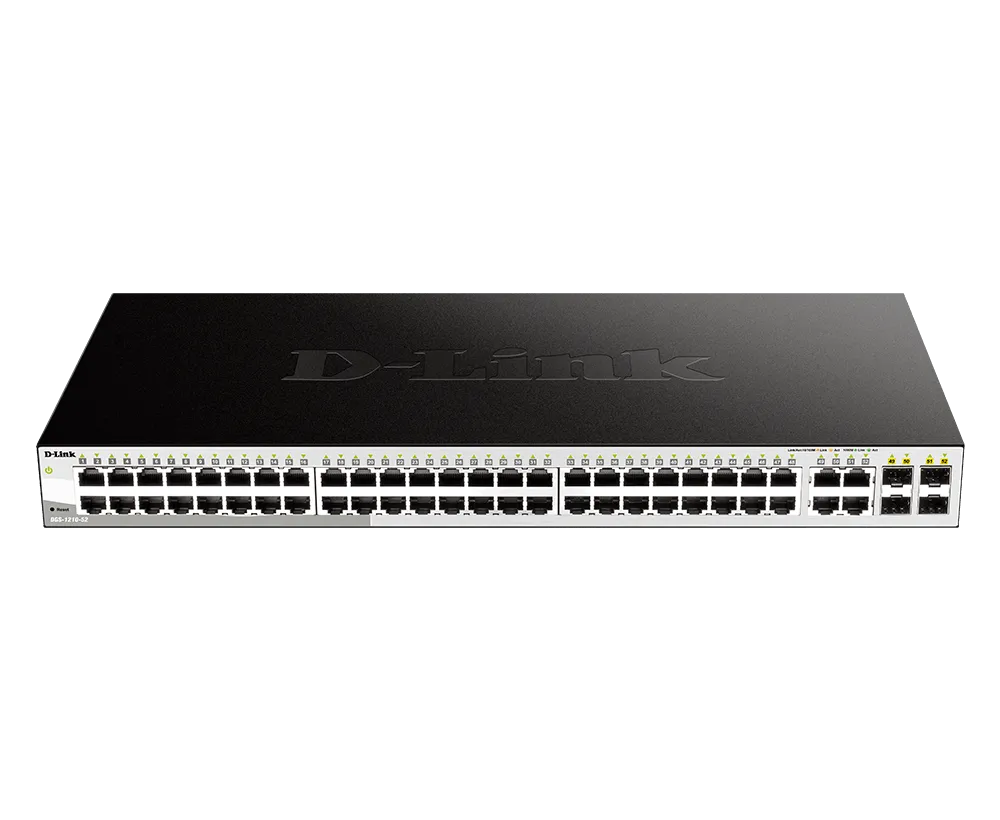 Highly Effective, Yet Economical:
The D-Link DGS-1210 Series Smart Managed Switches represent the latest evolution in network switches, offering enhanced Power over Ethernet (PoE) capabilities, a variety of physical interfaces, multiple management options, and advanced Layer 2 functionalities. When all these attributes are combined, the DGS-1210 Series becomes a versatile and cost-effective solution for expanding any business network.
These D-Link switches are available in configurations with 8, 24, or 48 10/100/1000BASE-T ports, ensuring compatibility with various network sizes and requirements. Additionally, each switch is equipped with 2 or 4 Gigabit SFP ports for optical connections, supporting both multimode and singlemode SFP transceivers.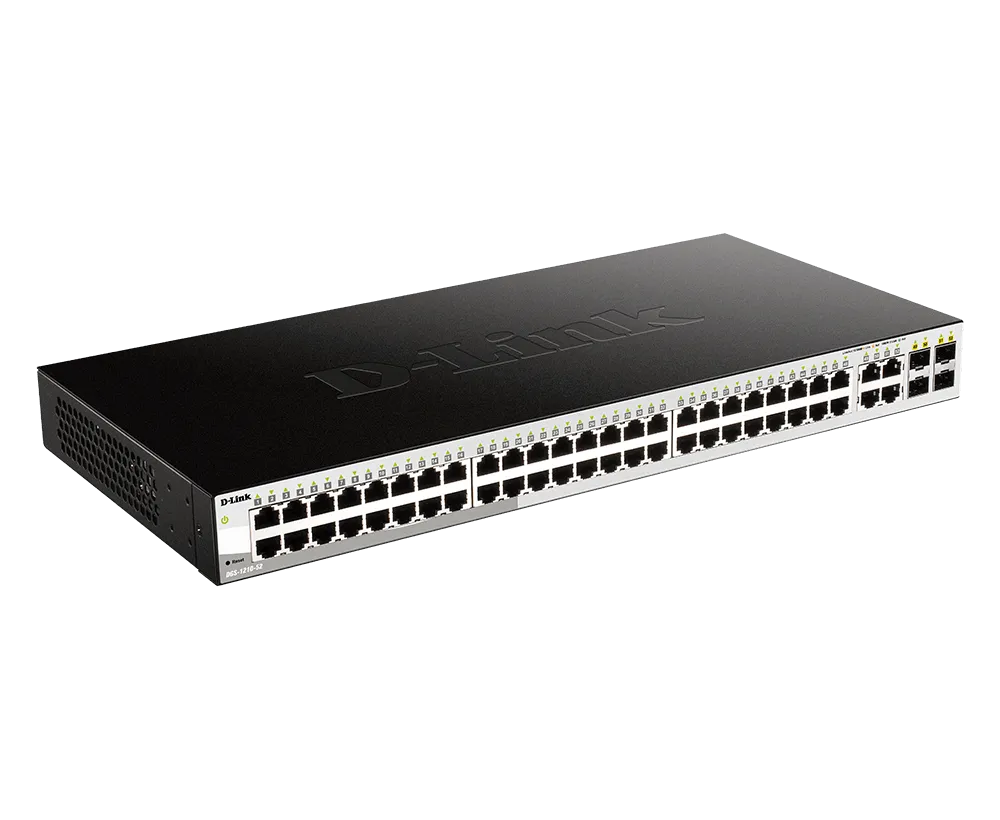 PoE Support:
Within the D-Link DGS-1210 series family, five out of the nine models come equipped with Power-over-Ethernet (PoE) capabilities, streamlining deployments for devices like IP cameras, VoIP phones, wireless access points, and other powered equipment. These specific models are the DGS-1210-10P, DGS-1210-10MP, DGS-1210-28P, DGS-1210-28MP, and DGS-1210-52MP. Through the switch's management interface, administrators gain control over various PoE functions, including the ability to remotely reboot cameras or access points. This control extends across the network, even allowing remote management over the Internet.
Moreover, these switches support time-based PoE, enabling administrators to define specific time windows during which each port's PoE power is activated or deactivated. All PoE models adhere to the IEEE 802.3af and 802.3at standards, with varying PoE power budgets depending on the model in use.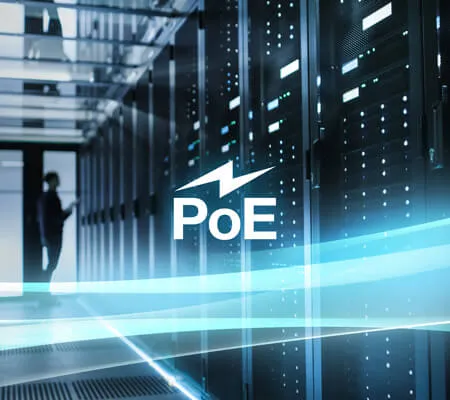 Automatic Configuration:
The D-Link DGS-1210 Series introduces support for two valuable features: Auto Voice VLAN and Surveillance Mode. These features streamline the handling of voice and video traffic, distinguishing them from regular network data.
Auto Voice VLAN identifies Voice over IP (VoIP) traffic and automatically isolates it from the general network traffic. This segregation enhances security and facilitates the application of Quality of Service (QoS) measures to prioritize voice traffic.
Surveillance Mode is designed to recognize compatible ONVIF cameras and assigns them to a dedicated surveillance VLAN. This functionality allows a single switch to serve voice, video, and data traffic, eliminating the need for separate hardware and reducing maintenance costs. Additionally, Surveillance Mode offers its own user interface, simplifying the management of surveillance network features and making them easily accessible.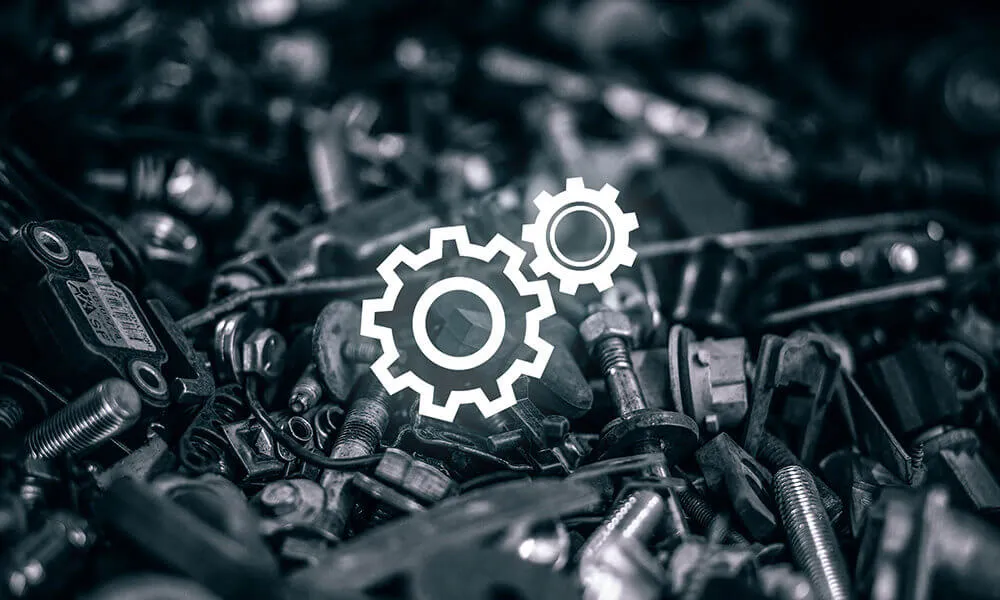 Broad Range of Management Tools and Layer 2 Functionality:
The D-Link DGS-1210 Series is packed with a comprehensive range of Layer 2 (L2) features, encompassing functions like IGMP snooping, port mirroring, Spanning Tree Protocol (STP), and Link Aggregation Control Protocol (LACP). Moreover, it incorporates the IEEE 802.3x Flow Control feature, enabling servers to establish direct connections with the switch, ensuring rapid and dependable data transfers.
Additionally, this series offers support for advanced capabilities, such as static routing, which facilitates communication between different user groups situated in separate VLAN segments within a network. The switch efficiently manages inter-VLAN routing through multiple interfaces, enhancing network speed and efficiency. Importantly, because these switches can handle internal routing tasks, the network router can be exclusively dedicated to managing external traffic routing.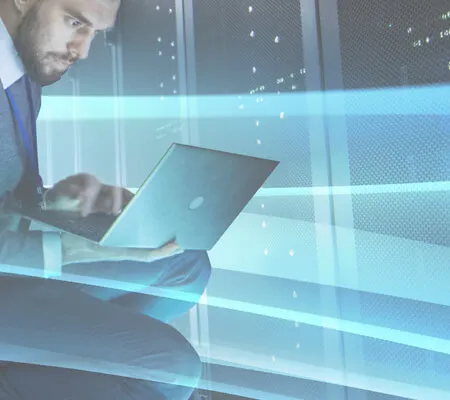 Robust Security Measures for Safeguarding Your Network:
D-Link's cutting-edge Safeguard Engine provides protection for switches against traffic flooding and virus attacks. Port-based authentication using 802.1X allows the network to undergo authentication via external RADIUS servers. Furthermore, the Access Control List (ACL) feature enhances network security and plays a crucial role in safeguarding the internal IT network.