D-Link DGS-1016C
16-Port Gigabit Unmanaged Switch
The D-Link DGS-1016C is a 16-Port Gigabit Unmanaged Switch that offers a range of features:
It provides 16 Gigabit LAN ports, allowing for fast and reliable wired connections.
The switch offers plug-and-play installation, making setup and use very convenient.

Auto-negotiation is supported on all ports, ensuring seamless communication between devices.

It supports both half-duplex and full-duplex modes, features auto MDI/MDIX for easy cable connection, and utilizes store-and-forward switching.

The D-Link switch enables full wire-speed data transmission, maximizing network performance.

It incorporates an energy-efficient design, helping to reduce power consumption.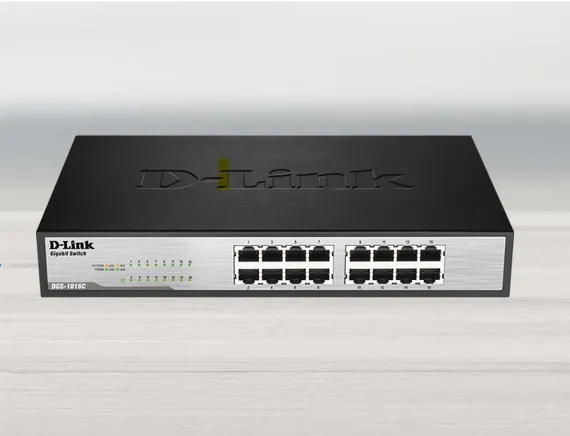 High-speed Connectivity Meets Energy Conservation:
With the D-Link DGS-1016C, you can experience rapid wired connectivity thanks to its 16 Gigabit LAN ports and straightforward Plug-and-play setup. Additionally, it efficiently conserves power by reducing it to unused ports and optimizing usage based on cable length, making it a more energy-efficient choice for your Small Office/Home Office (SOHO) or Small to Medium-sized Business (SMB) network.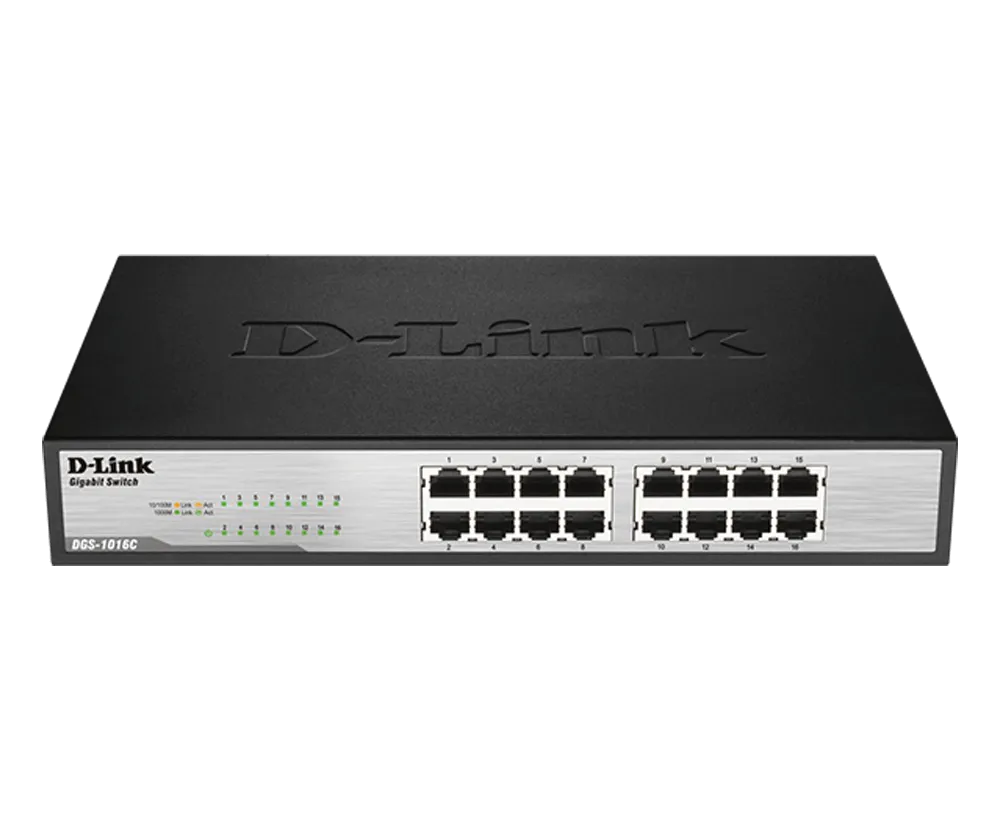 Elevate Your Network to Gigabit Speeds:
With the capability to achieve data transfer speeds of up to 2000 Mbps in full duplex mode, these switches excel in facilitating fast file transfers, seamless online gaming, and smooth media streaming. They come equipped with conveniently accessible Ethernet ports, each accompanied by LED indicators for effortless link status identification. Additionally, the auto MDI/MDIX crossover feature simplifies the connection process – just plug in your cables, and you're good to start.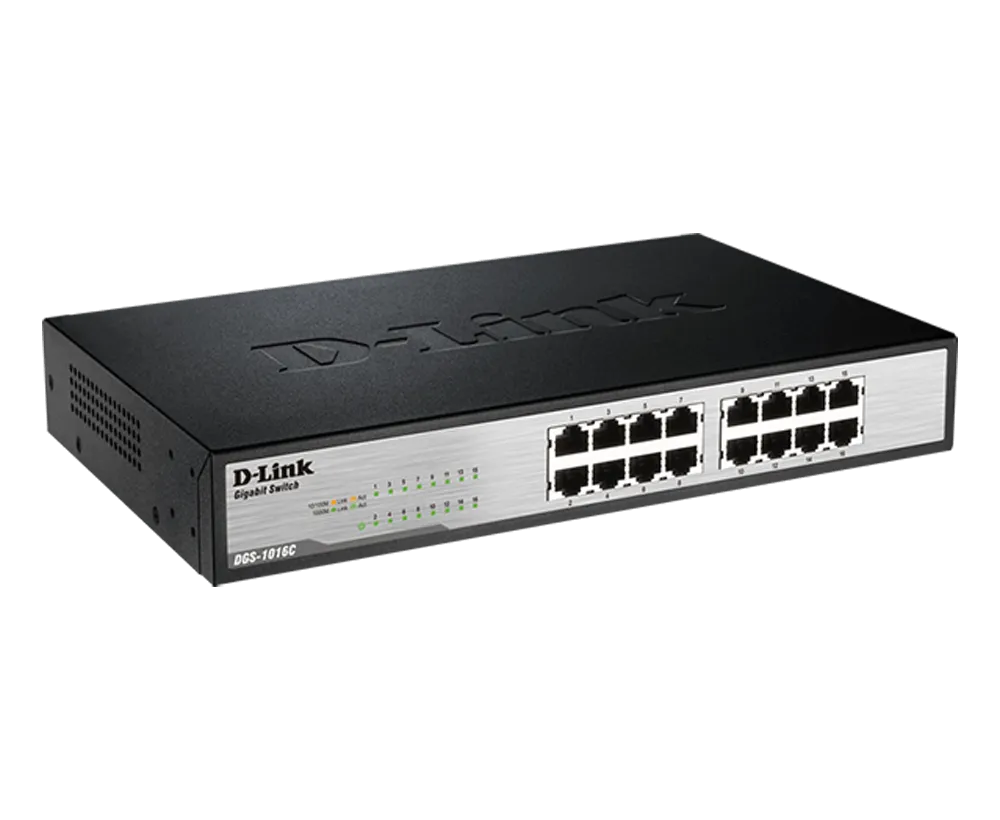 Conserve Energy:
The D-Link DGS-1016C utilizes 802.3az Energy Efficient Ethernet, a technology that effectively conserves energy and lowers heat generation without compromising performance or functionality. This switch has the ability to detect when a connected computer is powered down or when there's no Ethernet traffic, automatically reducing power consumption for the respective port, resulting in significant power savings. Furthermore, it optimizes power allocation for each port based on the length of the connected cable, using only the necessary amount of power required. These combined features work in tandem to effortlessly assist you in conserving power.
Dependable Plug-and-Play Setup:
The D-Link DGS-1016C is a hassle-free Plug-and-Play device, eliminating the need for complex configurations during setup. This simplicity allows you to effortlessly link multiple computers, share various types of files, including music and videos, within your home or small office network, and even establish a multiplayer gaming environment. Additionally, it incorporates 802.3x flow control on each port, which reduces the likelihood of dropped packets when a port's receiving buffer becomes full, ensuring a more dependable connection for all your connected devices. Moreover, all ports on the switch are equipped with up to 4 kV surge protection to enhance network reliability.
Smooth Streaming:
These D-Link switches offer QoS (Quality of Service) support, a feature that intelligently prioritizes network traffic. This prioritization ensures that time-sensitive data is efficiently delivered, even when the network experiences bursts of high data traffic. This capability helps maintain an excellent user experience for activities such as streaming media and making VoIP calls.