D-Link DEM-431XT-DD
10GBase-SR SFP+ Transceiver, DDM, 80/300m
The D-Link 10GBASE SFP+ Transceivers provide a diverse range of 10Gbps Ethernet connectivity options suitable for data centers, enterprise wiring closets, and service provider transport applications. These transceivers offer several advantages over the existing 10G XFP, including a more compact form factor, reduced cost, lower power consumption, and the ability to support higher port density.
The D-Link DEM-431XT-DD is a high-performance 850nm multimode SFP+ transceiver designed for 10GBASE-SR connections. It comes equipped with Digital Diagnostics Monitoring (DDM) capability, enabling real-time monitoring of crucial device metrics such as bias current, transmit and receive power, temperature, and voltage. This transceiver supports full duplex communication and achieves 10Gigabit speeds over Multi-Mode fiber, with a range of up to 33m/300m on 62.5µm/50µm fiber, respectively. The DEM-431XT-DD is hot-swappable and is covered by a standard 2-year product warranty, along with complimentary technical support.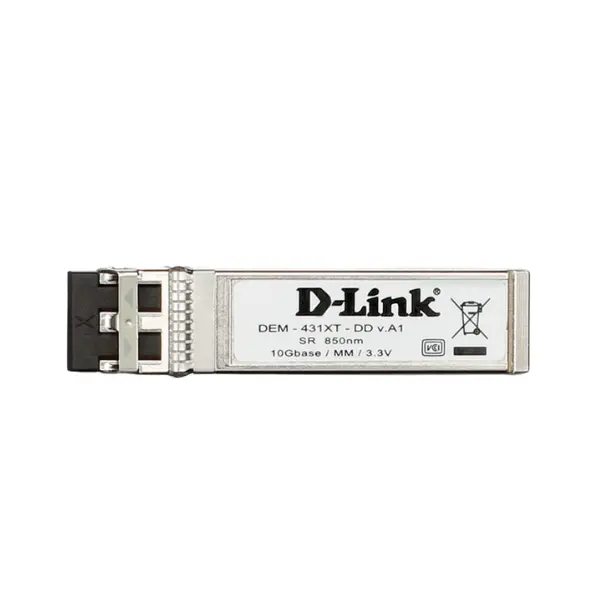 The D-Link DEM-431XT-DD is a high-performance 10GBase-SR SFP+ transceiver designed to provide reliable and efficient network connectivity for various applications. With its adherence to industry standards and advanced features, this transceiver offers seamless data transmission over short distances using multi-mode fiber optic cables.
Compliant with IEEE-802.3ae and 10GBASE-SR standards, the DEM-431XT-DD ensures compatibility with modern networking infrastructure. Its SFP+ form factor makes it compact and easily interchangeable. The transceiver supports multi-mode fiber media, accommodating various types such as 62.5 μm and 50 μm, with distance capacities ranging from 33 meters to 300 meters, depending on the fiber type and specifications.
Hot Pluggable: The hot-pluggable design allows for easy installation and replacement without interrupting network operations.
MSA Compliant: The transceiver conforms to Multi-Source Agreement (MSA) standards, ensuring interoperability with different networking equipment.
RoHS Compliant: The use of RoHS-compliant materials reflects an environmentally conscious design.
MAC Address Update: The transceiver supports MAC address updates for efficient data handling.
DDM (Digital Diagnostics Monitoring): DDM functionality enables real-time monitoring of the transceiver's performance and health.
Speed: Capable of delivering data at 10 Gbps, ensuring high-speed data transmission.