Cisco CBS220-24T
Cisco CBS220-24T 24-Ports Smart Switch
Product overview:
From connectivity to cloud applications, the network plays an important role in every business journey. Reliability, security, and availability are priorities, and ongoing management and operations add complexity, time, and resources.
CBS220-24T is Cisco Business family of low-cost wireless access points, switches, and routers designed and built for small businesses. Managed portfolio with Cisco Business Dashboard and mobile app is simple and secure. Cisco Business Dashboard simplifies traditional business network deployment and management tasks by automating network deployment, monitoring, and network lifecycle management.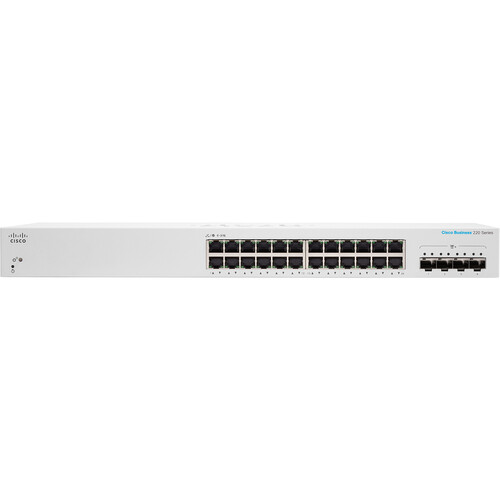 Cisco Business 220 Series Smart Switches:
The Cisco Business CBS220 Series are affordable smart switches designed for ease of use, security, and reliability for business networks. With an intuitive control panel, Power over Ethernet (PoE) and customizable features, these switches provide reliable business networking within your budget. If you need a business-class network and cost is a priority, the Cisco Business 220 Series is a good solution.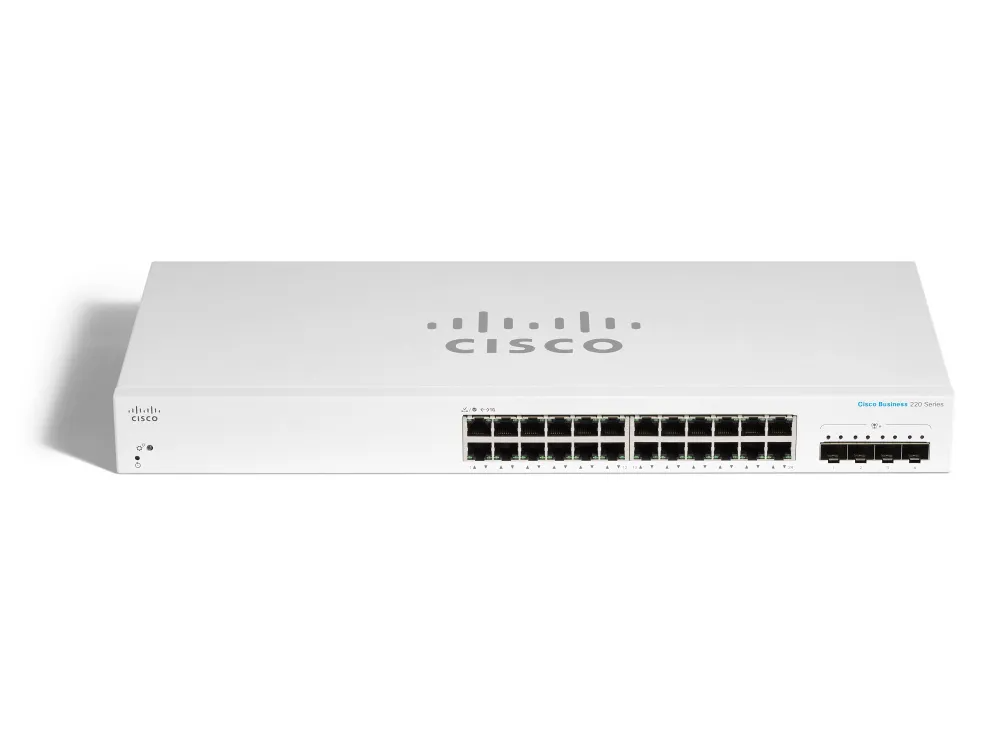 Prominent feature | Business Applications:
CBS220-24T is With Cisco Business CBS220 switches, you can not only create an efficient and reliable network to connect your employees, but also create advanced solutions to provide data, voice and video services in a unified infrastructure. Get the best value for money by increasing employee productivity. Possible deployment scenarios include:
Small office networking: The Cisco Business CBS220 family of switches offers the versatility and affordability of IT support and is an ideal foundation for building business networks for small businesses with limited budgets.
Wireless connectivity: CBS220-24T and With PoE+ support, comprehensive security and quality of service (QoS) capabilities, the Cisco Business 220 Series Switches provide a solid foundation for adding business-grade wireless to your network. Easily deploy Cisco Wireless Business Access Points to increase productivity without worrying about power and performance.
Unified communications: The Cisco Business CBS220 Series Switches offer QoS features to automatically prioritize delay-sensitive traffic, making it easy to deploy an IP-based communications solution in a connected network. PoE+ support makes it easy to add IP cameras and video phones to an existing network. Cisco offers a complete line of VoIP telephony and other unified communications products for small businesses. The Cisco Business 220 Series switches have been rigorously tested to ensure easy integration and full compatibility with these and other vendors' products.