Cisco CBS220-24p-4g
24 Port Gigabit Samrt Manged Switch
Networking is a vital component of any business operation, encompassing everything from connectivity to cloud-based applications. Key priorities in this realm include ensuring reliability, security, and cost-effectiveness, all while dealing with the added complexity of ongoing management and operations, which require substantial time and resources.
Cisco Business offers a range of budget-friendly wireless access points, switches, and routers, specifically crafted for small businesses. These devices are easily managed through the Cisco Business Dashboard and mobile app, delivering a straightforward and dependable networking experience. The Cisco Business Dashboard streamlines the typical challenges associated with deploying and administering business networks by automating tasks such as network setup, monitoring, and lifecycle management.
Smart Switches within the Cisco Business 220 Series
The Cisco Business 220 Series smart switches provide a cost-effective solution renowned for their simplicity, security enhancements, and dependable performance, making them an ideal fit for professional-grade business networks. With features like an intuitive dashboard, Power over Ethernet (PoE) support, and customization options, these switches enable the creation of a robust business network that aligns with your budget requirements. If you seek a high-quality business network without exceeding your budget, the Cisco Business 220 Series offers a superb solution.
Business Applications
Utilizing Cisco Business 220 Series switches, you have the capability not only to establish a dependable and efficient network for connecting your workforce but also to develop sophisticated solutions that enable the delivery of data, voice, and video services over a unified infrastructure. Enhance employee productivity and make the most of your investment by achieving the best value for your money. Various deployment scenarios are possible, including:
Small office networking:
Recognized for their versatility and budget-friendly nature, the Cisco Business 220 Series switches are the ideal foundation for establishing business-grade networks in small enterprises with restricted IT resources and budget limitations.
Wireless connectivity.
Thanks to their PoE+ support, extensive security features, and Quality of Service (QoS) capabilities, Cisco Business 220 Series switches offer a robust platform for integrating business-grade wireless into your network. Deploying Cisco Business wireless access points becomes hassle-free, allowing you to enhance workforce productivity without concerns about power supply and data throughput.
Unified communications.
The Cisco Business 220 Series switches feature Quality of Service (QoS) capabilities, simplifying the prioritization of time-critical data traffic. This enables the straightforward implementation of IP-based communication solutions on a unified network. With PoE+ support, seamlessly integrating IP cameras and videophones into your current network infrastructure is effortless. Cisco offers a wide array of IP telephony and unified communications solutions tailored for small businesses. These switches within the Cisco Business 220 Series have undergone stringent testing to guarantee seamless integration and complete compatibility, not just with Cisco's own products but also with those from other vendors.

Features and benefits
The Cisco Business 220 Series offers a set of capabilities that enable the establishment of enterprise-grade networks. These features offer a solution for streamlining network management, boosting system reliability, and fostering improved connections with your staff, clients, and vendors. Notable features encompass:
Easy configuration and deployment.
The Cisco Business 220 Series switches are thoughtfully crafted with simplicity in deployment and operation as a priority, specifically tailored to meet the needs of small businesses and their managing partners. Furthermore, they incorporate additional user-friendly functionalities such as:
Cisco Business Dashboard, which is tailored for managing Cisco Business switches, routers, and wireless access points. With the Dashboard, you can easily customize the interface and widgets to proactively oversee your network. Cisco Business 220 Series switches seamlessly integrate with Cisco Business Dashboard, eliminating the need for separate hardware or on-site virtual machines.
Cisco Network Plug and Play, offering a straightforward, secure, unified, and integrated solution to simplify the deployment of new devices and provisioning updates to an existing network. This solution streamlines the provisioning process for Cisco routers, switches, and wireless devices, providing a hassle-free zero-touch deployment experience.
User-friendly web-based interfaces that are simple and intuitive, allowing individuals without extensive IT expertise to configure, manage, and troubleshoot the switch within minutes. Configuration wizards further simplify common setup tasks, making network management accessible to a wider range of users.

Reliability and performance.
Extensive testing has been conducted on the Cisco Business 220 Series switches to guarantee that they meet the renowned high standards for availability and performance associated with Cisco switches. These switches excel at enhancing the speed of file transfers, ensuring the accessibility of vital business applications, and facilitating faster communication among your employees, whether it involves customer interactions or internal collaboration.
Moreover, the Cisco Business 220 Series offers enhanced Quality of Service (QoS) capabilities, granting you the flexibility to effectively manage and prioritize high-bandwidth traffic. This adaptability enables you to seamlessly integrate all your business communication and connectivity requirements into a unified and converged infrastructure.
Power over Ethernet (PoE).
PoE+ simplifies the installation of wireless access points, IP telephony systems, and video surveillance equipment by enabling both power and data to travel through a single network cable. The Cisco Business 220 Series switches are compatible with PoE+ technology, offering a power capacity of up to 30 watts per port. This PoE+ capability empowers deployments for 802.11ac wireless access points, Pan Tilt Zoom (PTZ) IP cameras, and videophones, providing increased flexibility and safeguarding your investment.
Network security.
The Cisco Business 220 Series switches bring forth advanced security features designed for smart switches, providing a multifaceted defense mechanism for your network.
These switches support network security applications like IEEE 802.1X and port security, which enable precise control over access to specific network segments.
Additionally, they boast extensive Access Control Lists (ACLs) that effectively limit unauthorized access to sensitive areas of the network and provide defense against potential network attacks.
To further enhance security, these switches implement mechanisms such as storm control for broadcast/multicast/unknown unicast traffic and Bridge Protocol Data Unit (BPDU) guard, which safeguards against invalid configurations and malicious activities.
Furthermore, they include features designed to prevent Denial-of-Service (DOS) attacks, thereby enhancing network uptime during security threats.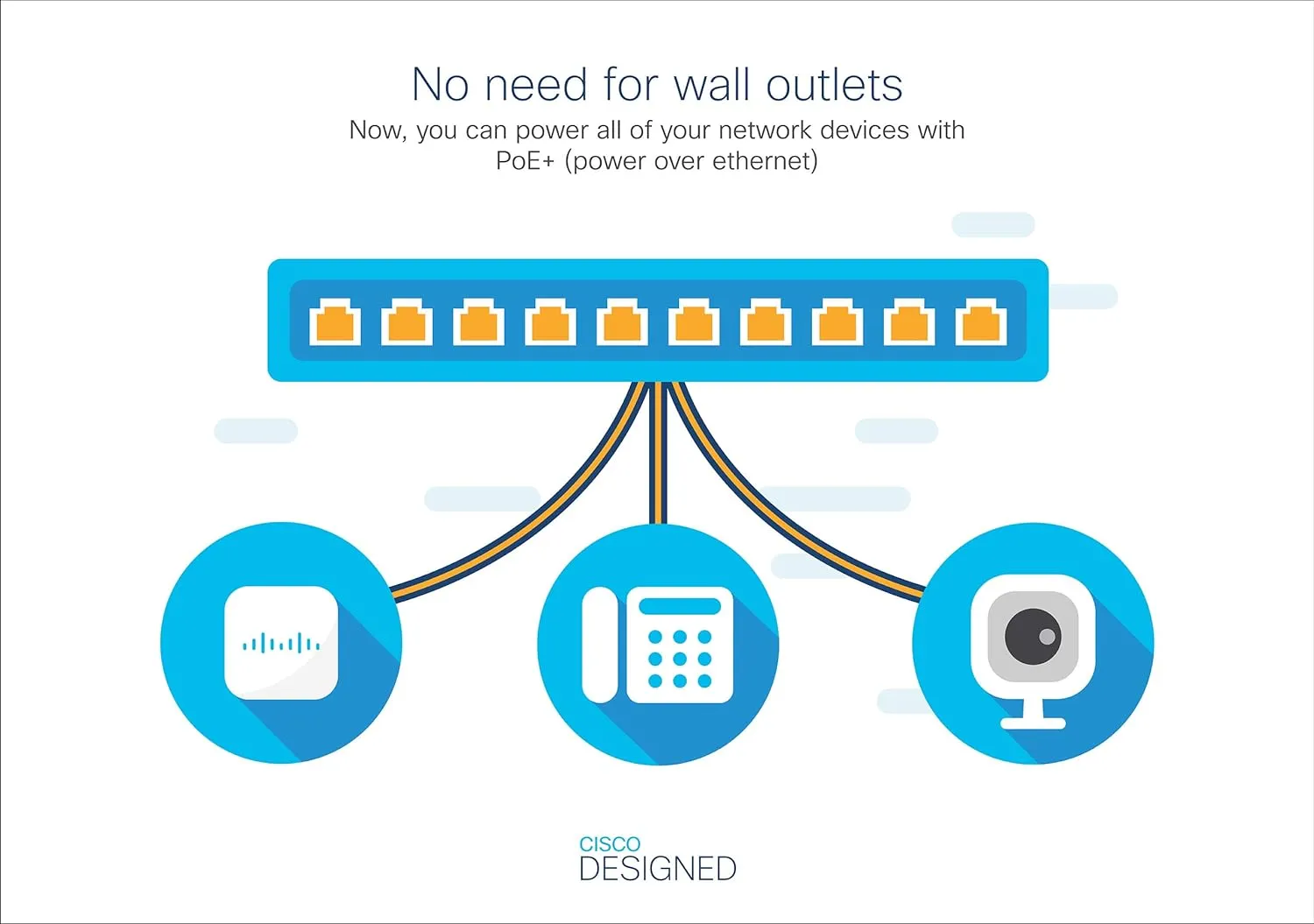 Optimal energy efficiency.
The Cisco Business 220 Series switches are engineered to incorporate Energy Efficient Ethernet (IEEE 802.3az) and Energy Detect support across all models. Additionally, certain models feature fanless designs. These design elements contribute to cost savings in operations and a reduction in your environmental impact.
Peace of mind and investment protection.
The Cisco Business 220 Series switches provide the dependable performance, investment security, and peace of mind that align with Cisco's switch standards. You'll also receive a one-year complimentary subscription to our Small Business Support Center for continuous assistance. Additionally, the included 3-year limited hardware warranty, which offers return-to-factory replacement, ensures the uninterrupted operation of your business.