Cisco CBS220-16P-2G-EU 16 Ports PoE 2x1G SFP Smart Switch
Cisco CBS220-16P-2G-EU

Cisco CBS220-16P-2G-EU 16 Ports PoE 2x1G SFP Smart Switch
The Cisco Business 220 Series is an intelligent converter designed for affordable, easy-to-use, secure and reliable enterprise networks. With a familiar control panel, PoE capabilities over Ethernet and customizable features, these switches provide a secure business network within your budget. If you need a world-class network and the price is high, the Cisco Business 220 Series is a good solution.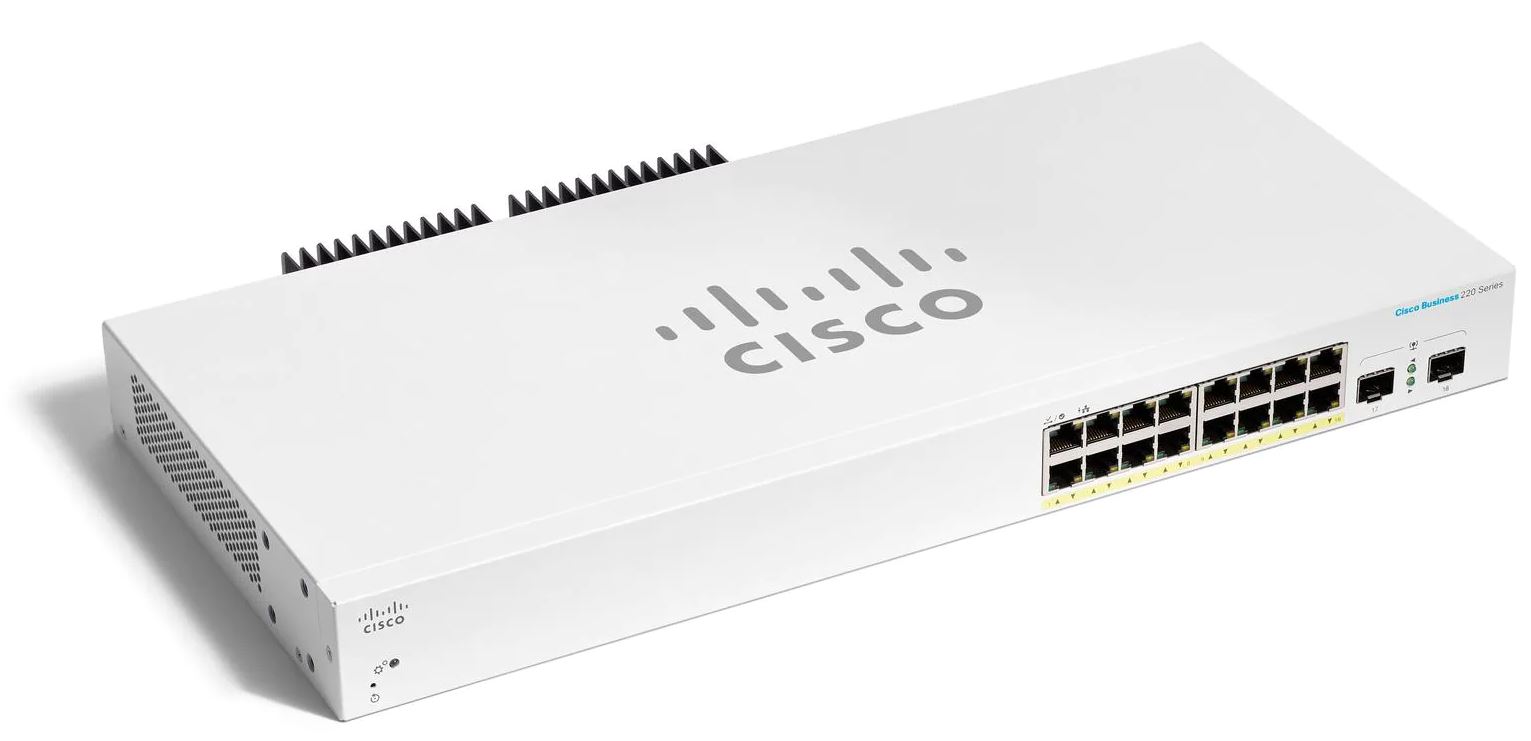 Overview:
Reliability and Performance:The switches have been tested to provide the maximum availability and performance that users expect. Accelerates file transfers, ensures the availability of critical business applications, and helps your employees respond quickly to customers and each other.
Power over PoE: PoE + facilitates wireless access points, VOA and video surveillance by allowing power and data to be transmitted over a single network cable. The Cisco Business 220 Series Switches support PoE +, providing up to 30 watts of power per port.
Network Security: General Access Control Details (ACLs) can restrict network components to unauthorized users and protect them from network attacks. DOS Prevention helps increase the time spent on network attacks.
Optimal Energy Efficiency: The switches are designed to support energy saving Internet (IEEE 802.3az) and power monitoring on all models and some unsupported models. These tips will help you save operating costs and minimize environmental impact.
Easy to configure and deploy: Simple and intuitive web interfaces allow users with minimal IT experience to set up, manage and troubleshoot changes in minutes. Configuration Wizards simplify the most common configuration tasks and provide network configuration and management tools for everyone.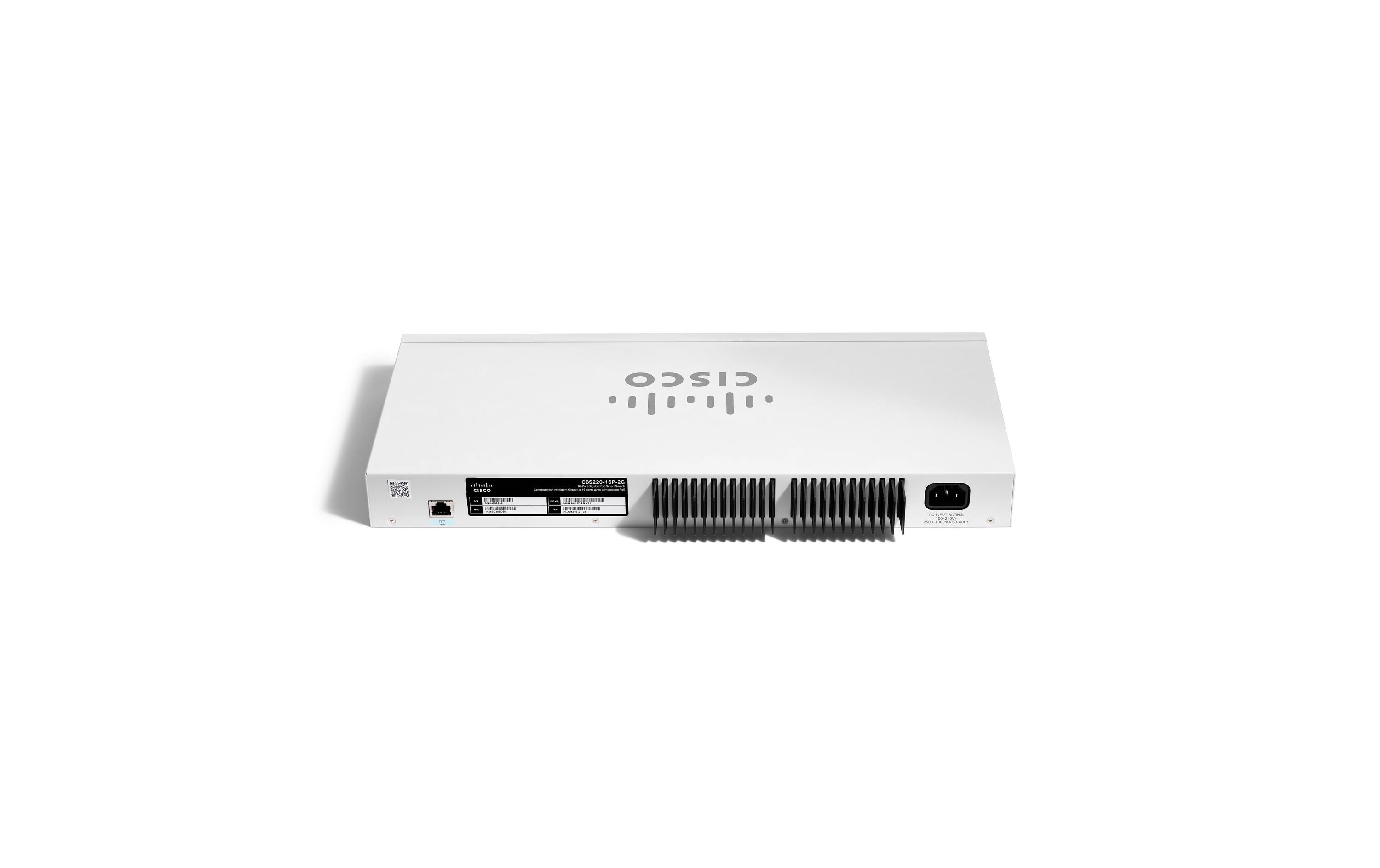 Features:
Transfer Rate Millions of packages per second (mpps, 64-byte packs) 26. 26.78
Bandwidth per gigabyte (GB): 36
Package Package: 4.1 MB
Mac table top up to 8,192 MAC addresses
Spanning Tree Protocol (STP): Standard 802.1d spreadsheet support, enabled by the default fast integration 802.1w (RSP).
Port aggregation: IEEE 802.3ad Link Aggregation Control Protocol (LACP) Up to 8 Ports Up to 8 Ports Up to 8 Ports 16 Pressed Pages 802.3 ad link aggregation Loading from source and destination MAC or MAC / IP Source and destination address
VLAN ፡ Flex up to 256 VLANs based on one port and 802.1Q tag-based VLANs support guest VLAN management
QinQ VLAN: VLANs clearly interrupt the service provider's network by identifying traffic between clients.
General VLAN Recording Protocol (GVRP) and General Feature Recording Protocol (GARP)
By blocking the queue (HOL)
Jumbo frame back up to 9216 frame sizes are supported.
Loop detection Loop detection provides loop protection by sending loop protocol packages out of the enabled ports. Works independently of STP.
Cross-Environmental Deployment Automatic Interface (MDX)
Restrict or drop ACL ፡ based on source and destination Mac address, VLAN ID or IP address, protocol, port, DSCP / IP priority, TCP / UDP source ports, 802.1p priority, Ethernet type, Internet control message protocol packets (ICMP), Internet Team Management Protocol (IGMP) Packages, Support TCP tag up to 512 rules
Ports security: Develops the ability to secure source MAC addresses for ports; Limits the number of learned Mac addresses
IEEE 802.1X (authentication role): 802.1X: Call remote user authentication service (RADIUS); Guest VLAN; Single-host, multi-host and multi-session mode
RADIUS, TACACS +: RADIUS supports authentication and access control system (TACACS); As a client conversion functions
Mac address filter filter supported
Hurricane Control Transmitter, Multicast, Unknown Unicast
DoS protection protection against DOS attack
STP Bridge Protocol Data Unit (BPDU) Protection This security method protects the network from invalid configurations. If a BPDU message is received on that port, the BPDU protection enabled port will be closed.
Spanning Tree Loop Guard ፡ This feature provides extra protection against layer 2 transmission loops (STP loops).
Secure Shell Protocol (SSH) ፡ Drag SSH is a secure alternative to telenet traffic. SCP also uses SSH. Supports SSH v1 and v2.
Secure Sockets Layer (SSL) ፡ Closed SSL Support encrypts all HTTP traffic traffic The switch browser provides GUI-based access.
Cos
Web Browser Chrome, Firefox, Edge, Safari

Parameters:
Switching capacity: 36 Gbps
Ports: 16x Gigabit Ethernet RJ-45, 2x Gigabit Ethernet SFP
Mac address table: up to 8,192 MAC addresses
Port grouping: up to 8 ports per group
VLAN: support for up to 256 virtual local area networks simultaneously
Jumbo framework: up to 9,216
PoE: Yes
Button: Reset
Cable Type: Unshielded Twisted Pair (UTP) Category 5 or better for 10BASE-T/100BASE-TX
LED: System, Action, Speed
Flash: 64 MB
CPU memory: 256 MB
Packet cache: 4.1 Mb
Dimensions: 440 x 203 x 44 mm
Weight: 3.03 kg
Power supply: internal 100-240 V, 50-60 Hz
Certification: UL, CSA, CE, FCC, C-tick
Operating temperature: 0 - 50 ° C
Storage temperature: -20 ° C to + 70 ° C
Operating humidity: 10% to 90>#br###Power consumption: 110V = 16.8W; 220V = 18.6W
Number of fans: None
MTBF (hours): 611.476