Cisco CBS110-8T-D
Cisco CBS110-8T-D 8 Port 4 x 1G SFP Unmanaged Desktop Switch
Available for 10/100/1000 megabytes of speed for apps that require it.
Plug and play, no IT knowledge required
5 to 24 sockets can be mounted on a table or shelf.
Power on Ethernet models to enable access points, IP phones and other devices

ِAffordable:
These are unprecedented times of change for small businesses. Consumers are more demanding than ever. Online transactions are accelerating. This innovation promises more rewards, and requires small businesses to accelerate digital transformation. At the same time, employees are expanding in remote areas and offices, and this trend may continue. You need a fast, secure cloud-based network solution for remote employees and critical business applications in the office.
High performance:
Get a high-performance business network with the Cisco Business 110 Series Unmanaged Switches. These affordable plug-and-play converters have limited IT knowledge and support for small offices, work teams and growing departments and offices.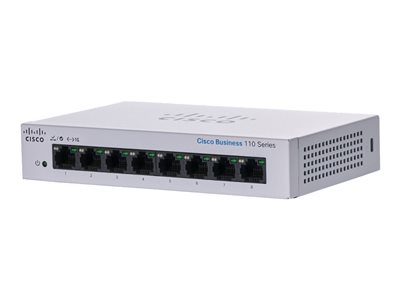 Advanced features:
The Cisco Business 110 series unmanaged switches, part of the Cisco Business Networking family, Gigabit Ethernet are low-cost converters that connect to a small business network. Available on desktop and rack models, these switches are designed for basic network needs for any small business and are energy efficient. They provide a secure network connection that the business needs and more reliability with advanced features such as quality of service (QoS), loop detection and cable diagnostics, all of which you can configure yourself in a matter of minutes. The Cisco Business 110 Series Switches provide proven reliability and investment protection for Cisco small business connectivity solutions.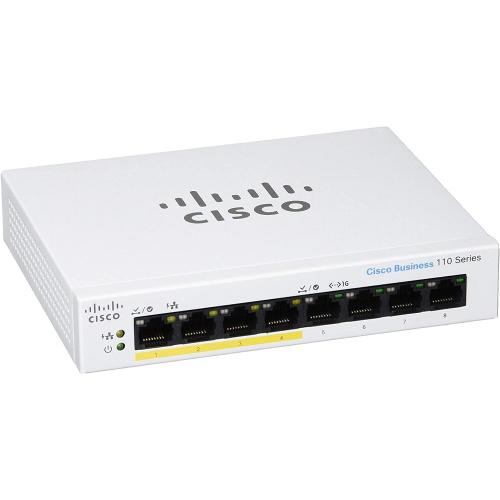 features:
Simplify: and plug in and play without the need for IT knowledge or support.
Availability: Entry level switches are available for small businesses.
Performance: to improve gigabit Ethernet and built-in intelligence service (QoS) services to improve performance and improve overall network performance.
efficiency: Supports energy-efficient Ethernet (IEEE 802.3az) standards to optimize energy consumption to save energy without compromising efficiency.