Cisco
CBS110-16T-EU
Cisco, CBS110-16T-EU, 16 Port, Unmanaged, Switch,
Switching between ports: 16-Port 10/100/1000
Pin and play without simple technical technical knowledge or support
Flexibility The broad chassis provides maximum flexibility with 5 to 24 ports and PoE sets.
Performance Improves Gigabit Ethernet Technology and Built-in Intelligent Service (QoS) Delay-Tub Services and improves overall network performance.
Creative Design Lite beautiful, compact design for installation outside of wiring harnesses such as retail stores, open offices and classrooms.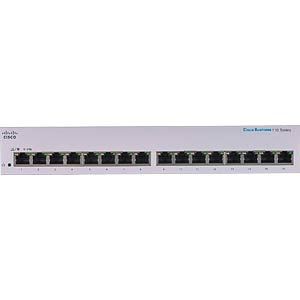 CBS110-16T-EU:
The Cisco Business 350 series switches, part of the Cisco Business Network portfolio, are affordable family switches for any small office network construction. Recognizable dashboard simplifies network configuration, advanced features accelerate digital transformation, and overall security prevents critical business transactions. The Cisco Business 350 series switches are the perfect combination of efficient, affordable, and small office capabilities to help create a better connected workforce.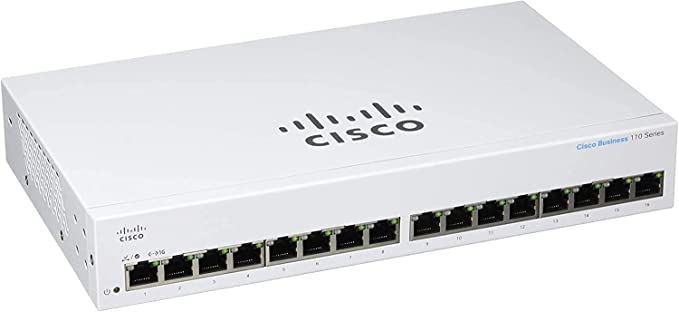 Overview:
Cisco Business 350 Series Switches are a family of fixed configuration Ethernet switches. Models are available with 8 to 48 Gigabit Ethernet ports and Gigabit or 10 Gigabit uplinks which provide a great opportunity to create the right build space for small office networks. However, in the most expensive models of network capabilities that are managed differently from other small business switching solutions, all Cisco Business 350 Series switches provide the advanced security management and networking features you need to support enterprise data, voice, security and wireless technologies.. At the same time, these switches are easy to deploy and configure, allowing you to use the managed network services needed for your business.
Simple:
Use the familiar Cisco Business Dashboard to automate the deployment, monitoring, and life cycle management of your Cisco business devices.
Flexible:
Custom switching, routing and wireless solutions for every level of your business. Extensive portfolio that meets both technical and budget needs.
Secure:
General security helps protect your network and the privacy of your customers.
features:
Simplify: and plug in and play without the need for IT knowledge or support.
Availability: Entry level switches are available for small businesses.
Performance: to improve gigabit Ethernet and built-in intelligence service (QoS) services to improve performance and improve overall network performance.
efficiency: Supports energy-efficient Ethernet (IEEE 802.3az) standards to optimize energy consumption to save energy without compromising efficiency.