Canon Pixma G1420
InkTank Printer
Experience efficient, top-notch, budget-friendly printing using this dependable, high-capacity ink tank printer designed for excellent performance. With its flexible media handling capabilities, you can effortlessly produce sharp documents and vibrant photos in your home or workplace.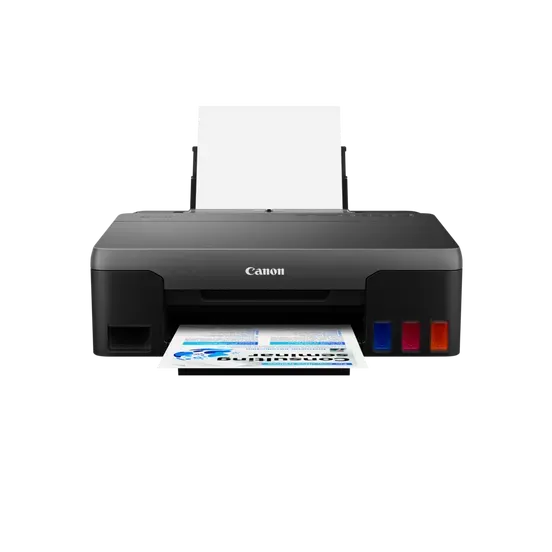 Inexpensive high volume printing:
Experience remarkable cost savings and maximize your page output with the Canon Pixma G1420. This printer offers an exceptional page yield while minimizing expenses. With two black ink bottles included, you can print an impressive 12,000 pages (26% more in eco mode). Alternatively, using a single set of color ink bottles allows you to print up to 7,700 pages. This ensures uninterrupted printing for extended periods without the concern of running out of ink or facing additional costs. Enjoy efficiency and economical printing with the Canon Pixma G1420.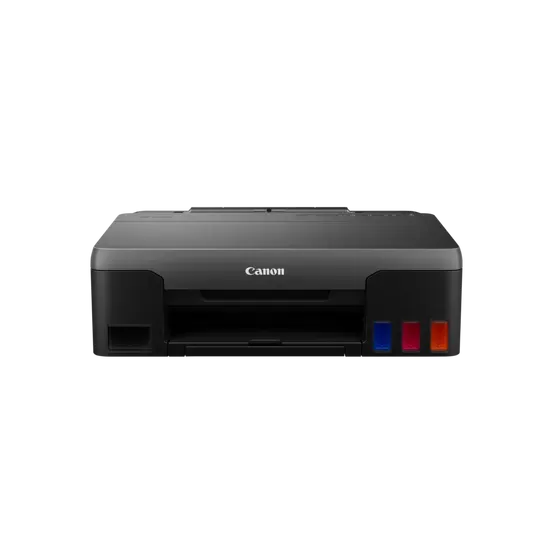 High speed, high quality:
The Canon Pixma G1420 excels in delivering both quality and speed. It operates at high speeds of 10.8 images per minute (ipm) for black printing and 6 ipm for color printing. The printer utilizes black pigment ink, which ensures sharp and clear text, while the pigment ink used for color printing produces vivid and vibrant images. This combination of reliable performance and advanced ink technology guarantees that you can enjoy excellent print quality without compromising on printing speed.
Easy maintenance:
The Canon Pixma G1420 is designed to minimize downtime and enable you to meet deadlines effortlessly through the inclusion of user-replaceable maintenance cartridges. This feature allows for quick and easy replacement, ensuring smooth operation and reducing any interruptions in your printing workflow.
Additionally, refilling the ink tanks of the Pixma G1420 is a hassle-free process. The printer features specially designed ink bottles that can be refilled without applying any pressure. Each bottle is equipped with a unique keyhole slot, enabling precise and equal volume refilling for every ink tank. This convenient and innovative design ensures that you can easily maintain optimal ink levels without any spills or wastage.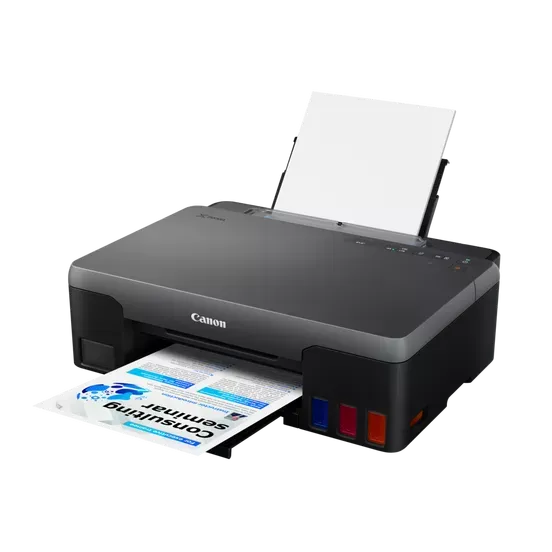 Thoughtful design:
Refilling the ink tanks of the Canon Pixma G1420 is a breeze with its user-friendly and pressure-less bottle design. These convenient bottles are equipped with a unique keyhole slot, ensuring that each ink tank is refilled with equal volumes. This smart feature enables precise and effortless refilling, eliminating the risk of spills or uneven distribution of ink. Enjoy the convenience and simplicity of maintaining your ink levels with this innovative ink tank system.
Get creative:
Unleash your creativity and explore a wide range of media possibilities with the Canon Pixma G1420. This versatile printer allows you to experiment with various types and sizes of media, including magnetic photo paper and reusable photo paper. Additionally, you have the freedom to print your own banners up to an impressive length of 1.2 meters. With the Pixma G1420, the possibilities for unique and customized prints are endless, empowering you to express your artistic vision in new and exciting ways.