Projector Specifications
Liquid Crystal Panel Size
0.55"
White Light Output Brightness
3600 ANSI lumens
Security Bar,Kingsington lock
AC 100 to 240 V, 50/60 Hz
33/29 dBA (Normal/Eco mode)
Benq Projector DLP MS550
Super bright 3600 lumens for stunning presentations
High native contrast ratio of 20,000:1 for crisp reading
Dual HDMI inputs for multi-platform digital connectivity
Clear high brightness for small, bright meeting rooms:
With 3,600 lumens of high brightness, you can discuss, collaborate, and take notes with comfortably backlit presentations in large, brightly lit meeting rooms for up to 20 participants. High illumination allows distant participants to see your slides clearly, and enhances image quality with vivid colors, crisp text and fine detail in photos and videos.

High Contrast for Clear Text
With industry-leading contrast ratios and pixel fill ratios, BenQ projectors deliver true blacks with every character, graphic and edge precisely defined and unparalleled readability. A higher fill factor improves the clarity of black-and-white or color images and reduces eye strain for presenters and viewers to focus on content.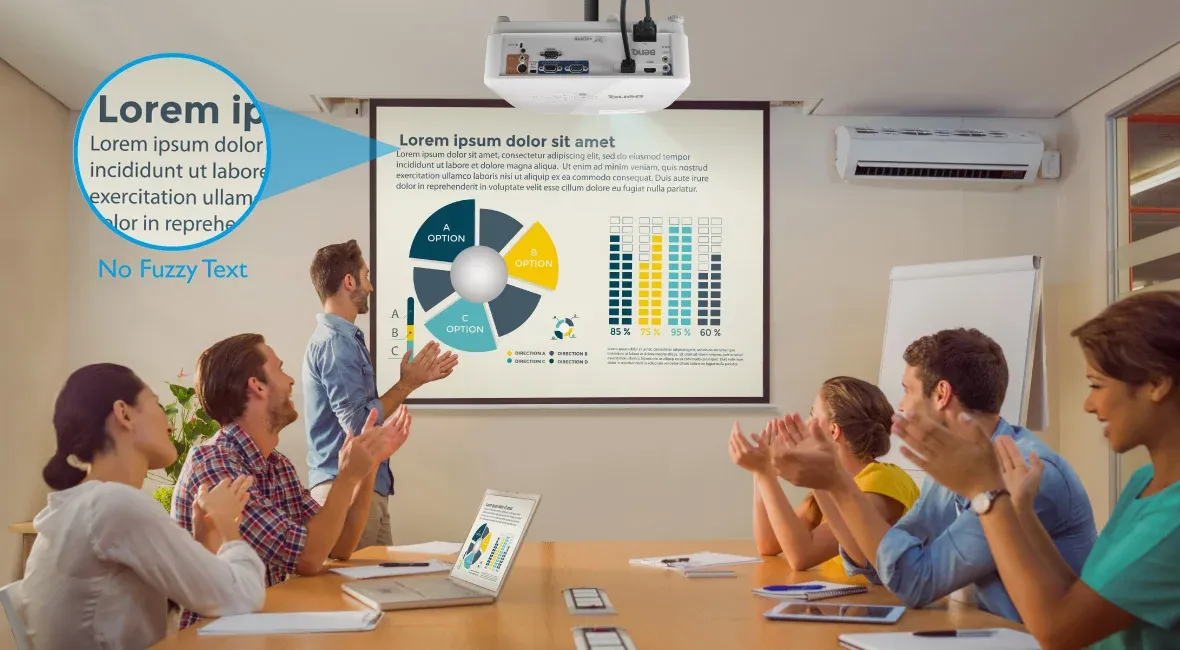 Universal Multi HDMI & VGA Connectivity
Dual HDMI and dual VGA inputs are designed to accommodate multiple presenters and their laptops or mobile devices without wasting time interleaving. Multiple inputs enable meeting participants to collaborate instantly without complex adapters or time-consuming IT support.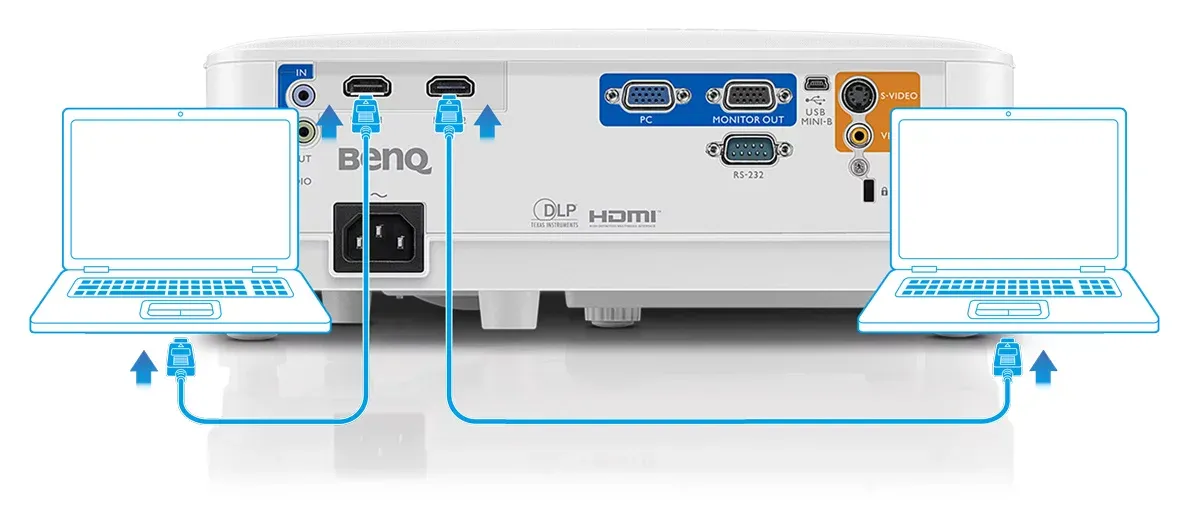 No Need a Big Room to See the Big Image
Project an image up to 100" wide from a distance of 3.98 meters. Easily share your professional work in small to medium-sized meeting rooms without taking up projector space.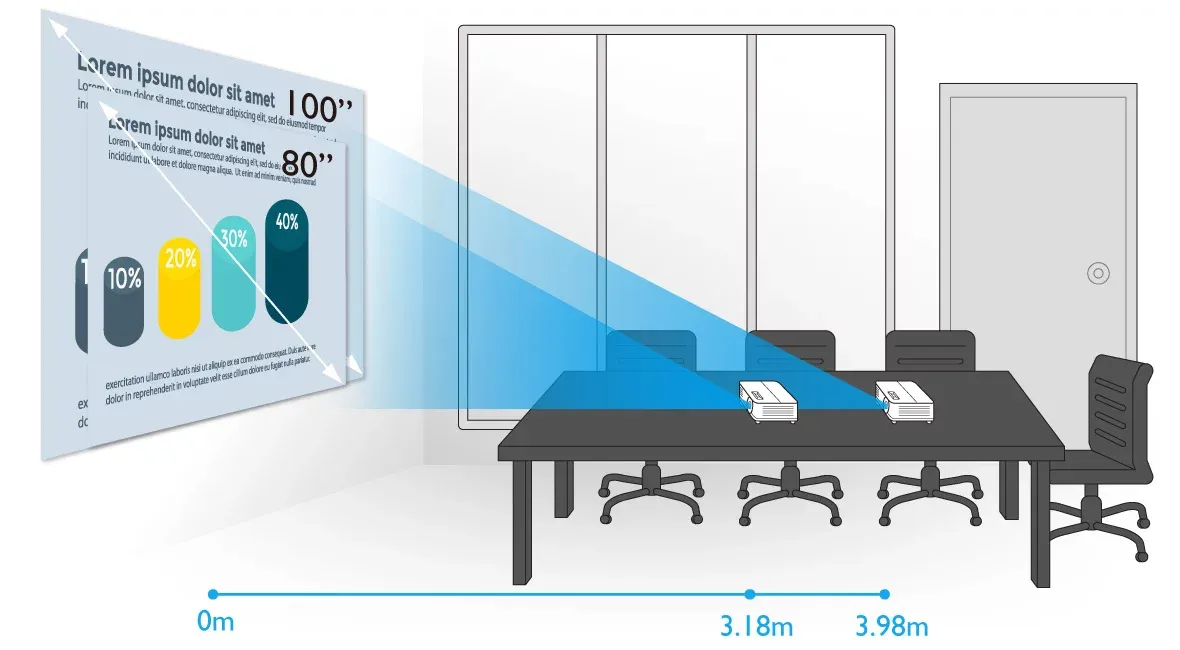 Vertical deflection for perfect alignment
A vertical keystone feature that offsets the keystone effect when the projector simply needs to be positioned off-center, such as on a table, to adjust the image to a professional-looking square image. Keystone correction makes it easy to view perfectly aligned images from multiple locations.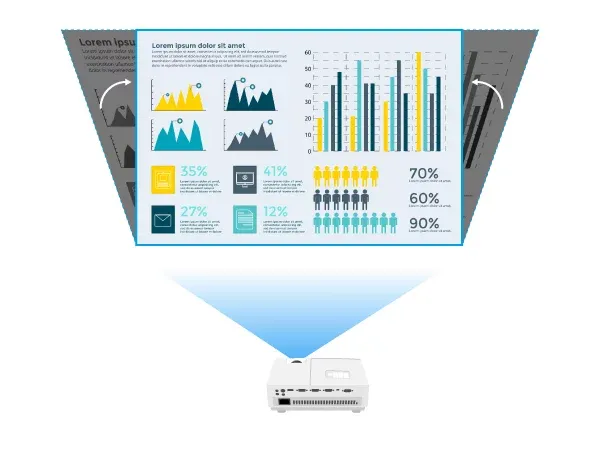 Convenient Outer Adjustment Feet
Much better than a projector with just one adjustable leg. Three adjustable legs provide great flexibility for different meeting rooms. And extra feet in the corners of the projector make it easy to move around and quickly start the perfect presentation, no matter what your unit is. placed.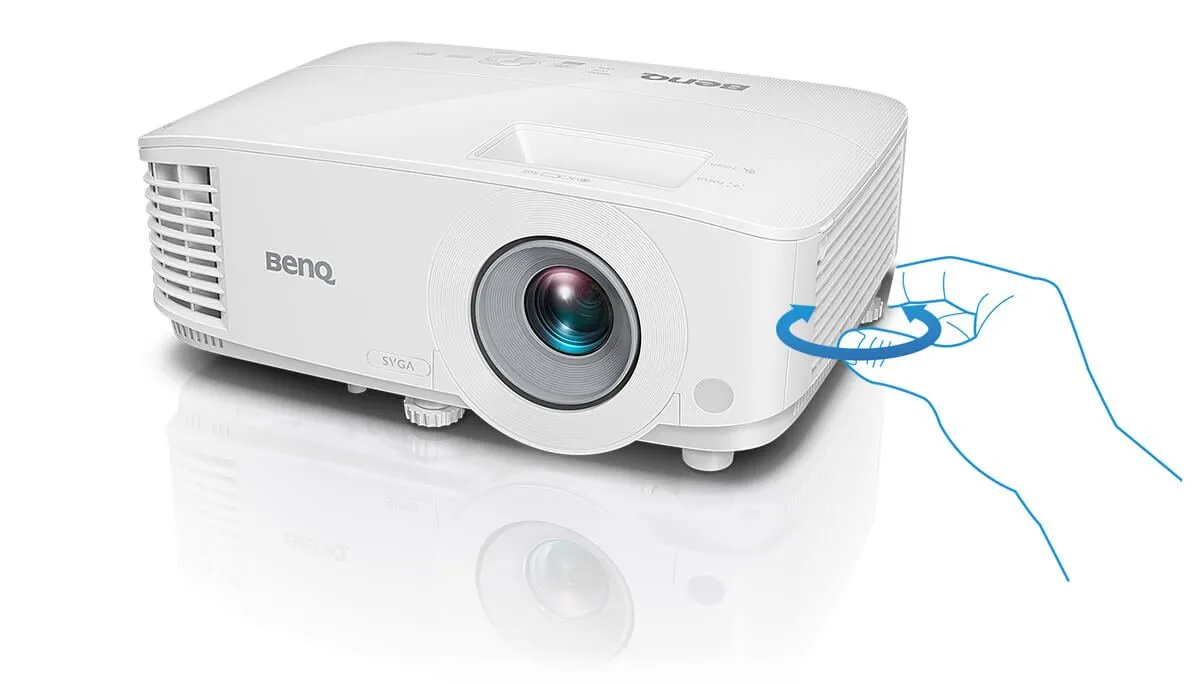 One-Touch Access to Install Functions:
The new remote has been carefully redesigned to feature dedicated Quick Set buttons that directly invoke setup-friendly functions such as test patterns and keystones without navigating nested menus on the on-screen display.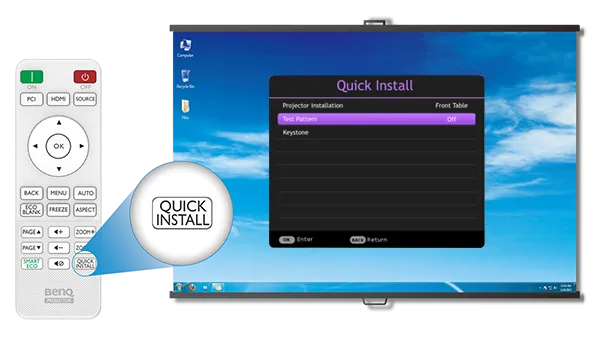 Easy-Access Top Door for Lamp Changes:
If the projector is ceiling mounted in a meeting room, the top lamp door can be easily opened for easy lamp access, maintenance and replacement. The quick access lamp door eliminates the need to remove the installed projector, significantly reducing downtime and making lamp replacement quick and easy.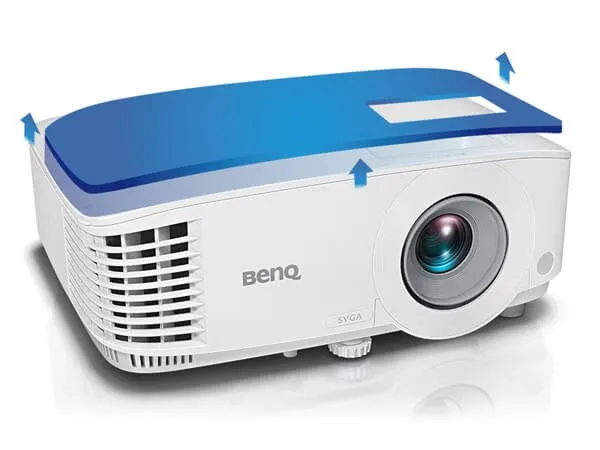 Kensington Lock to Discourage Theft:
Designed for businesses to protect desktop projectors, Kensington locks provide 'physical' security for conference room projectors. Both BenQ business projectors are equipped with security bars to protect against scammers.