Monitors Features
40 months ( 3 Years + 4 Months )
BenQ
GW2280
22" Inch
FHD VA 60Hz 5Ms
Monitor
Streamlined Productivity & Simplified Lifestyle:
Designed for beautiful simplicity, BenQ BenQ GW2280 22" frameless monitor combines ultra slim bezels with hidden cable management. Complementing BenQ exclusive Eye-Care™ Technology with Low Blue Light Technology and Flicker-Free performance for extended viewing comfort, industry-leading Brightness Intelligence Technology delivers exquisite details in any ambient lighting environment. Built with the dream combination of LED with VA panel, GW2480 is bound to bring a whole new visual experience and enjoyment to you with truly authentic colors, deeper blacks, higher contrast and sharper details.

Understated, Stylish and Sophisticated Design:
Texture:
The luxurious textured pattern is scratch resistant and has a luxurious finish.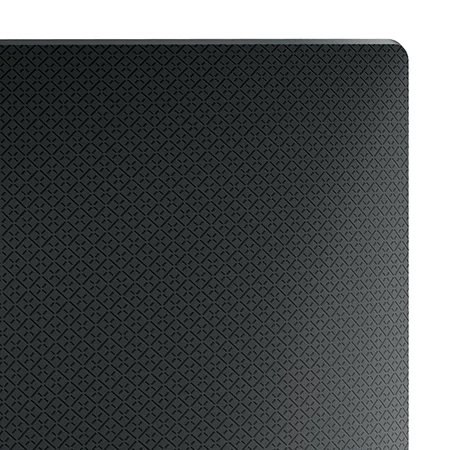 Sculpted Base:
A delicately sculpted base profile trims the outer edges for a neat and functional look.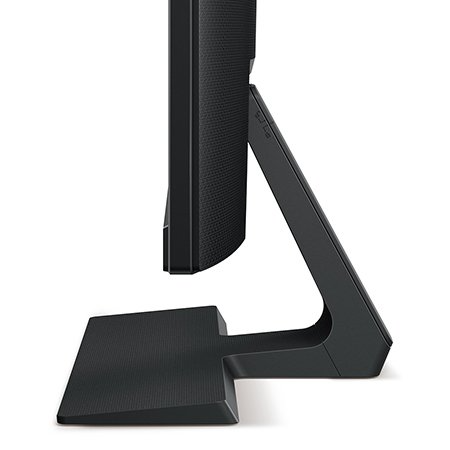 Ultra Slim Bezel Design:
The GW2480 offers a visually stunning edge-to-edge panel with ultra-thin bezels and a sleek profile that perfectly complements contemporary décor.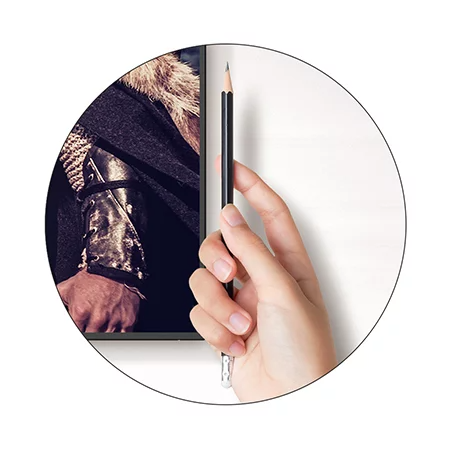 Cable Management System:
Invisible cable management system keeps all wires neatly hidden inside the monitor stand for a clean look.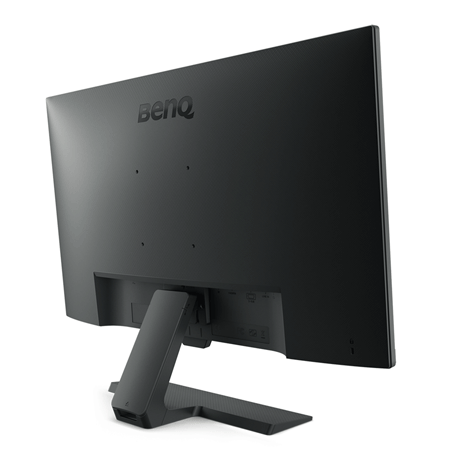 GW2280 comes with a stylish and sophisticated design that boasts an elevated level of elegance while helping to enhance the overall productivity. Empowered by the premium etching texture and sculpted base, GW2280 resists fine scratch whirls and eliminates extraneous edges for a clean, functional appeal. Additionally, the edge-to-edge panel with ultra slim bezels can complement any modern décor. To ensure the cleanest look, GW2280 offers an invisible cable management system to neatly hide all wires inside the monitor's stand.
Brilliant Picture Quality:
3000:1 Ultra-High Native Contrast for Depth and Definition:
Ultra-high 3000:1 native contrast, 3X higher than standard panels, adds astonishing color depth and definition to complex dark images with exquisite subtlety and clarity. High native contrast also enables infinite dynamic contrast to far exceed the highest expectations.

178°/178° Wide Viewing Angles:
Advanced VA (Vertical Alignment) panel technology delivers truly authentic colors and ultra-sharp details from left, right, above and below with 178°/178° viewing angles for an unsurpassed viewing experience.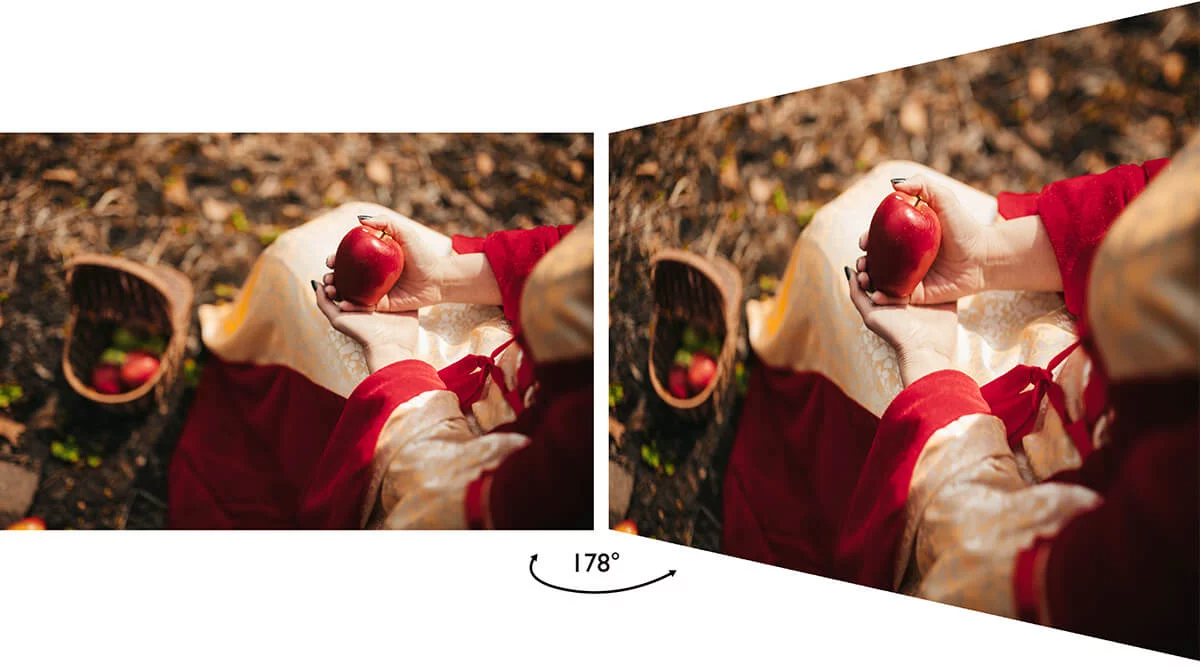 8-Bit Color Display:
With the ability to render 16.7 million color shades simultaneously, you can expect true colors, silky transitions and impeccable image quality. BenQ Exclusive Eye-Care Technology
Multimedia Enjoyment:
Embedded with 2 HDMI ports, users can enjoy multimedia fun by easily switching between two media sources without troublesome plug in and plug out with GW2280.

Brightness Intelligence Technology:
Brightness Intelligence (B.I.Tech.) enhances display performance for work and play, protecting your eyes with superior image quality.
Picture Perfect Content Optimization:
Brightness Intelligence Technology (B.I.Tech.) detects content density to avoid overexposure in bright scenes and optimizes dark areas to maintain visibility.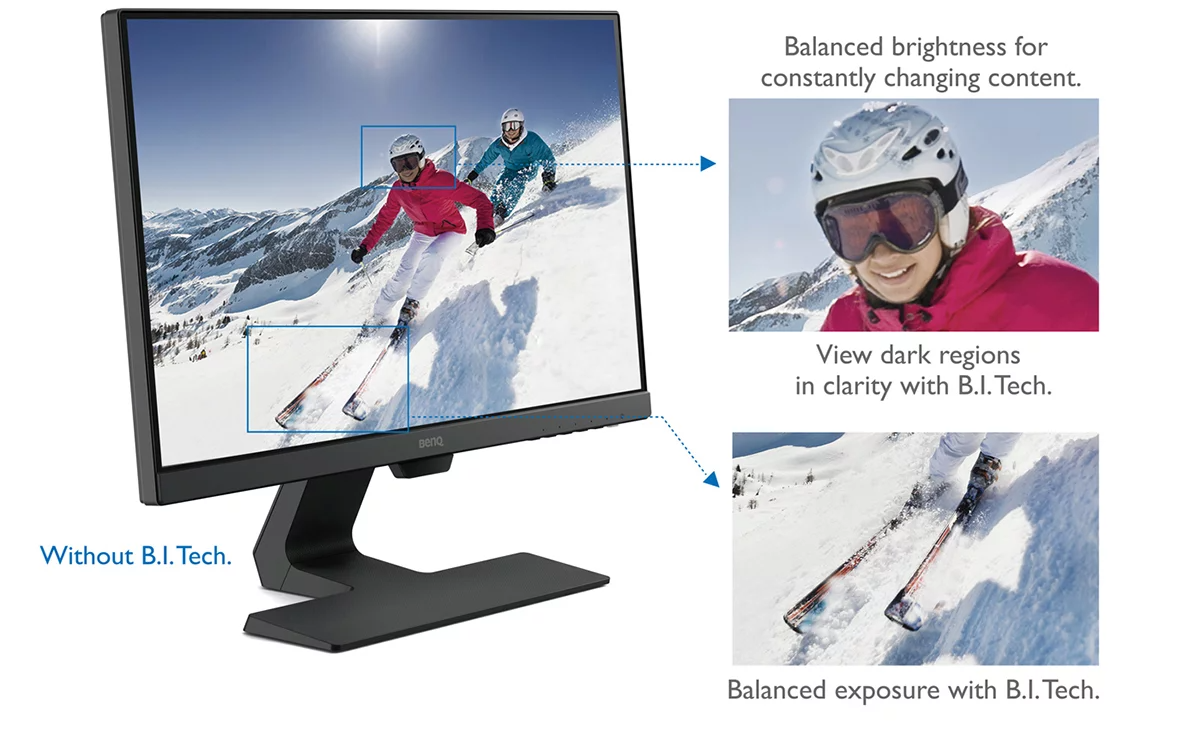 Eliminate Eye Strain in Any Ambient Light:
Brightness Intelligence Technology (B.I.Tech.) monitors the ambient light in your viewing environment and actively adjusts screen brightness to provide the most comfortable viewing experience.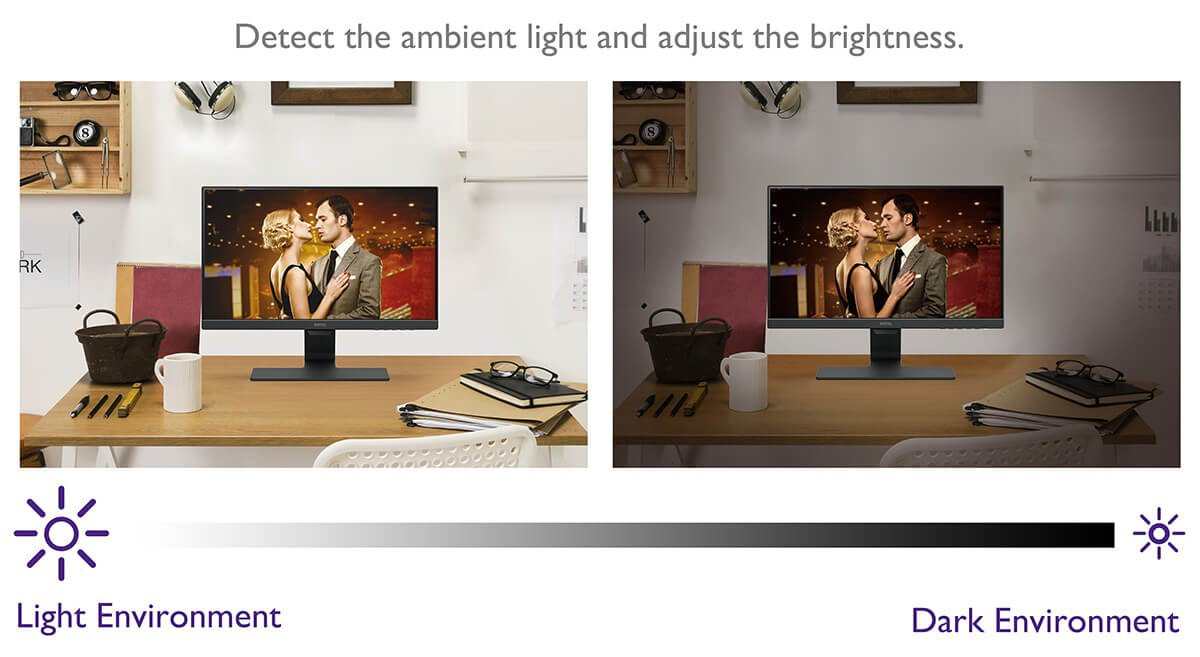 Low Blue Light:
BenQ Low Blue Light Technology filters out harmful blue light, effectively reducing eye fatigue and irritation.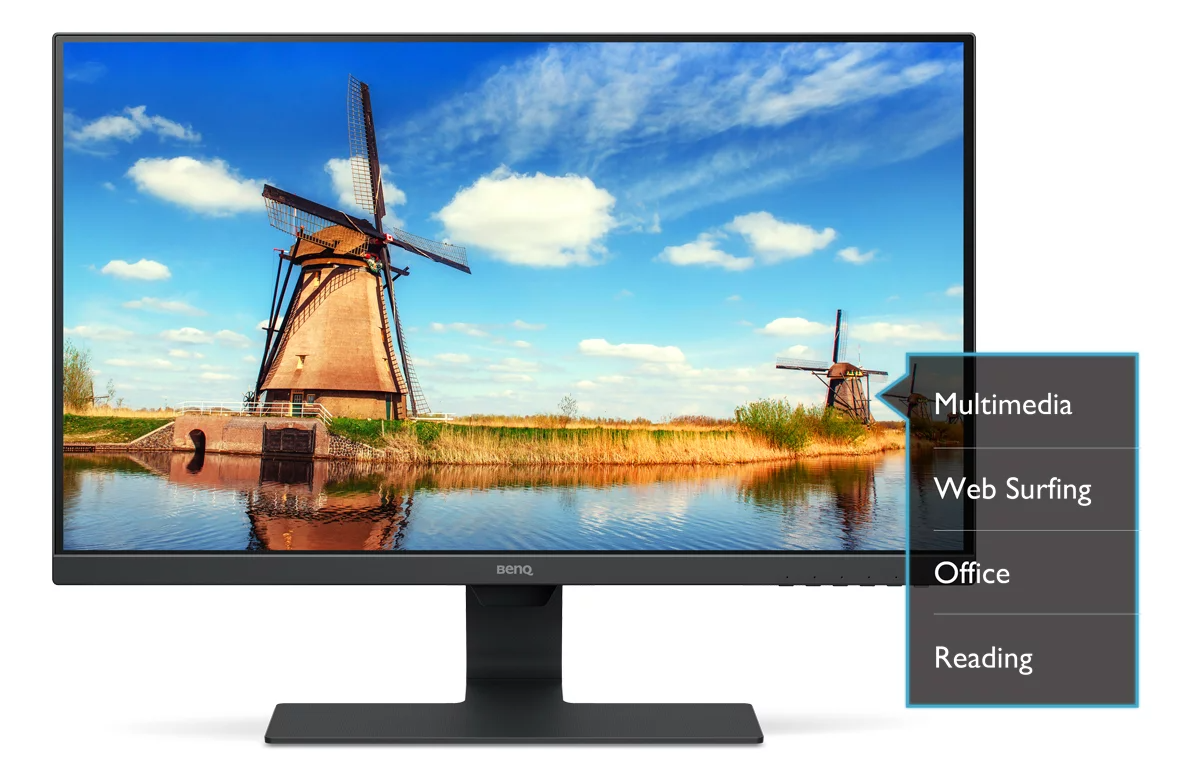 Flicker-free:
BenQ's exclusive Flicker-Free technology eliminates the harmful flickering of traditional LCD screens, preventing fatigue and blurred vision.