Vivobook 15X OLED X1503ZA-OLED007W
2.3 GHz (24M Cache, up to 4.7 GHz, 6P+8E cores)
512GB M.2 NVMe™ PCIe® 3.0 SSD
15.6-inch, FHD OLED 16:9 aspect ratio, 0.2ms response time, 60Hz refresh rate, 600nits HDR peak brightness, 100% DCI-P3 color gamut, 1,000,000:1, VESA CERTIFIED Display HDR True Black 600, 1.07 billion colors, PANTONE Validated, Glossy display, 70% less h
70WHrs, 3S1P, 3-cell Li-ion
720p HD camera With privacy shutter
1x USB 2.0 Type-A 1x USB 3.2 Gen 1 Type-C 2x USB 3.2 Gen 1 Type-A 1x HDMI 1.4 1x 3.5mm Combo Audio Jack 1x DC-in
أسوس فيفوبوك 15X OLED X1503ZA-OLED007W
انتل كور I7-12700H 512 جيجا اس اس دي 8 جيجا رام انتل الترا اتش دي جرافيك 15.6 بوصة فل اتش دي OLED ويندوز 11
أبهر العالم بقوة سلسة:
ارفع تجربتك الرقمية مع Asus Vivobook 15X OLED X1503ZA-OLED007W ، وهو كمبيوتر محمول عالي الأداء يتميز بشاشة OLED HDR مذهلة تتميز بمجموعة DCI-P3 من فئة السينما. تم تصميم هذا اللاب توب لتمكينك من إنجاز المهام دون عناء، بغض النظر عن مكان وجودك. لقد خضع لتحسينات كبيرة، بدءًا من معالج Intel® القوي من الجيل الثاني عشر وحتى المفصلة المسطحة بزاوية 180 درجة، وخيارات الألوان المعاصرة، والتصميم الهندسي الأنيق. انطلق في رحلة جديدة وحيوية اليوم باختيار Vivobook 15X OLED!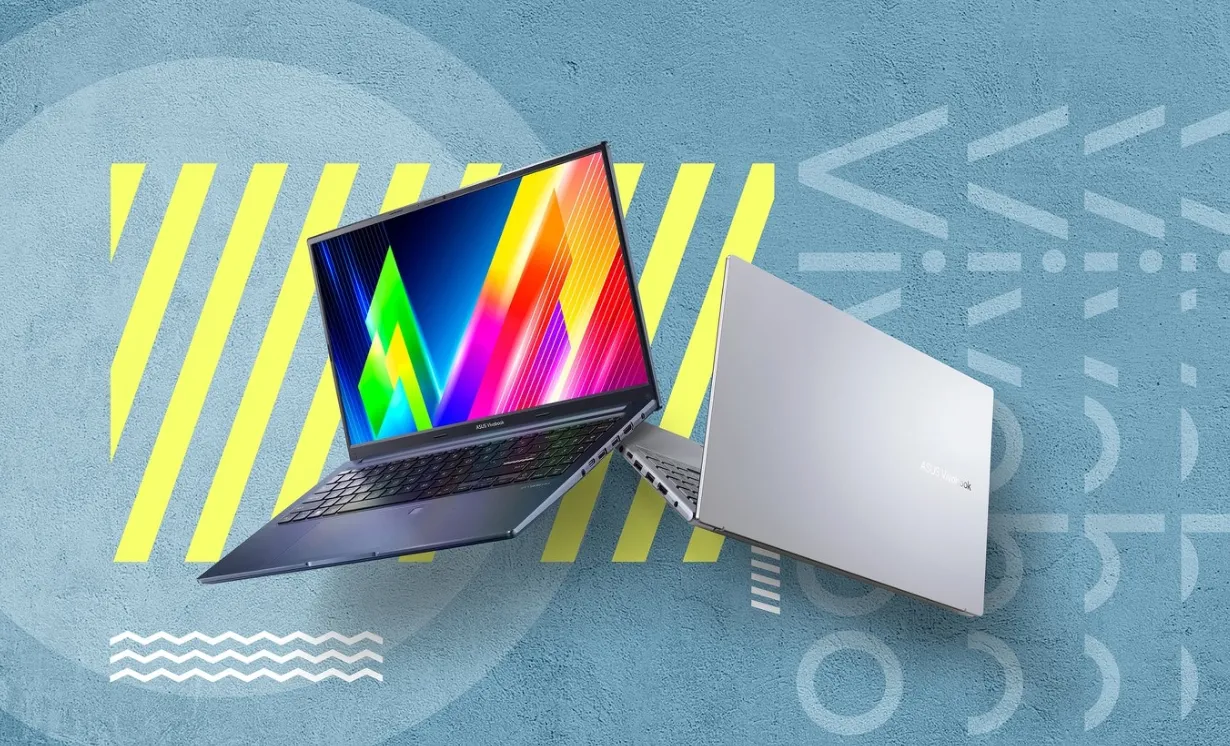 اكتشف رؤية جديدة مفعمة بالحيوية:
انغمس في عالم من الإمكانيات المرئية التي لا حدود لها وانغمس في العرض المذهل لجهاز Vivobook 15X OLED. ستنقلك شاشتها الواسعة ذات نسبة العرض إلى الارتفاع 16:9 إلى مستوى جديد من الانغماس. تتميز شاشة OLED HDR هذه، بتصميم NanoEdge ثلاثي الجوانب، بالتألق وتعرض طيف ألوان DCI-P3 بنسبة 100% من الفئة السينمائية للحصول على ألوان نابضة بالحياة بشكل استثنائي. علاوة على ذلك، فقد حصلت على اعتماد PANTONE® المرموق لدقة الألوان من الدرجة الأولى، كما حصلت على اعتماد TÜV Rheinland للحد الأدنى من انبعاثات الضوء الأزرق. اسمح لجهاز Vivobook 15X OLED بأن يكون الضوء الموجه لك في رحلتك الإبداعية، مما يوفر لك تجربة بصرية منعشة ومبتكرة.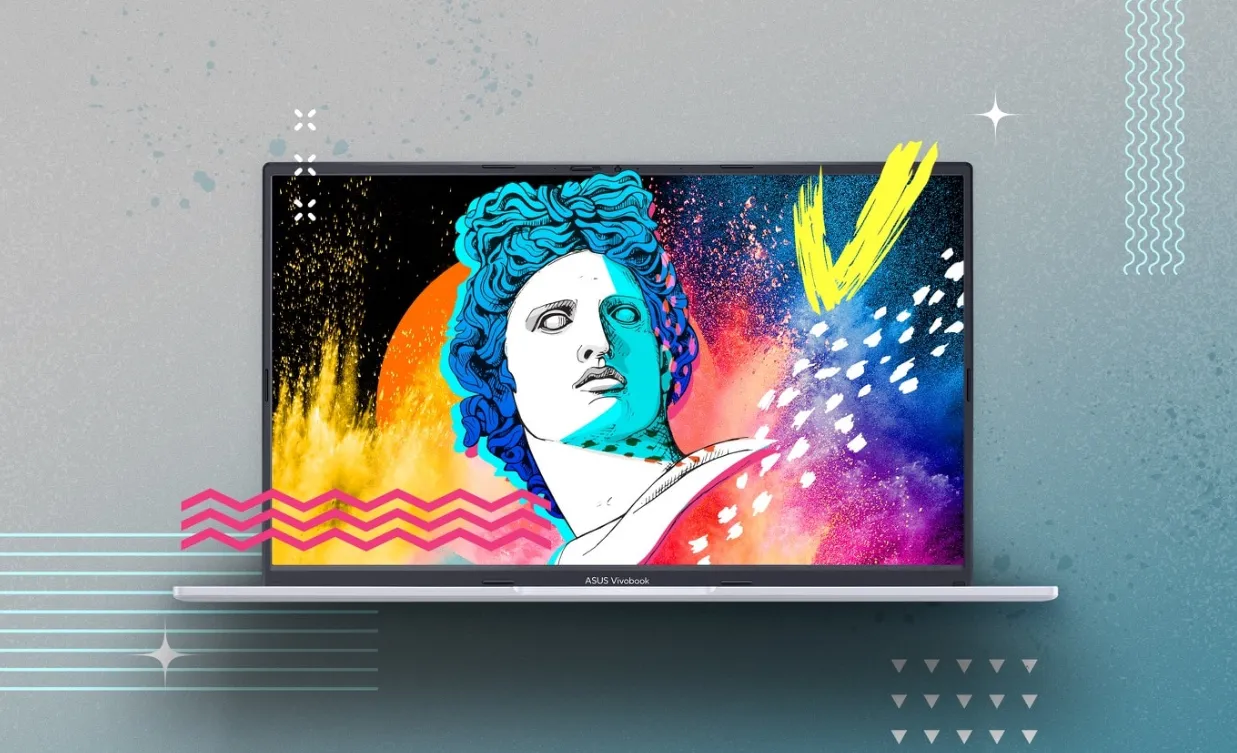 سينما OLED بين يديك:
تتميز شاشة Vivobook 15X OLED بنطاق ألوان استثنائي، مما يضع معيارًا جديدًا لدقة الألوان النابضة بالحياة المناسبة للمرئيات الاحترافية. إنه خيار مثالي للمحترفين والأفراد المبدعين، وكذلك لأي شخص يبحث عن أقصى درجات دقة الألوان في تجربته البصرية. بفضل المركبات العضوية الباعثة للضوء المستخدمة في تقنية OLED، تقلل هذه الشاشة بشكل كبير من الضوء الأزرق الضار بنسبة تصل إلى 70% مقارنة بشاشات LCD التقليدية. تضمن هذه الميزة تجربة أكثر ملاءمة للعين، مما يقلل من المخاطر المحتملة لتلف الشبكية.
وضوح حركة رائد عالميًا مع شاشة OLED بتردد 120 هرتز:
Experience the world's inaugural OLED laptop display with an impressive 120 Hz refresh rate and a rapid 0.2 ms response time. This remarkable screen offers not only the finest color and quality but also a heightened level of smoothness that enhances a wide range of activities, whether it's gaming, creative work, daily tasks, or media consumption. To put it simply, it's truly exceptional!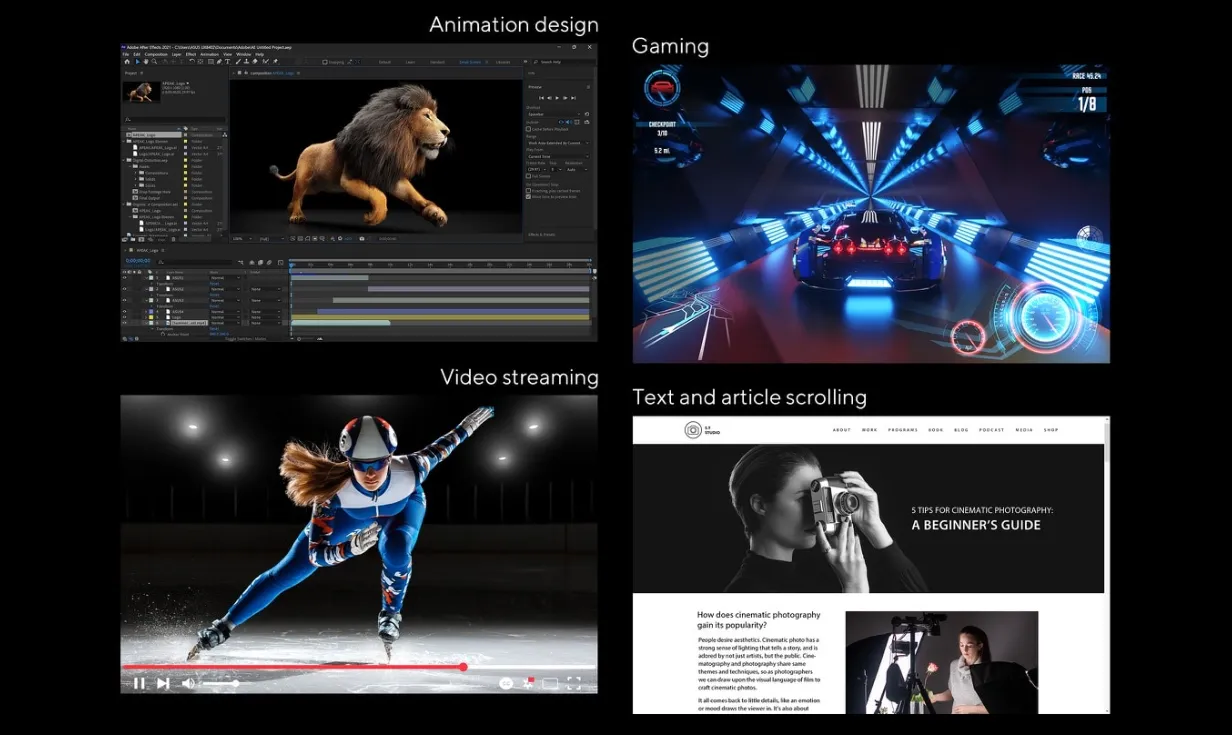 Ultimate 120 Hz / 0.2 ms for exceptional motion clarity:
The recently introduced high-end ASUS OLED display, boasting a 120 Hz refresh rate and an impressive 0.2 ms pixel response time, offers an unparalleled level of smoothness and clarity. In an unexpected twist, the 120 Hz / 0.2 ms OLED display outpaces a 165 Hz / 3 ms LCD IPS display, thanks to its remarkable reduction of ghosting to an imperceptible level. In simpler terms, this translates to a significantly enhanced visual experience, with even fast-paced visuals appearing smoother and sharper than ever before.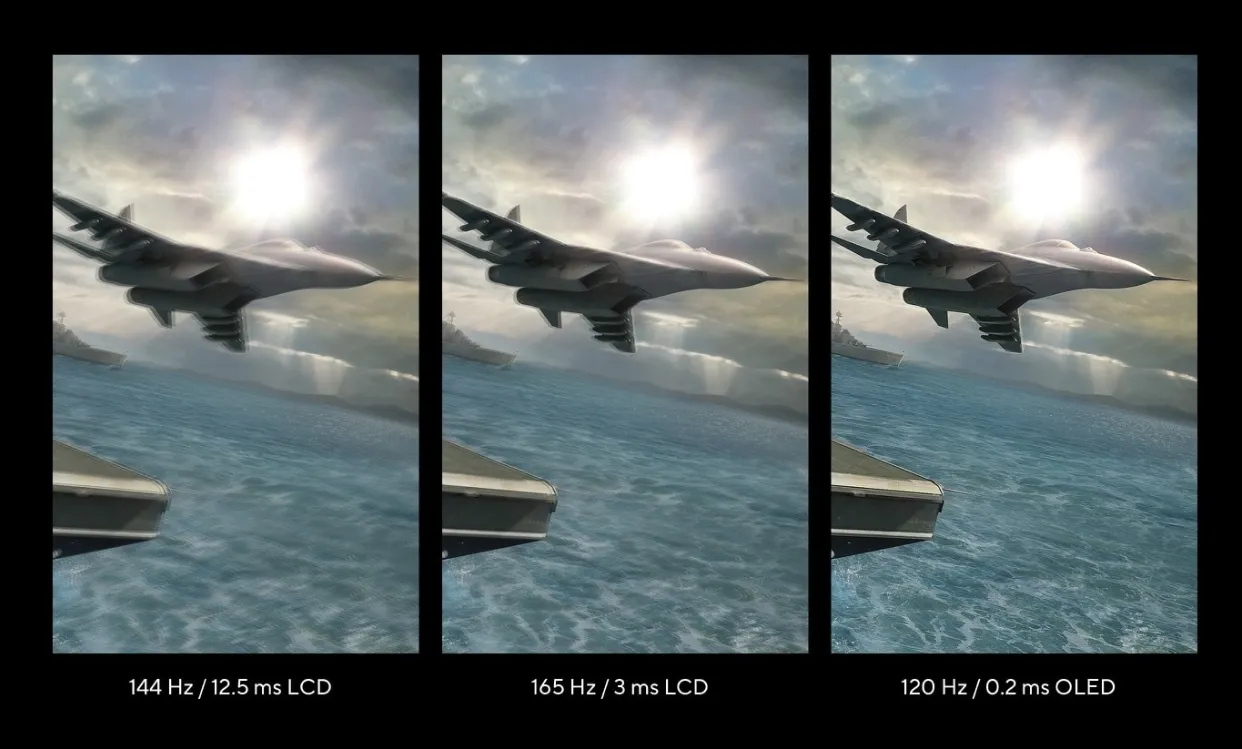 How 120 Hz / 0.2 ms OLED display has better motion clarity than 165 Hz / 3 ms LCD display:
The fact that a 120 Hz / 3 ms OLED display can outperform its 165 Hz / 3 ms LCD counterpart might appear perplexing, but there's a logical explanation. The LCD panel necessitates precisely 6.06 ms to refresh each frame, with an additional 3 ms of response time required to accurately process colors. This accumulates to a total of 9.06 ms to fully render the image. In contrast, a 144 Hz / 12.5 ms LCD display takes even longer, at 19.44 ms to display the complete, final frame for each image. However, thanks to its lightning-fast response time, a 120 Hz / 0.2 ms OLED display only requires 8.5 ms to handle the same task, making it even faster than a 165 Hz / 3 ms LCD display.
Customizable color gamut for every need:
You can effortlessly and swiftly adjust the color gamut of the display to suit various tasks or personal preferences. In addition to the incredibly vibrant default color setting, you have the flexibility to select sRGB for web content creation or browsing, DCI-P3 for cinematic content, or Display P3 for colors that are finely tuned to deliver a movie-grade experience for everyday viewing in the real world.
Next-level performance:
The Vivobook 15X OLED is your striking and dependable companion for all your daily tasks, effortlessly handling both professional and personal demands, from office work to leisure activities, including presentations and entertainment. Equipped with the latest 12th Gen Intel® Core™ processors, bolstered by 16 GB of high-speed memory and 512 GB of swift SSD storage, this laptop ensures you have ample power in reserve, ready to tackle even the most demanding tasks with ease.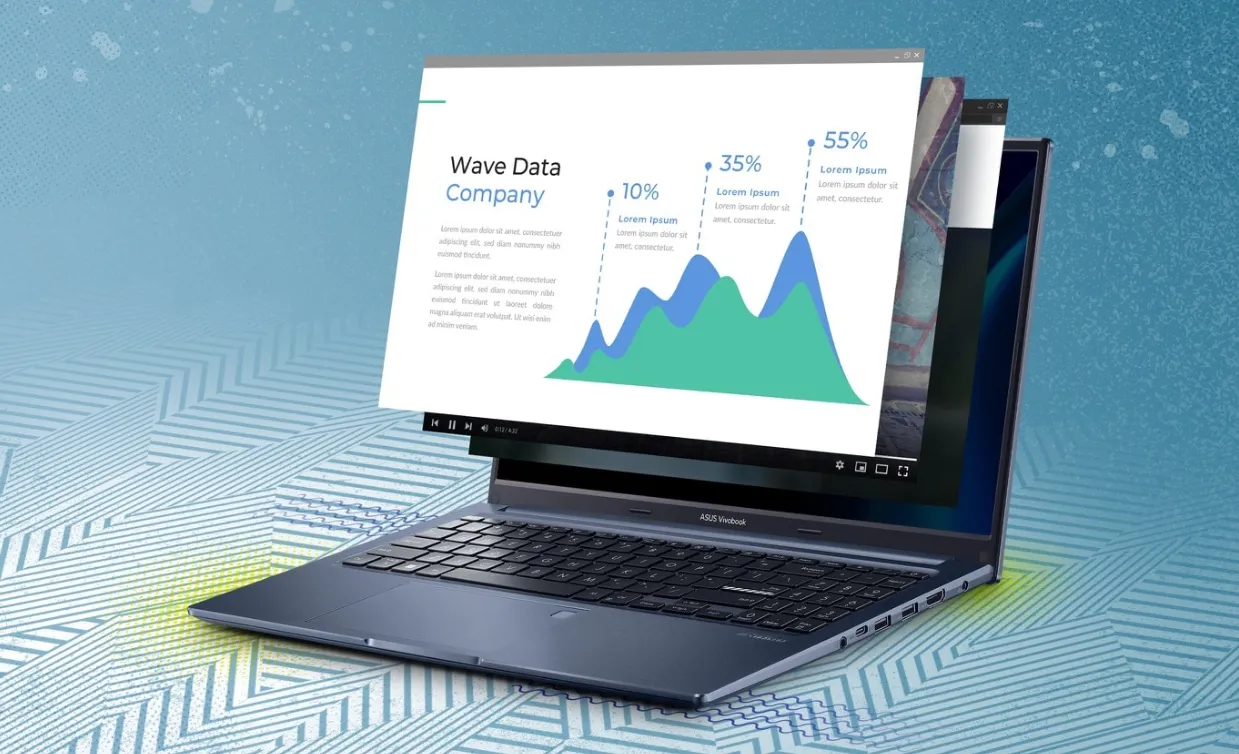 12th Gen Intel

®

Core

™

i7 H-Series CPU:
The Asus Vivobook 15X OLED takes performance to the next level, featuring the latest 12th Gen Intel® Core™ i7-12700H processor that significantly enhances the ease of various tasks. Whether you're streaming, browsing, video editing, engaging in video calls, or managing your home business, this laptop excels in every aspect. With the capacity to be boosted up to a TDP of 45 watts, it represents the most high-performing generation to date, ensuring top-tier performance.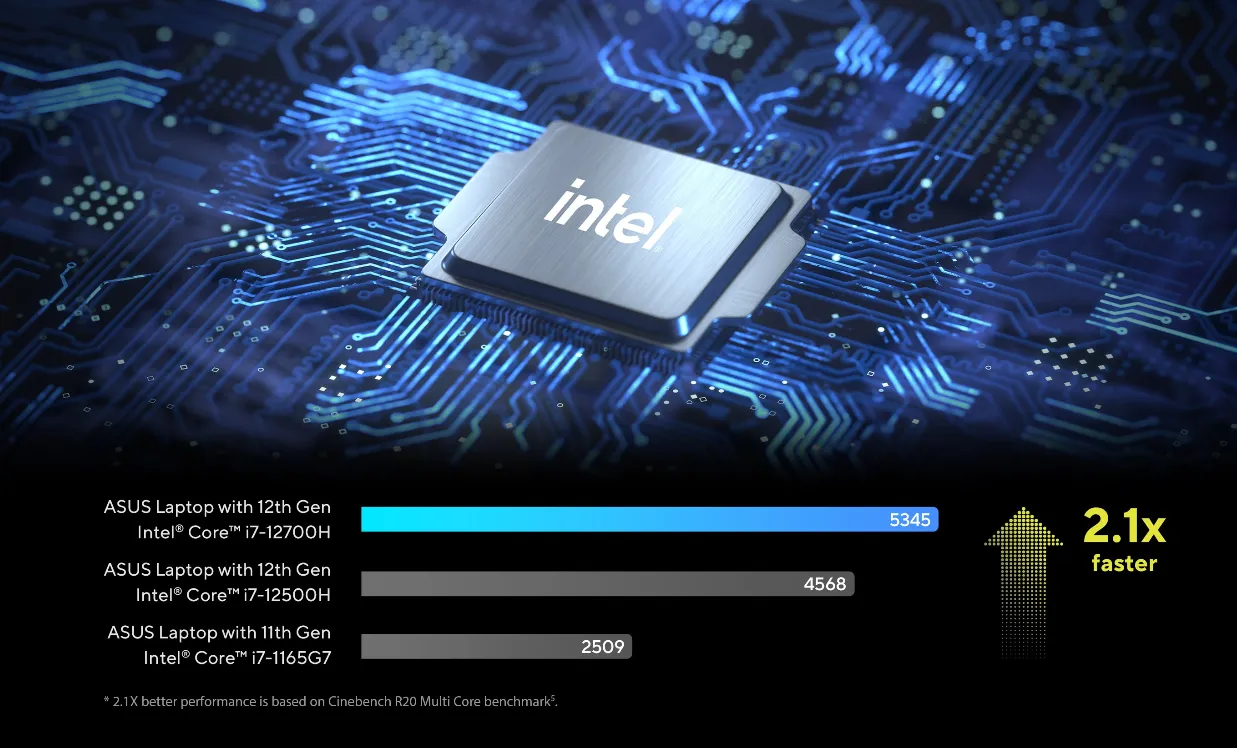 Better performance with no compromise on battery life:
With their robust 70 watt-hour batteries, ASUS laptops featuring H series CPU processors provide substantial battery life to match your mobile lifestyle. You can enjoy both productivity and leisure without any compromises.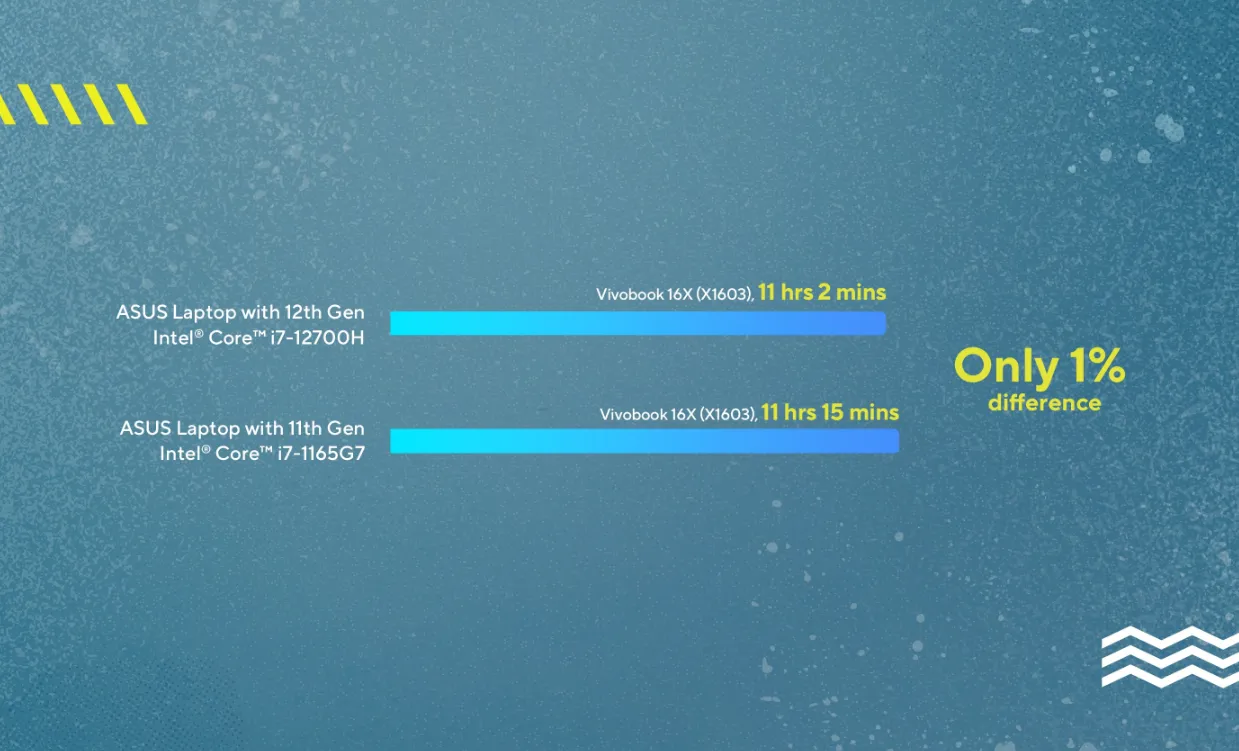 Cooler, quieter and faster!
The Vivobook 15X OLED employs ASUS IceCool thermal technology to ensure effective cooling in all scenarios. This technology incorporates enhanced heat pipes and an IceBlade fan, which optimizes the transfer of heat. The fan is equipped with 87 blades and an impeller crafted from a lightweight and slim liquid-crystal polymer material, making it more efficient than typical fans. Additionally, it utilizes a fluid-dynamics bearing, reducing both noise and vibration compared to conventional bearings. Consequently, this robust cooling system allows the powerful CPU to operate comfortably at an impressive 45 watts total TDP in Performance mode without experiencing any throttling.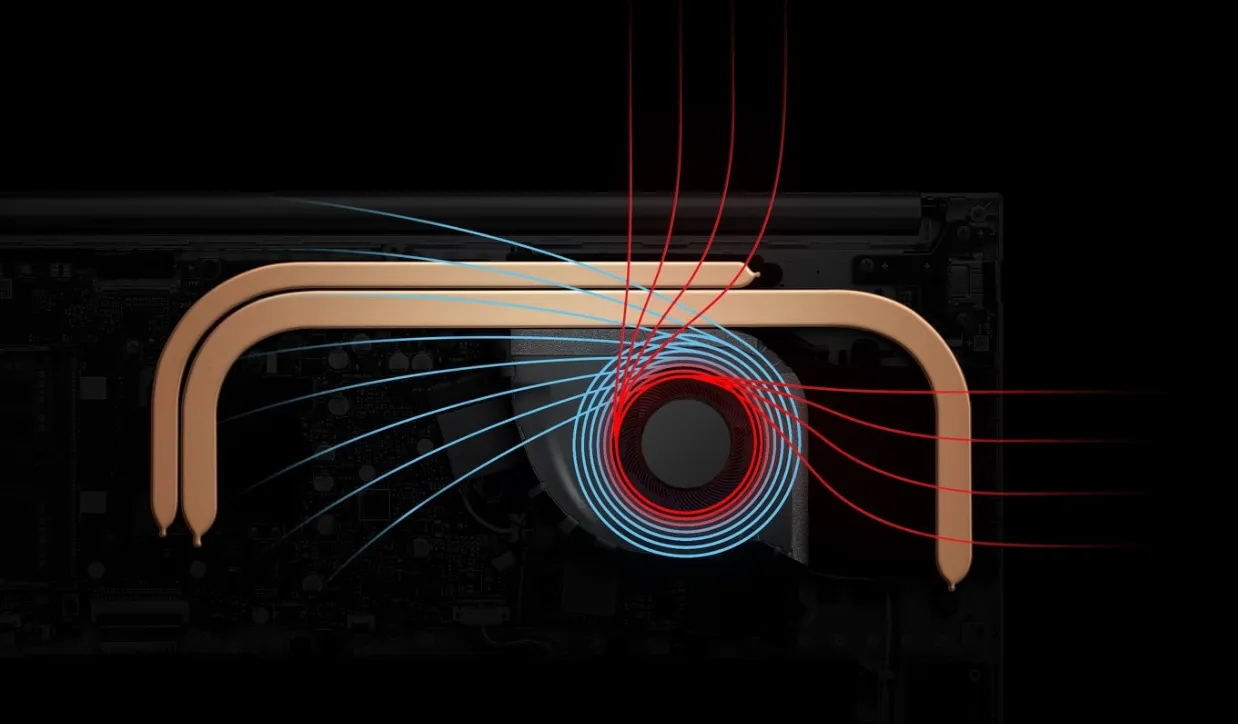 Don't be ordinary!
The Asus Vivobook 15X OLED is far from your typical laptop, featuring a sleek design and offering a choice between two captivating colors. You can opt for the alluring Quiet Blue or the distinguished Transparent Silver, selecting the one that resonates with your personal style. Its slim profile allows it to effortlessly slip into any backpack without causing any bulk, and its lightweight design makes it convenient for one-handed carrying.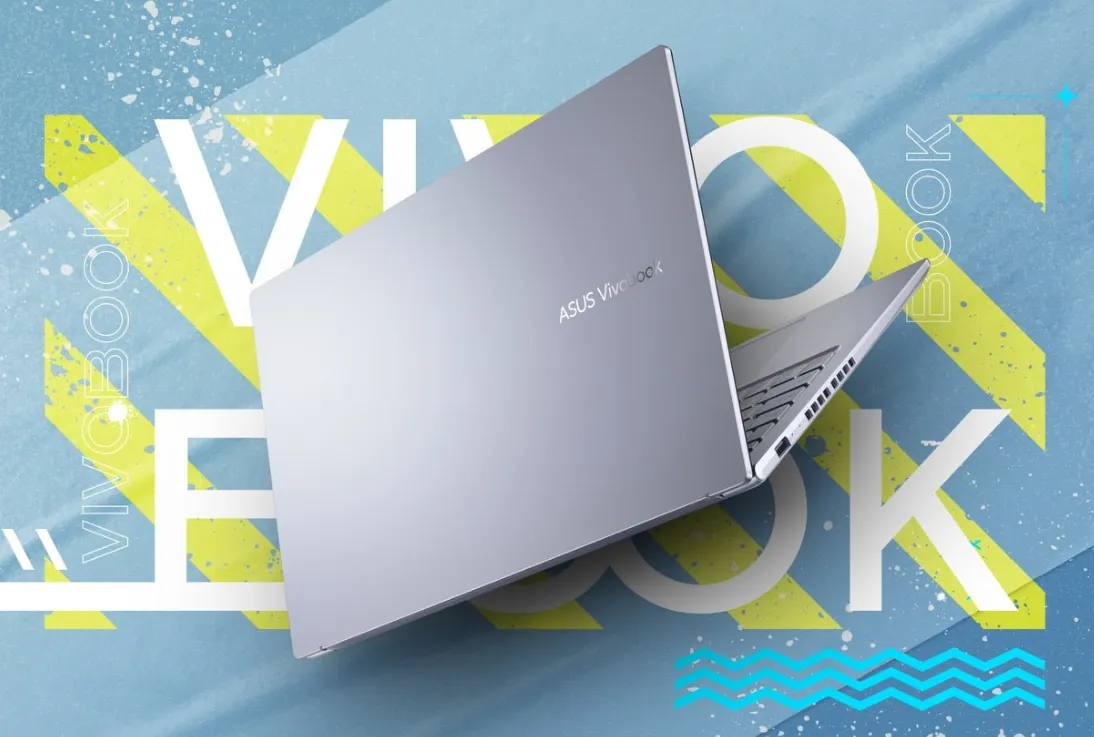 Wide open for sharing:
The Vivobook 15X OLED boasts a meticulously crafted lay-flat hinge, simplifying the sharing of content with others or facilitating collaborative work with a group of people gathered around a table.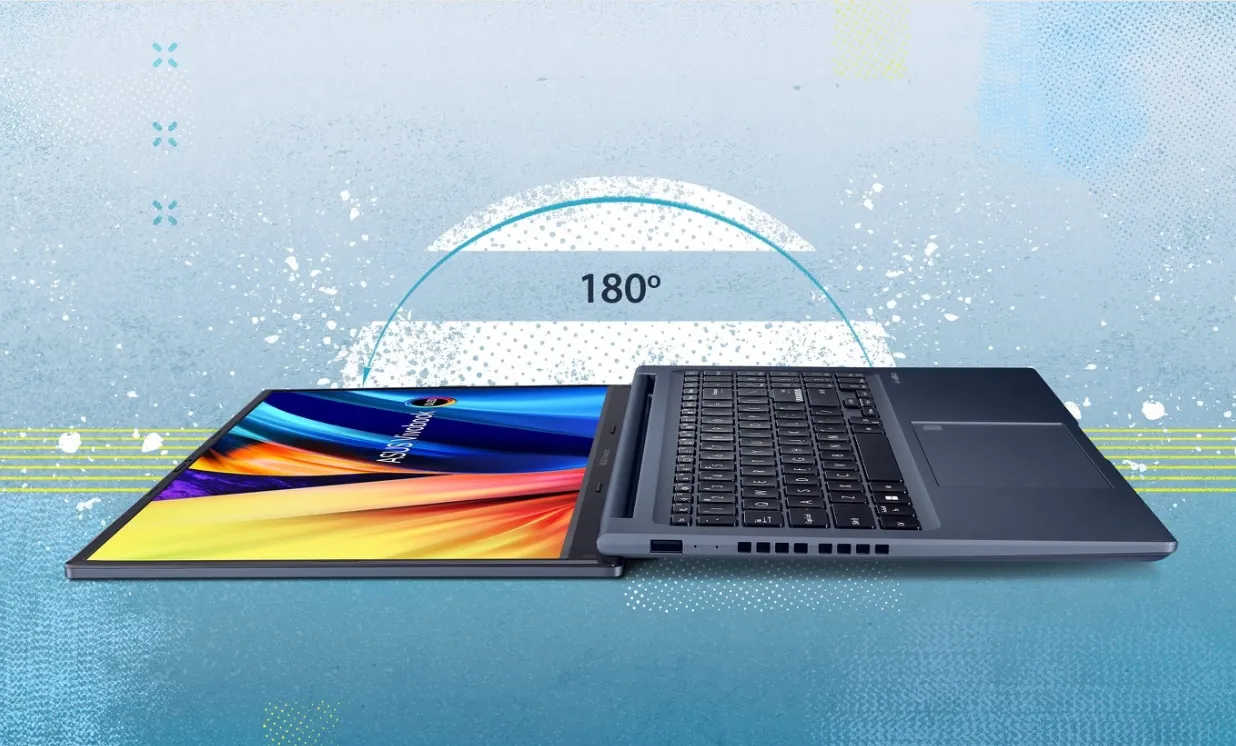 Brilliantly nuanced ErgoSense keyboard:
At ASUS, our purpose is to enhance the way people interact with technology, making it more intuitive and user-friendly than ever. Our latest ASUS ErgoSense keyboards are meticulously designed to provide an unparalleled input experience that seamlessly aligns with your natural movements, sensations, and touches. Your comfort is of utmost importance to us, which is why the ErgoSense keyboard offers a remarkably satisfying tactile experience, with carefully calibrated bounce and travel for optimal precision. When you experience the ErgoSense keyboard, you'll effortlessly breeze through your work, making tasks more enjoyable and efficient.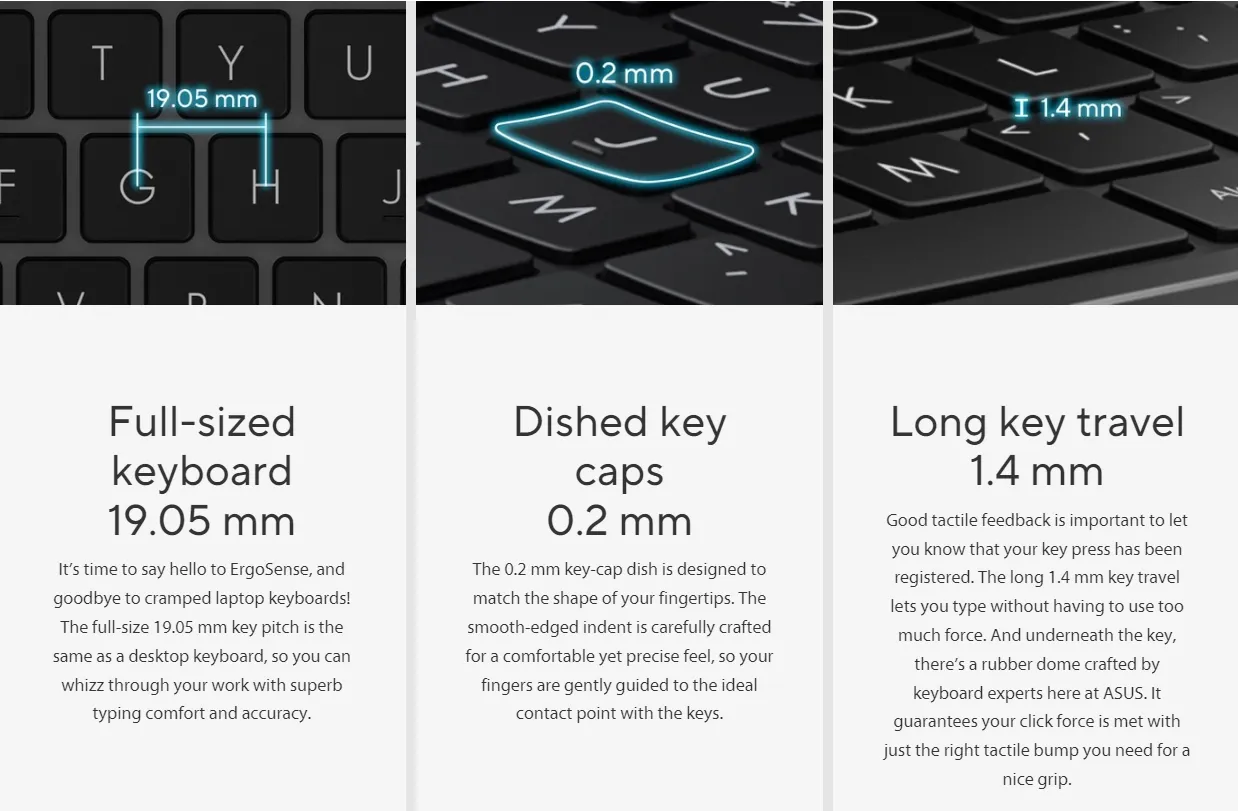 Physical webcam privacy shield:
The Vivobook 15X OLED prioritizes your privacy and security. It features a built-in privacy shield that can be easily slid over the webcam, instantly providing you with privacy and safeguarding you from unwanted intrusion or disturbances.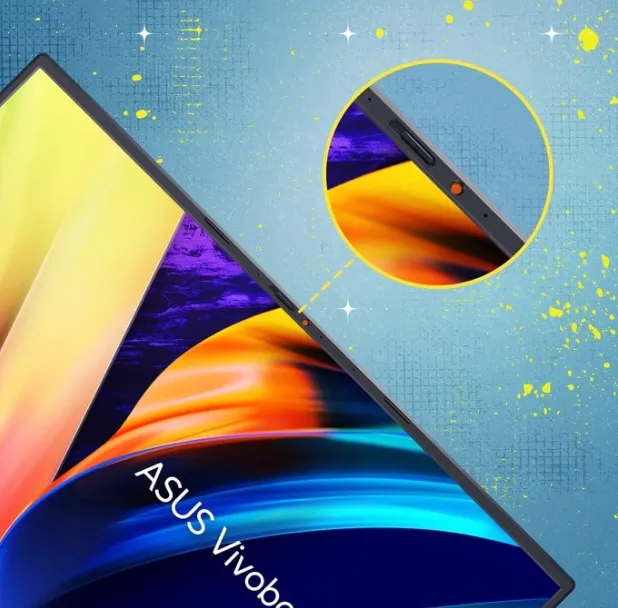 Real-time webcam image optimization:
Elevate your video-calling experience to new heights with ASUS 3D Noise Reduction (3DNR) Technology and the latest webcam effects in MyASUS. The 3DNR technology is a game-changer, enhancing webcam image clarity through a unique algorithm that sharpens images and actively reduces noise in real-time, ensuring that your video calls are incredibly sharp and clear. MyASUS adds valuable image-processing features to the mix, such as Background Blurring for enhanced privacy, Lighting Optimization to eliminate shadows on faces, Motion Tracking to keep you centered, and Eye Tracking to minimize distractions caused by your eyes drifting away from the camera.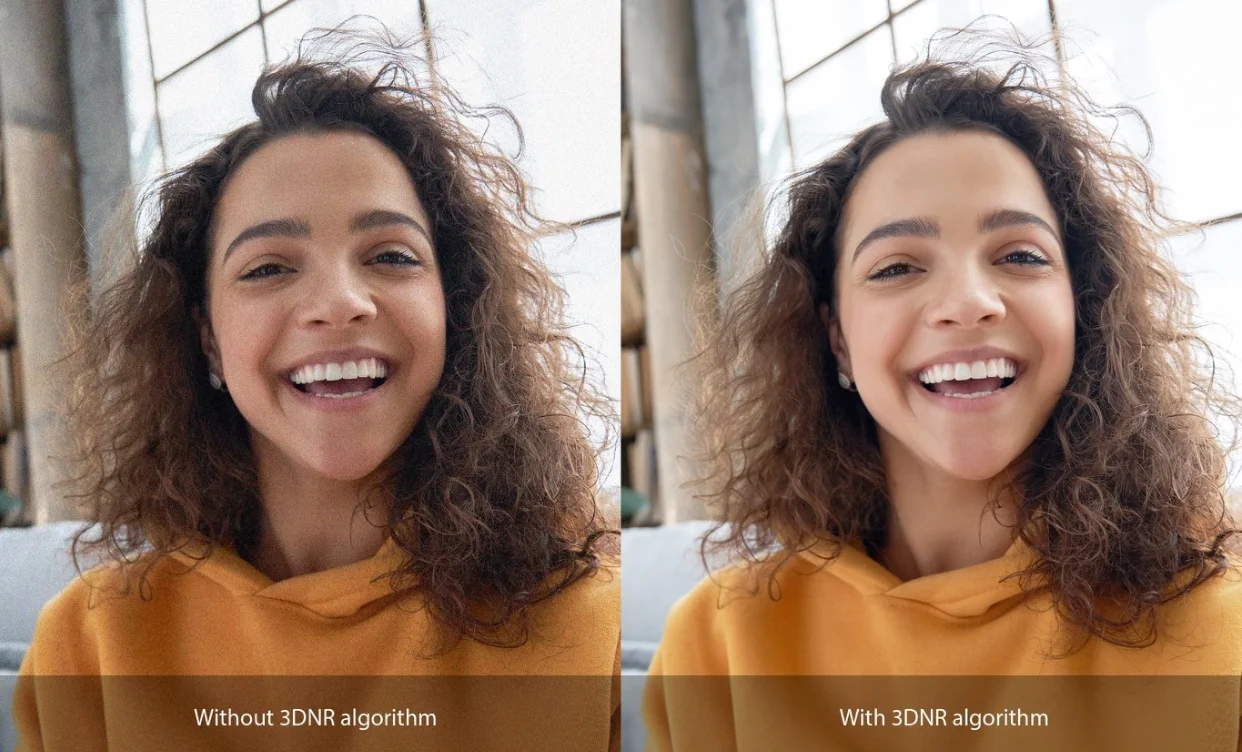 99% bacterial inhibition. Your health safeguarded.
The surface of any laptop can accumulate thousands of potentially harmful bacteria. To maintain a clean and hygienic laptop, ASUS has implemented Antibacterial Guard, a specialized surface treatment that helps deter the proliferation of these microorganisms. In fact, scientific studies have demonstrated that Antibacterial Guard can suppress the growth of bacteria by over 99% within a 24-hour timeframe. This not only ensures that your laptop's surfaces remain clean and germ-free for an extended period but also reduces the risk of spreading harmful bacteria through contact.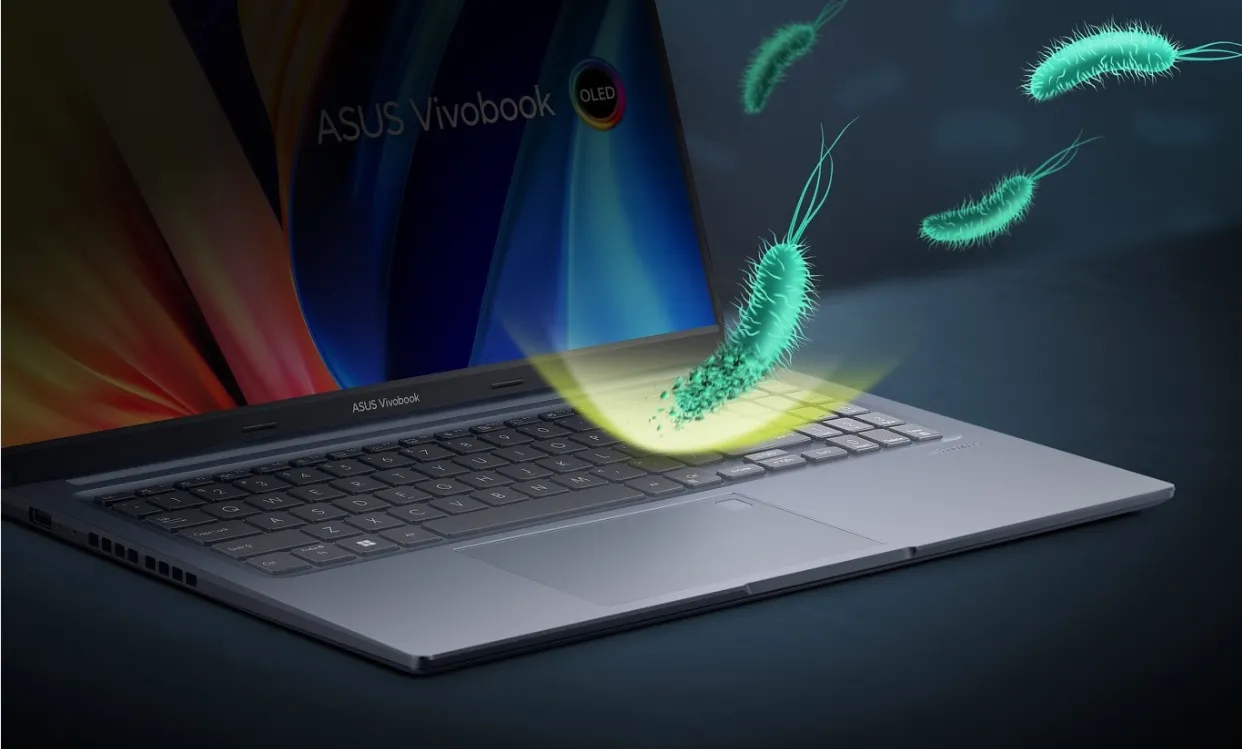 Outstanding audio to hear the world:
ASUS SonicMaster is a comprehensive blend of hardware, software, and audio refinement, all meticulously crafted to provide you with the ultimate audio experience. With the use of professional-grade coding, it guarantees accurate audio encoding and decoding. Coupled with amplifiers, substantial speakers, and resonance chambers that are expertly tailored to the Vivobook 15X OLED, you can expect robust audio output and deeper bass. Furthermore, the incorporation of additional signal processing and tuning works to enhance subtle nuances, eliminate noise, and enhance audio clarity, ensuring you enjoy an authentically immersive sound experience.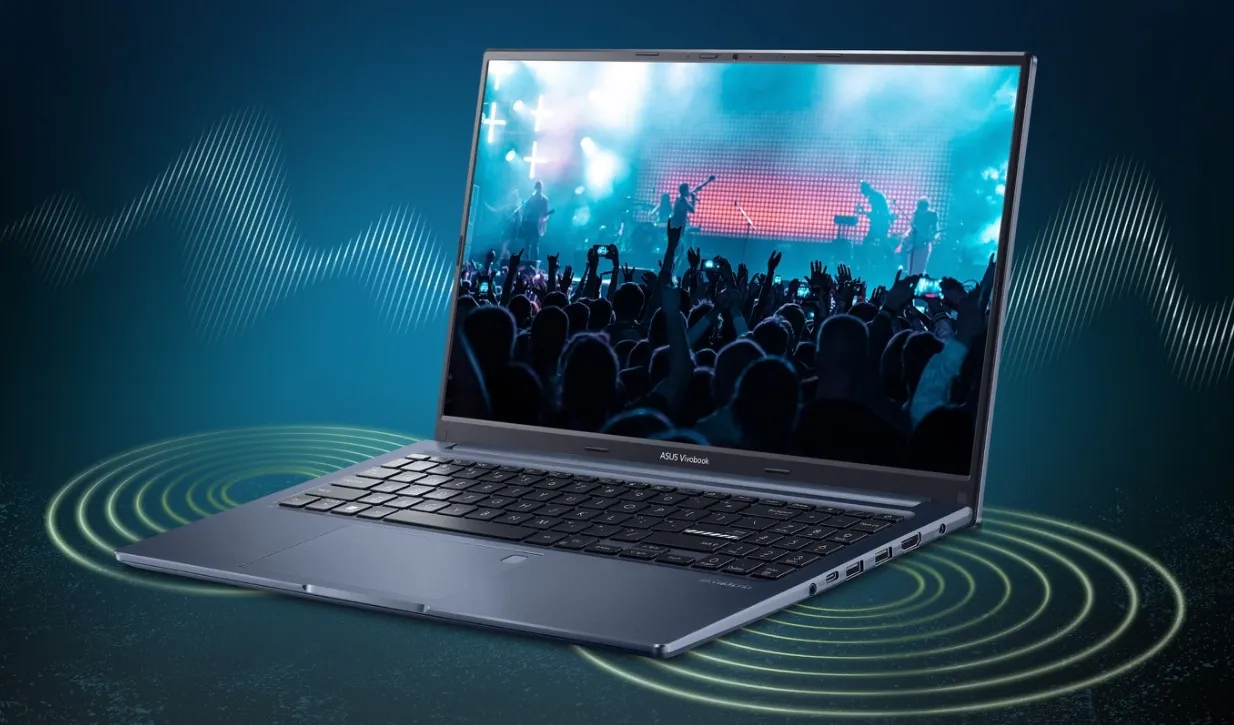 Next-level ASUS AI Noise-Canceling Technology:
For outstanding remote work and video conferencing encounters, the Vivobook 15X OLED integrates ASUS AI Noise-Canceling Technology, which utilizes machine learning to distinguish human speech from unwanted background noise. This cutting-edge technology effectively eliminates ambient noise, ensuring top-notch audio quality during group conference calls. Feel free to enable your device's audio and explore the demo to witness the remarkable impact that AI Noise-Canceling Technology can make in various environments.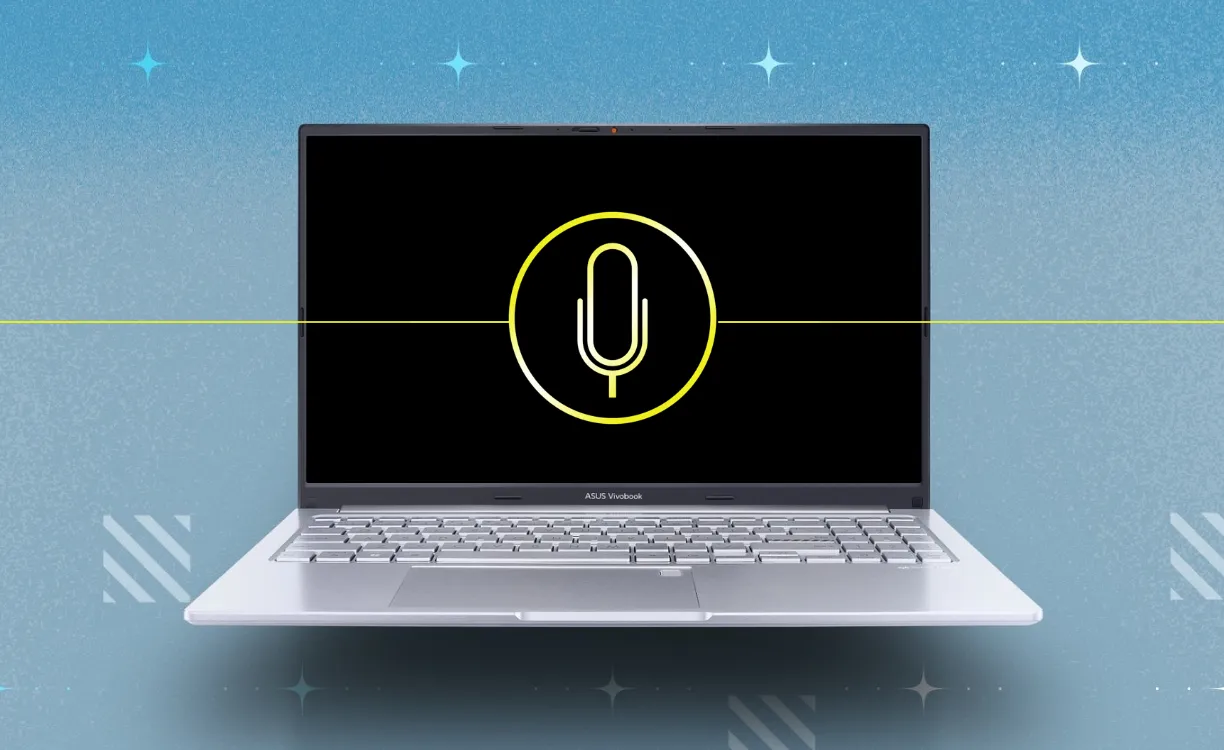 Perfect in every detail:
The Vivobook 15X OLED ensures you stay seamlessly connected with its wide array of I/O ports. These include a USB-C® 3.2 Gen 1 port, two USB 3.2 Gen 1 Type-A ports, a USB 2.0 port, HDMI® output, and an audio combo jack. This extensive selection of ports makes it effortless to link up your current peripherals, displays, and projectors.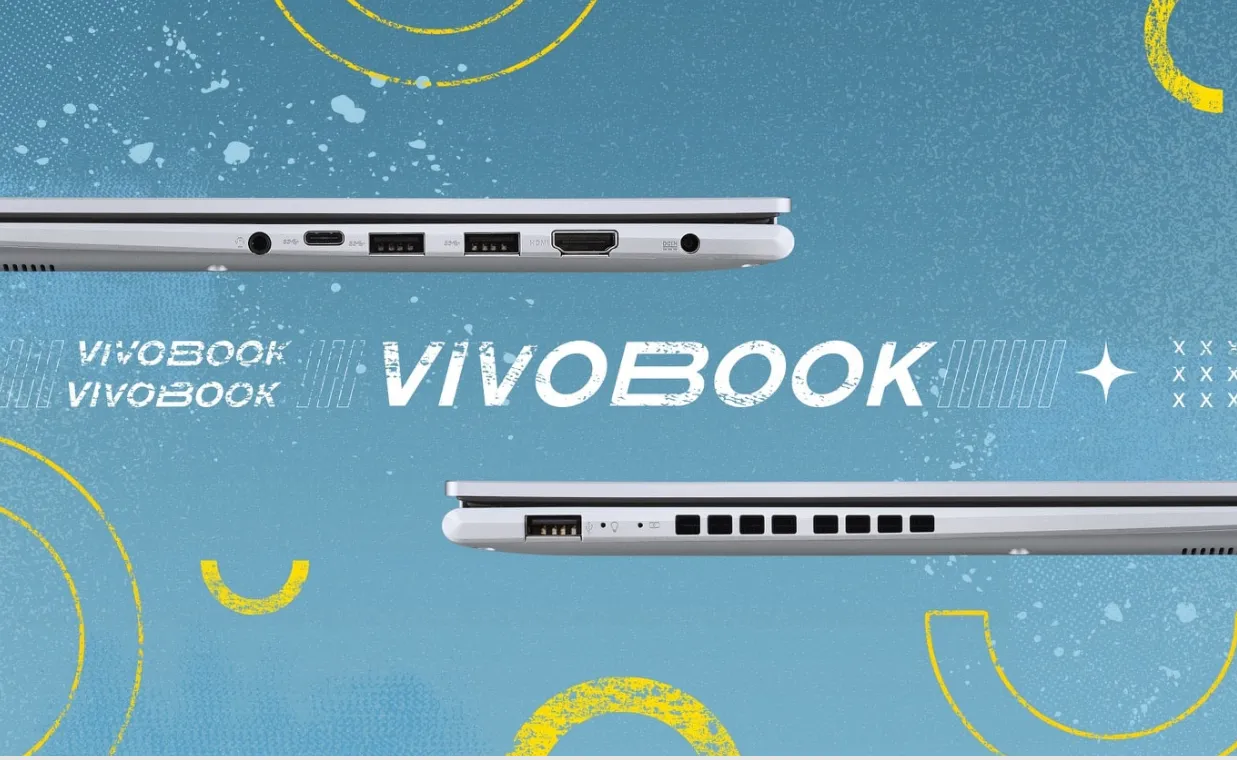 Fine-tuned with ASUS WiFi Master technology:
The Vivobook 15X OLED provides an extensive array of wireless connectivity options. With WiFi 6, you can swiftly load online content with lightning-fast speed.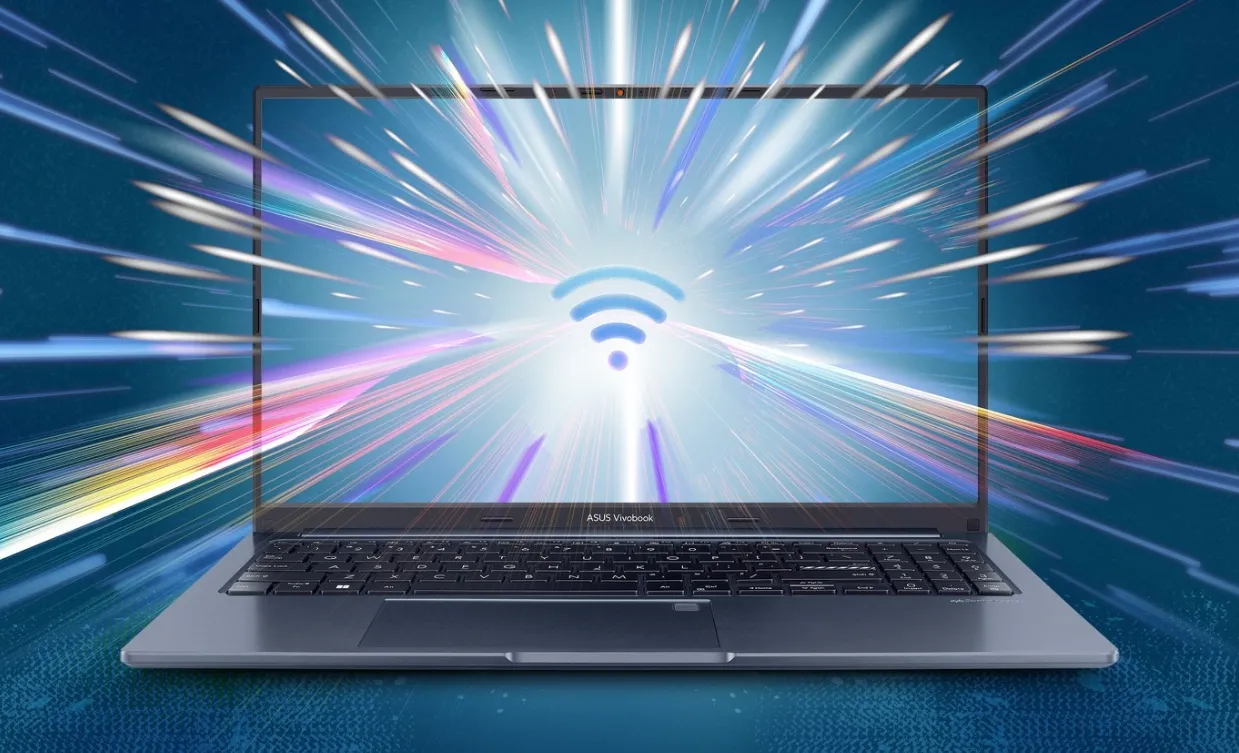 Your PC just got better:
MyASUS offers convenient access to a suite of ASUS applications created to assist you in system maintenance, software updates, PC performance optimization, and accessing ASUS for post-purchase service and support.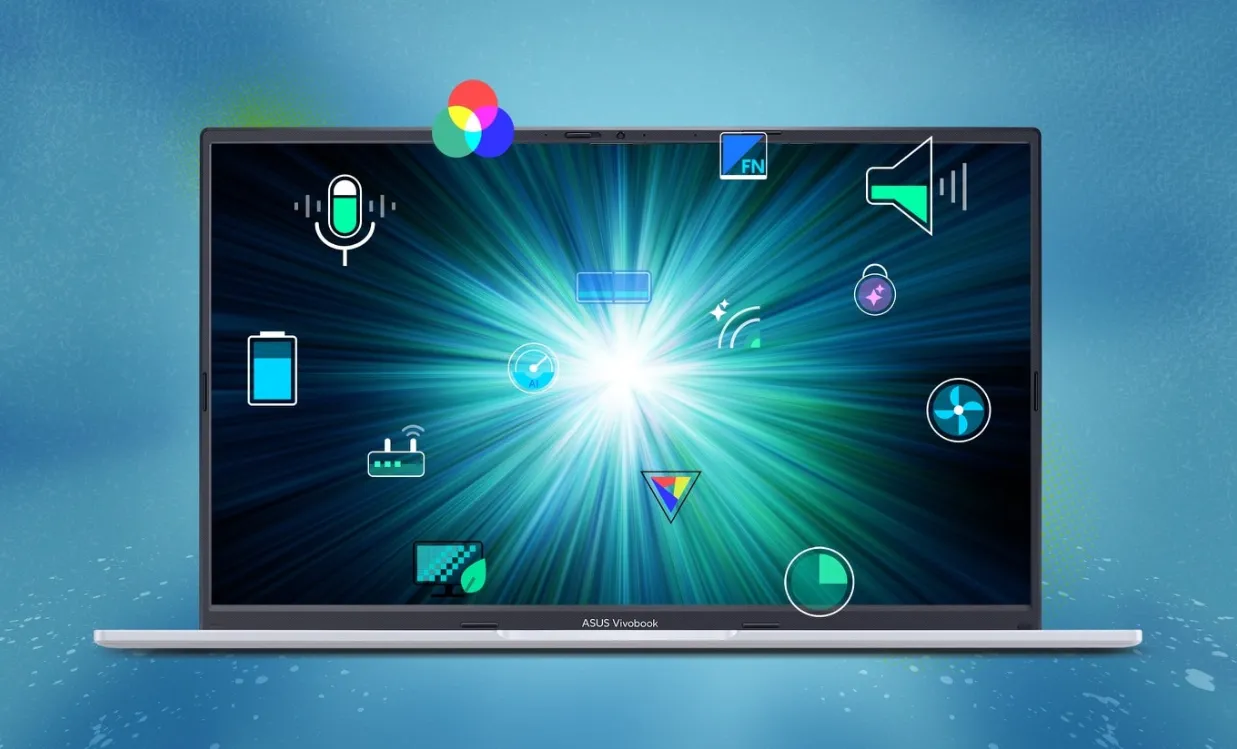 Your on-the-go work and play space:
GlideX is a versatile screen-sharing solution that seamlessly connects your devices using either wired or wireless connections, expanding your workspace for both work and entertainment. Through Screen Mirror, you can effortlessly project your device's screen onto your PC, providing a larger canvas for more convenient keyboard input. Alternatively, with Screen Extend, you can transform your tablet into a portable secondary display, creating extra workspace while on the move. GlideX streamlines your workflow in an instant!