Tuf Gaming F15 FX506HC-UB74
2.30 GHz up to 4.60 GHz (24M Cache, 8 Cores)
Nvidia GeForce RTX3050 4GB
15.6" Inch FHD 144 Hz, 3ms
48 WHr, 3S1P, 3-cell lithium-ion
1 USB 3.2 Gen 2 Type-C (support DisplayPort 1.4) 3 USB 3.2 Gen 1 Type-A 1 HDMI 2.0b LAN RJ45 1 mic/headphone combo
358.90 x 256.03 x 24.38 mm
asus laptop
Tuf Gaming F15 FX506HC-UB74
Intel CoreI7-11800H 512GB SSD 16GB
Ram Nvidia GeForce RTX 3050 4GB
15.6" Inch FHD Win.10
Staying power:
TUF Gaming F15 is a fully-fledged Windows 10 Pro Gaming Laptops designed for serious gaming and real reliability and can lead you to victory. Powered by the new 10th Gen Intel® Core ™ i7 processor and GeForce® RTX 3050 graphics processor, the fast-paced game is fast and fluid, and the IPS screens fill up to 144 Hz. Although Asus ROG Flow X16 is smaller and more portable than its predecessors, this gaming asus laptop has an extended 90Wh battery life. Efficient self-cleaning cooling combined with TUF military-level reliability makes this battle-tested road fighter Asus Rog Zephyrus M16 a true partner for any player.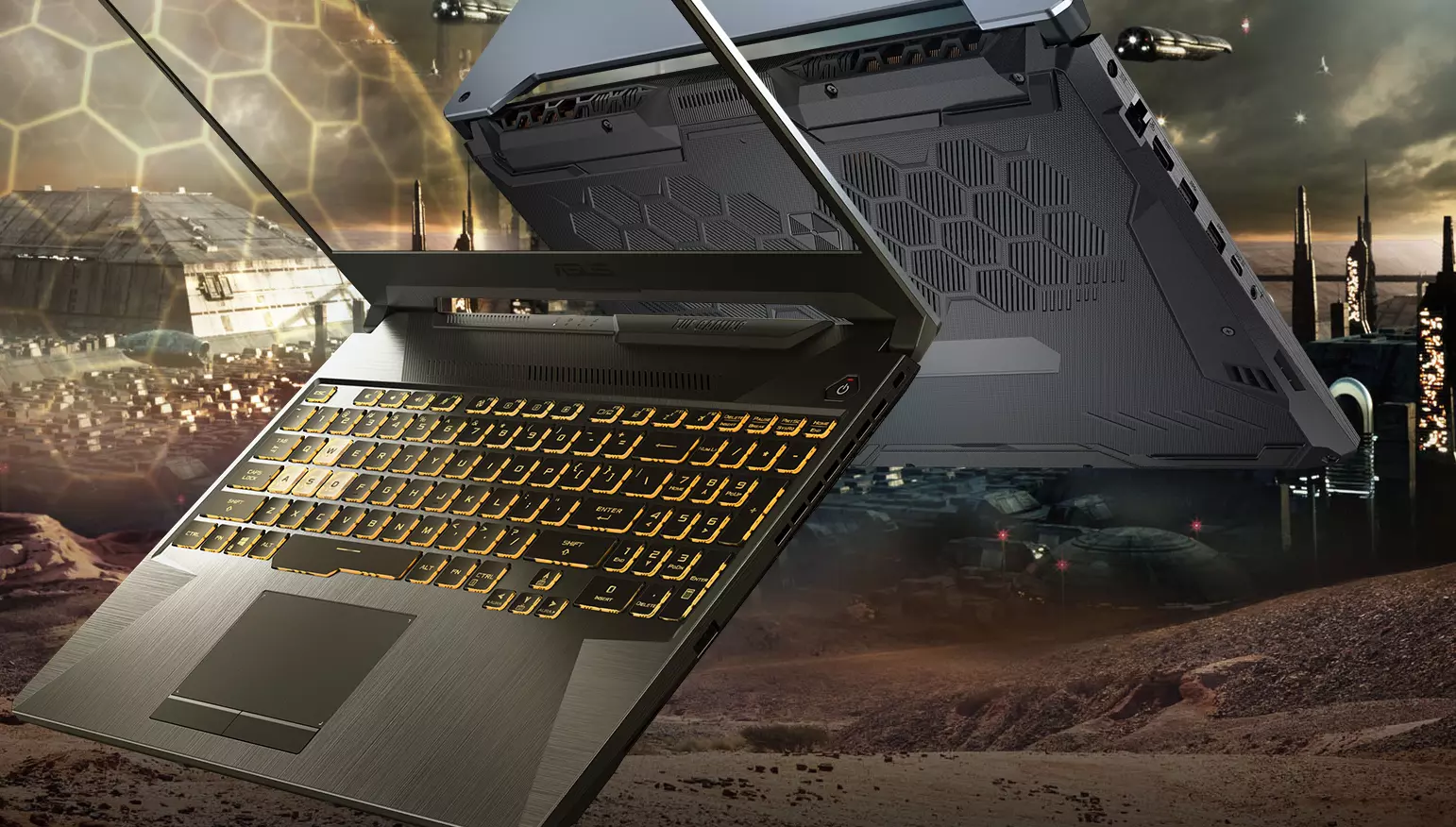 Firepower for any task:
Equipped with the asus laptop Tuf Gaming F15 up to the 10th Gen Intel® Core ™ i7 processor with 6 cores and 12 cores, it features heavy-duty gaming, live streaming, and heavy-duty performance. Combined with the unique GeForce® RTX 3050 Ti GPU, Asus Rog Zephyrus G15 can reliably deliver high frame rates in a variety of games. Accelerate installation time for large portfolio of up to 512 GB NVMe PCIe® SSD and secondary SSD.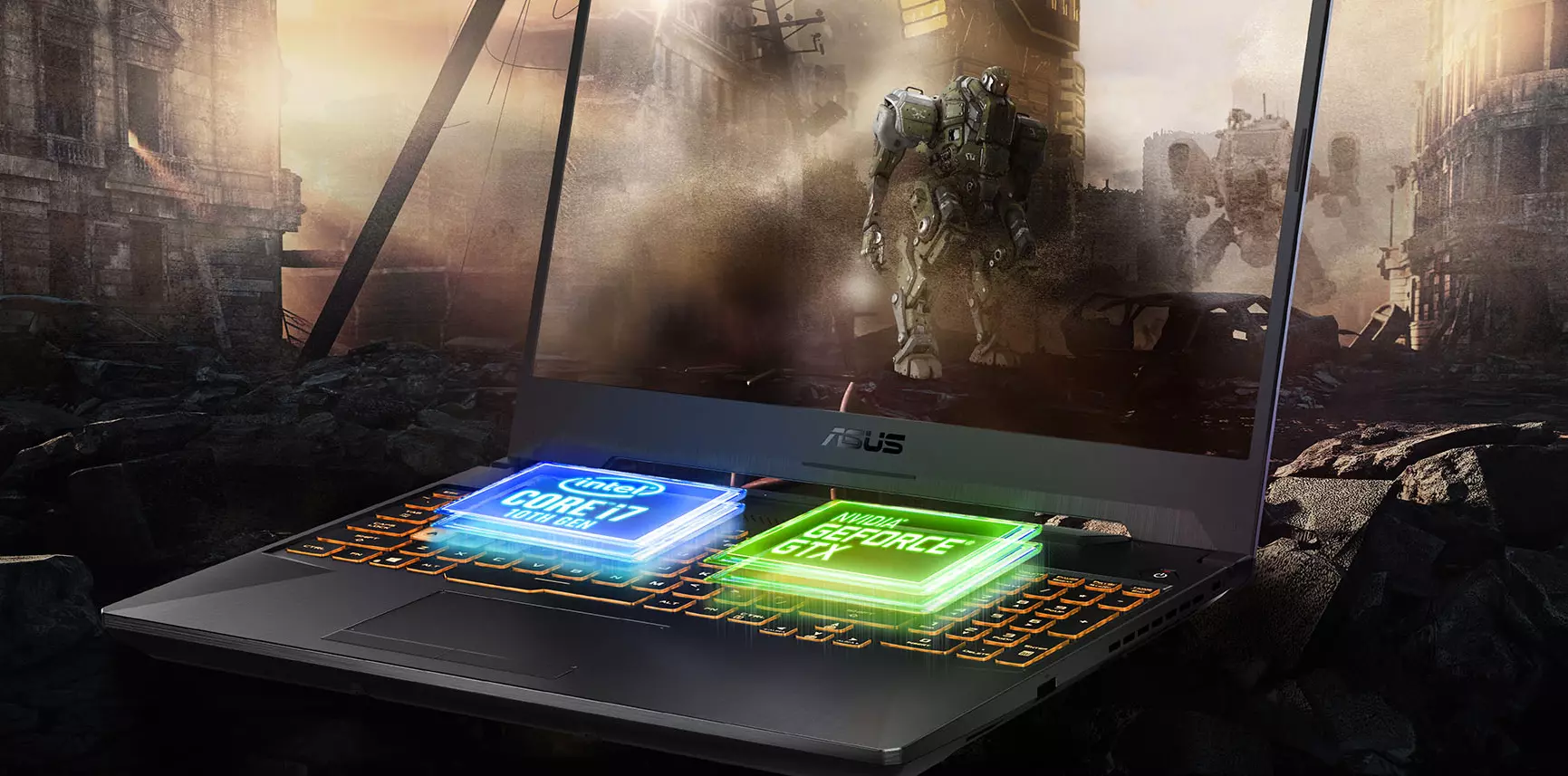 Live long and travel far:
Although the asus laptop F15 is smaller and lighter than its predecessors, Asus TUF Dash F15 has a longer battery life. The powerful 90 Wh battery provides enough power for 12.5 hours of video playback, which means you have more time to stream and light without having to find a port near you. Easier and more durable, this machine can operate and move as freely as you can.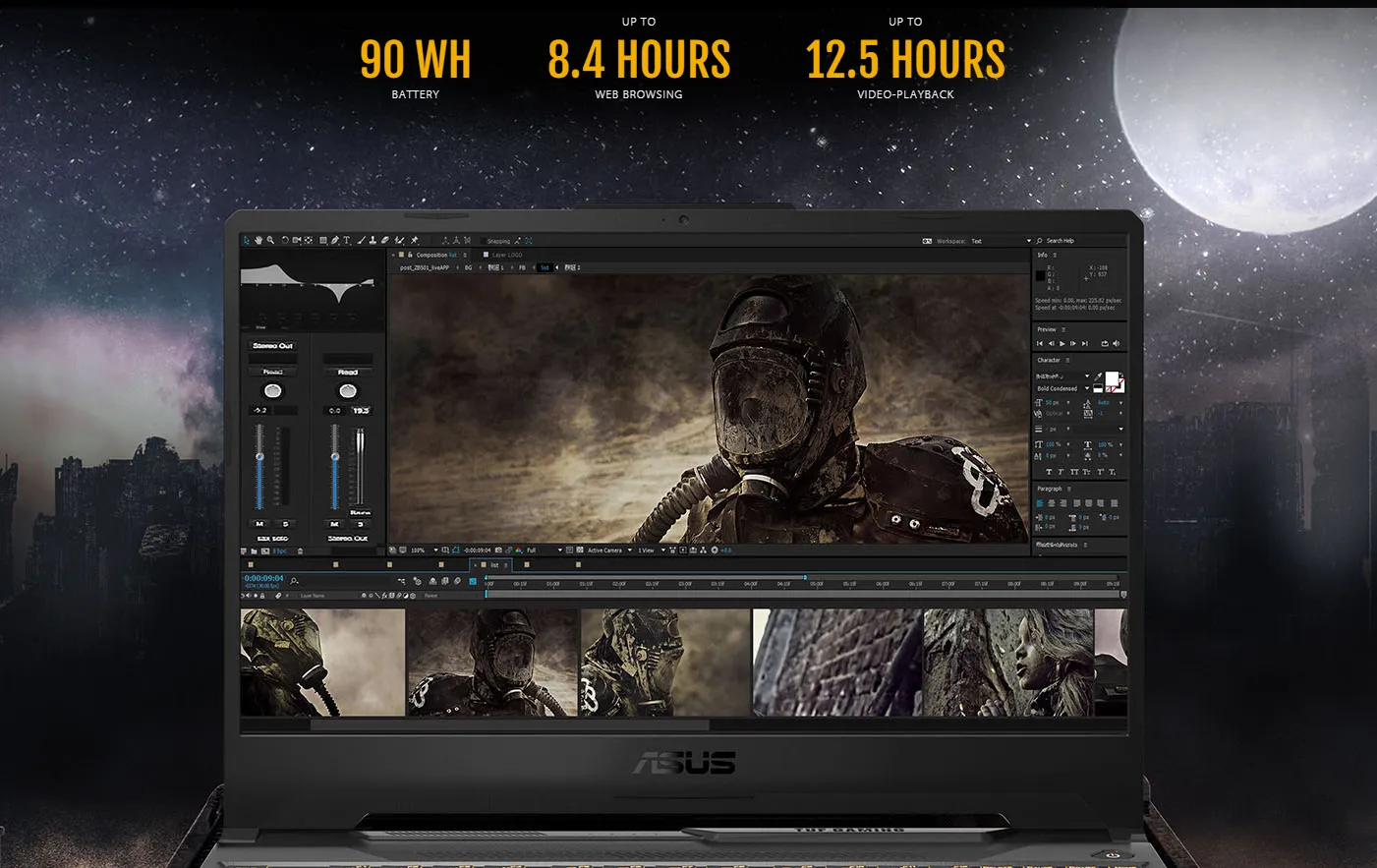 Stealthy and striking of Asus Tuf Gaming F15:
Two beautiful looks of asus laptop give players more freedom to show off their personal style. Choose a smart and elegant fortress gray case or an attractive bonfire black design with red. The subtle honeycomb finish enhances the grip around the base and repeats the hexagonal strengths around the body, giving the palms of the hands a smooth and clean look.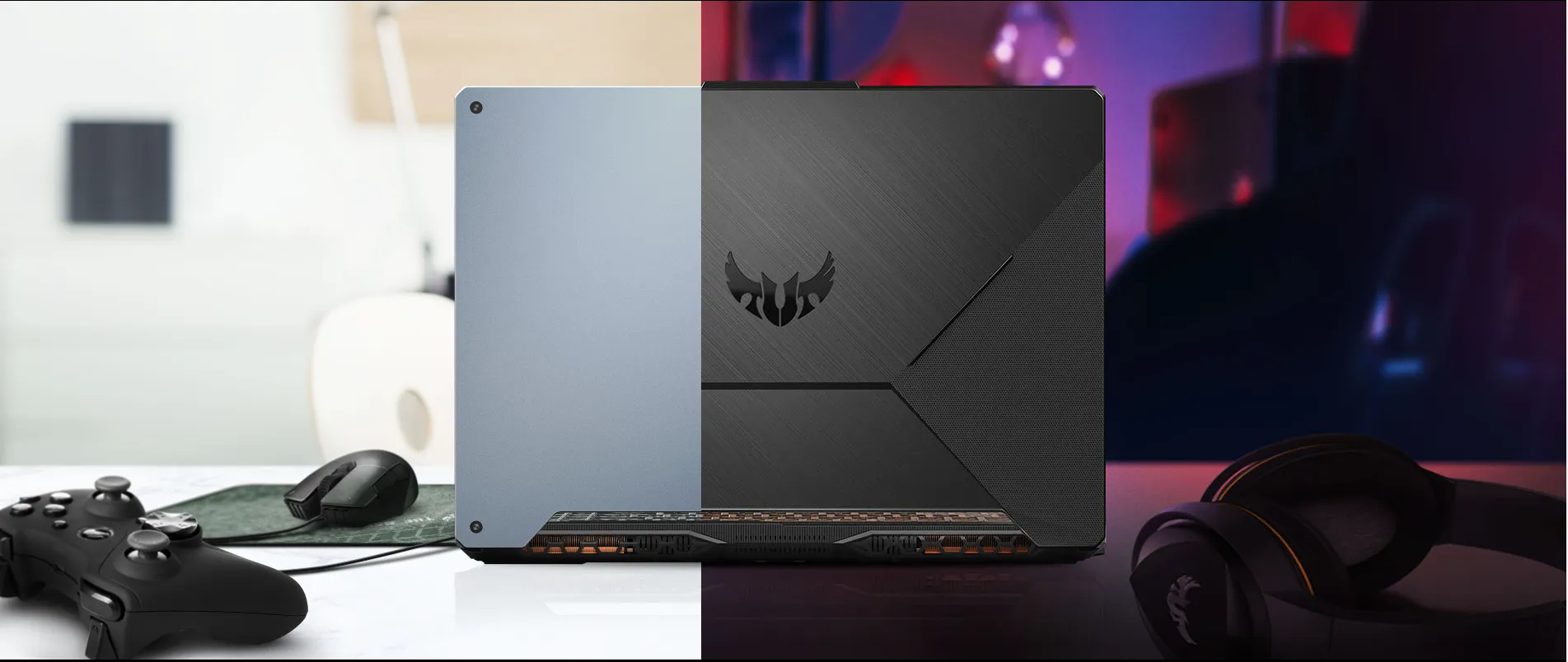 Honey comp grip:
The textured honeycomb cover covers the lower part of the case with a series of cutters that double as air vents.
Brushed metal:
The contrast brushes on the chassis of asus laptop give the notebook a beautiful and future look.
TUF Durability:
Military-level reliability of asus laptop Tuf Gaming F15 makes every TUF gaming laptop a true fighter ready for the most difficult environments.
Subtle and striking:
Walk secretly in the gorgeous fortress gray or boldly in the Bonfire Fire Strip Burgundy Red.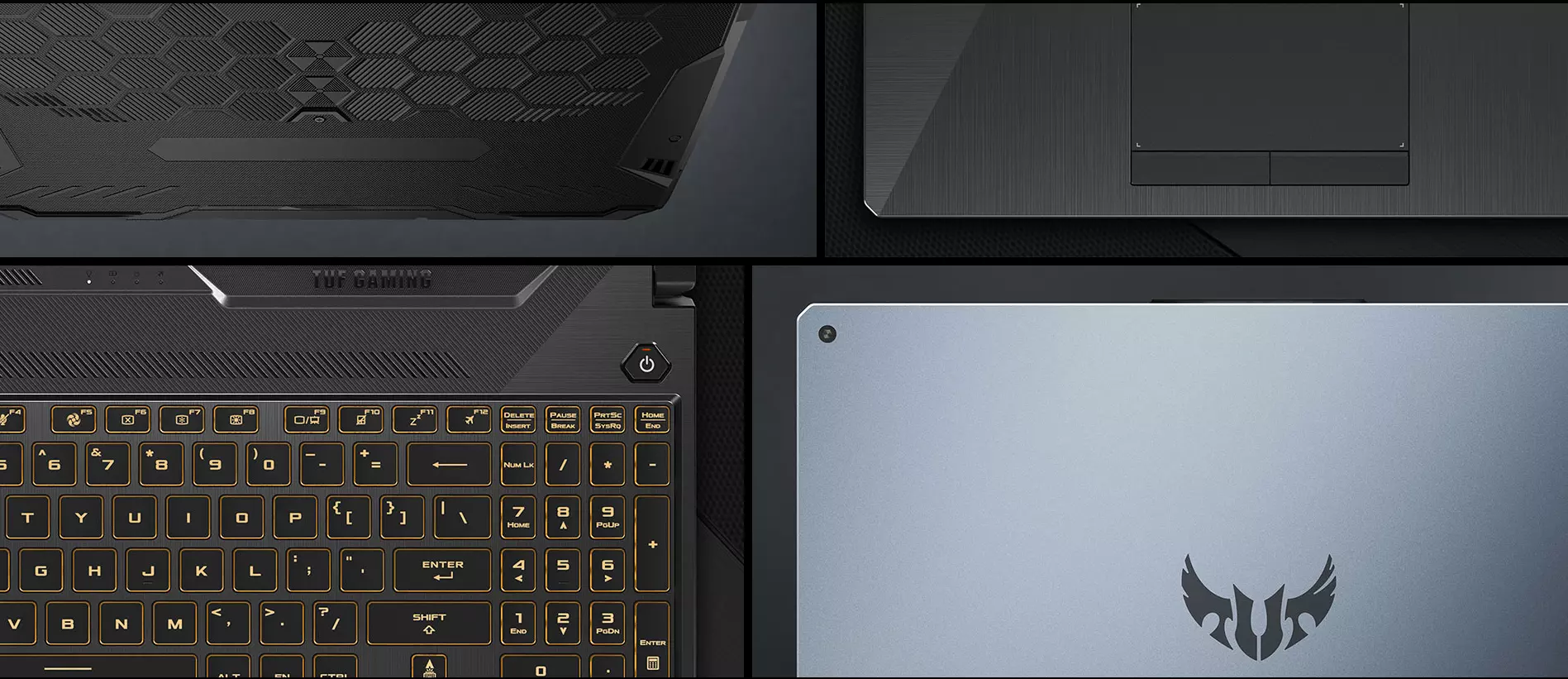 Military-Grade toughness:
To get the TUF game name, these laptops must pass the MIL-STD-810H series of tests successfully. Test equipment is subject to droplets, vibration, humidity and high temperatures. Safe, even in the most difficult environments, the asus laptop F15 is occasionally more than capable of withstanding everyday life and swelling.
Reduced fall damage:
Drop testing ensures that each Asus Tuf Gaming F15 asus laptop can withstand unexpected droplets, bumps and bumps during charging and daily use. Devices to meet MIL-STD-810H standards are tested for short-term drop. Put the F15 in your bag, carry it on your shoulders, carry it everywhere, avoid stress and anxiety.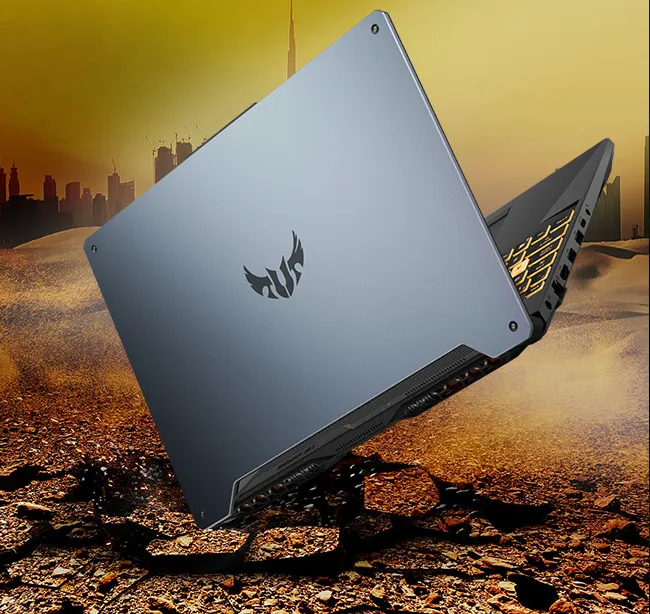 Expand your sights of Asus Tuf Gaming F15:
With a fast IPS-level panel up to 144Hz, the asus laptop TUF Gaming F15 is ideal for fast games. The versatile USB 3.2 Gen 2 Type-C ™ port supports DisplayPort ™ 1.4 technology, which means you can connect an optional G-SYNC game display and get up to 4K resolution and 120Hz refresh rate. G-SYNC technology reduces stuttering and eliminates tears, giving a smoother image to the entire address family. The HDMI 2.0b port supports 4K resolution up to 60Hz for play or movies on the big screen.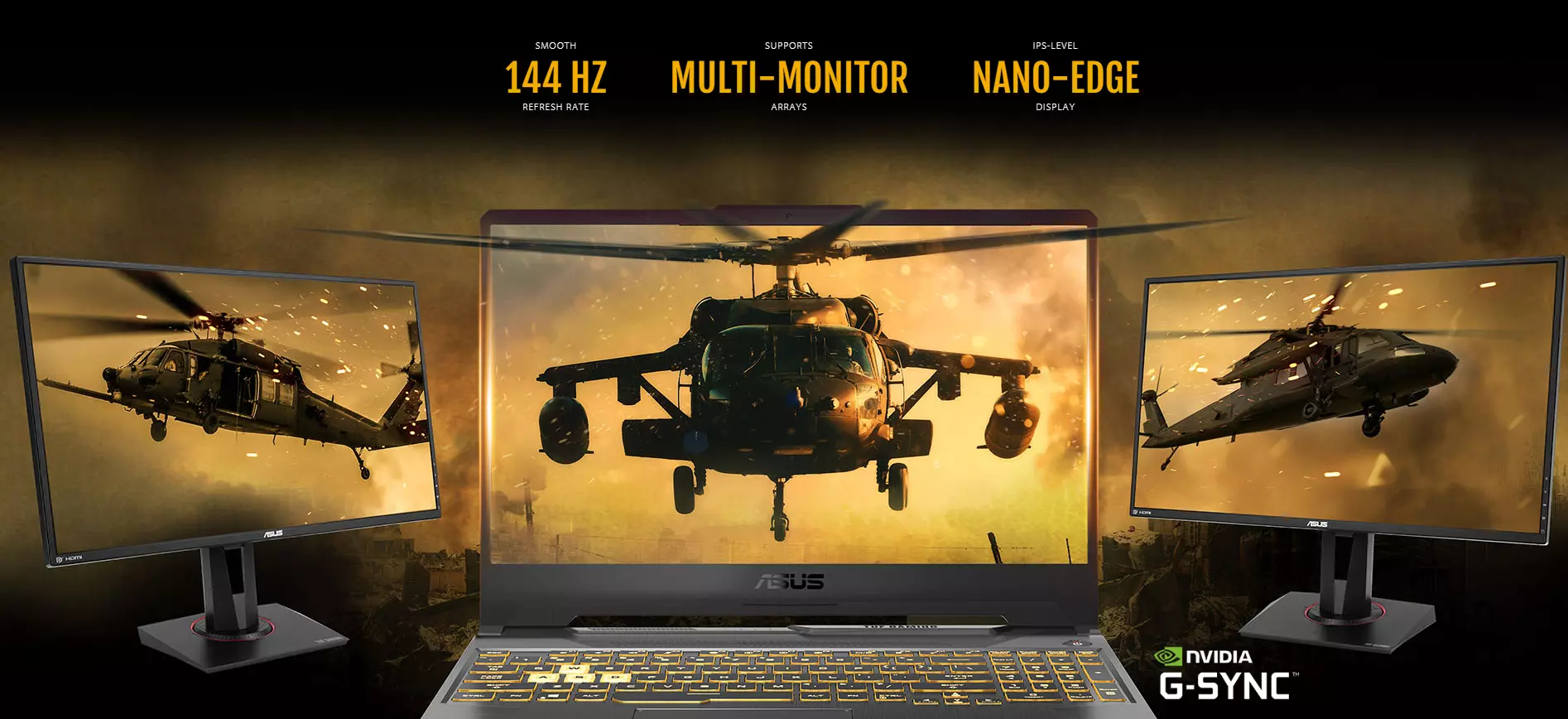 Optimized for gaming:
Equip yourself with a customizable desktop-type keyboard. Integrated RGB backlight lets you define your unique style, clear WASD accents give you a shortcut to control key movement. on the For quick response and easy control, travel technology excels at every key load. In a true asus laptop Tuf Gaming F15 form, each key is capable of withstanding over 20 million key loads, providing superior long-term reliability and accuracy.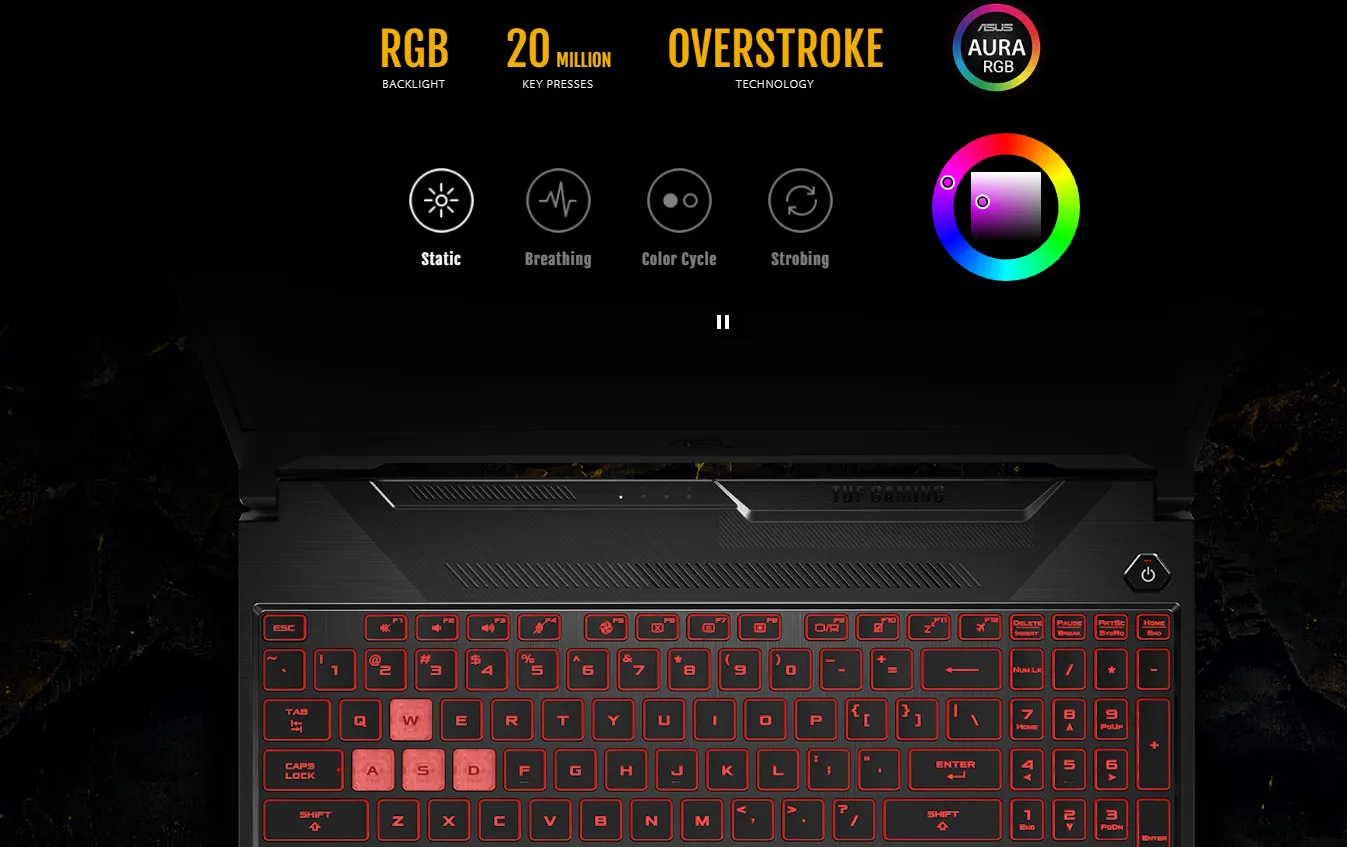 Immersive surround sound:
The two redesigned four-wheelers of asus laptop are 1.8 times louder than the previous generations for a richer bus. DTS: X ™ Ultra delivers 7.1 high-definition virtual surround sound for stereo headphones. Catch enemies with enhanced space perception or enjoy a concert. Up to 8 preset modes for music, movies, and game genres enhance your experience, but the built-in balance allows you to adjust the settings as you wish.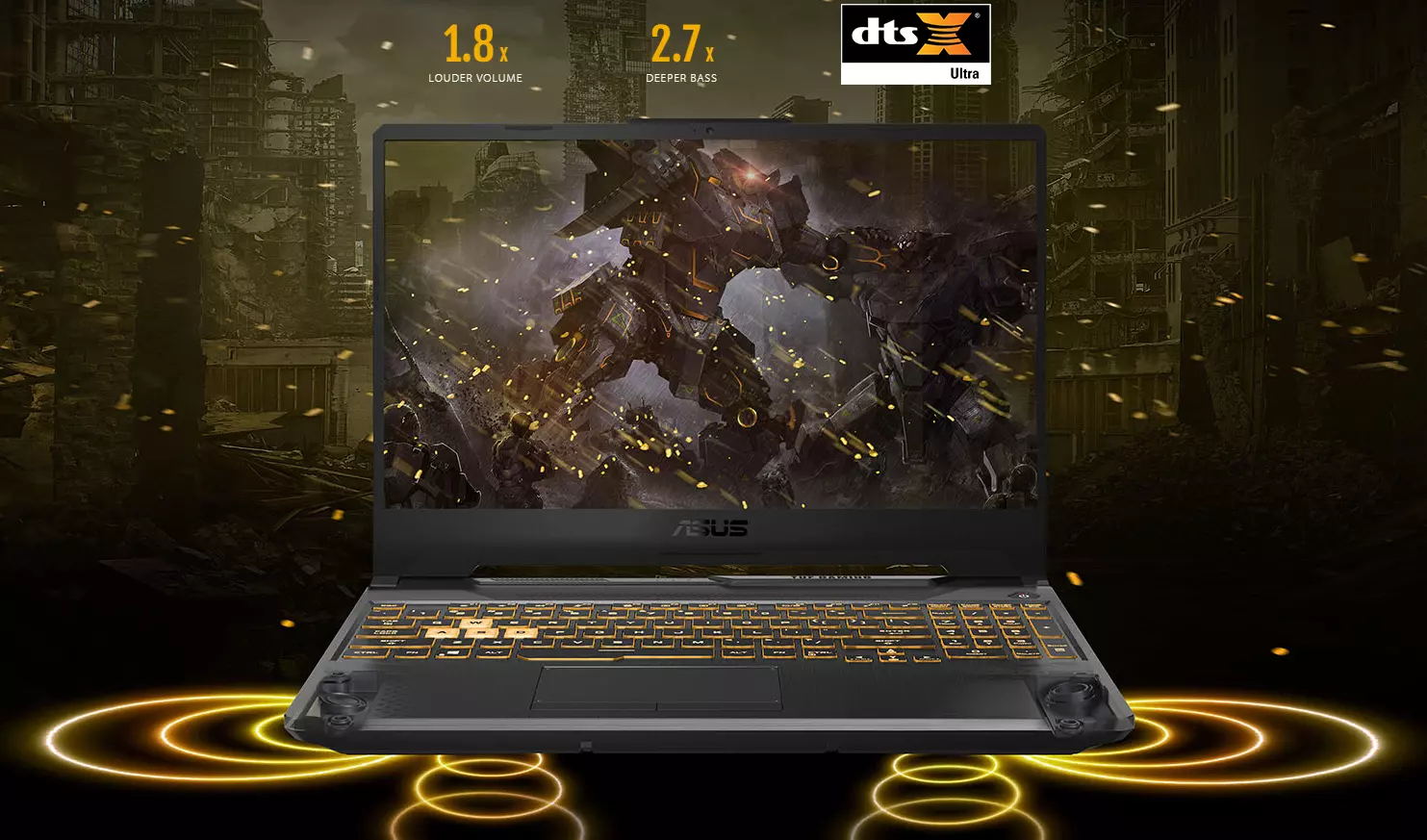 Lasting cool:
Universal cooling ensures that every asus laptop Tuf Gaming F15 laptop can maintain high performance and efficiency for long-term use. Multiple heating lines and 3 heating lines dissipate heat from the main components and distribute it evenly during intense game sessions. Self-cleaning refrigeration design ensures that the cooling system of each room remains safe for a long time and that the operating modes align performance and volume levels for a specific application.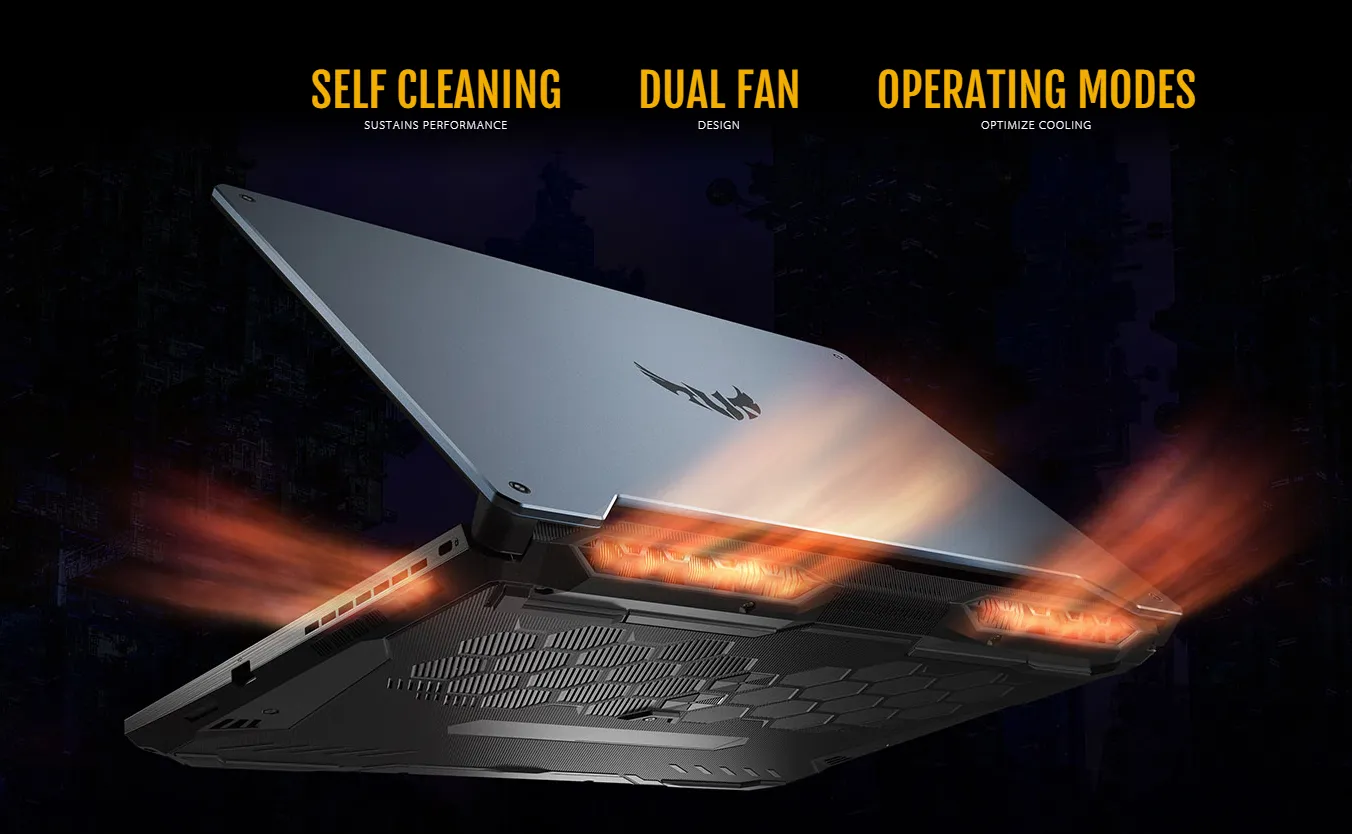 Upgrading made easy:
RAM and SSD Upgrades in asus laptop Tuf Gaming F15 You can easily access memory and storage space by simply setting it up for upgrade. With a standard windshield wiper, you can easily remove the wires below the case to make any necessary adjustments. A special open wheel lifts one corner of the bottom plate, making it easier to remove. Quickly upgrade or replace your RAM, or expand your SSD capacity by adding a second PCIe® drive.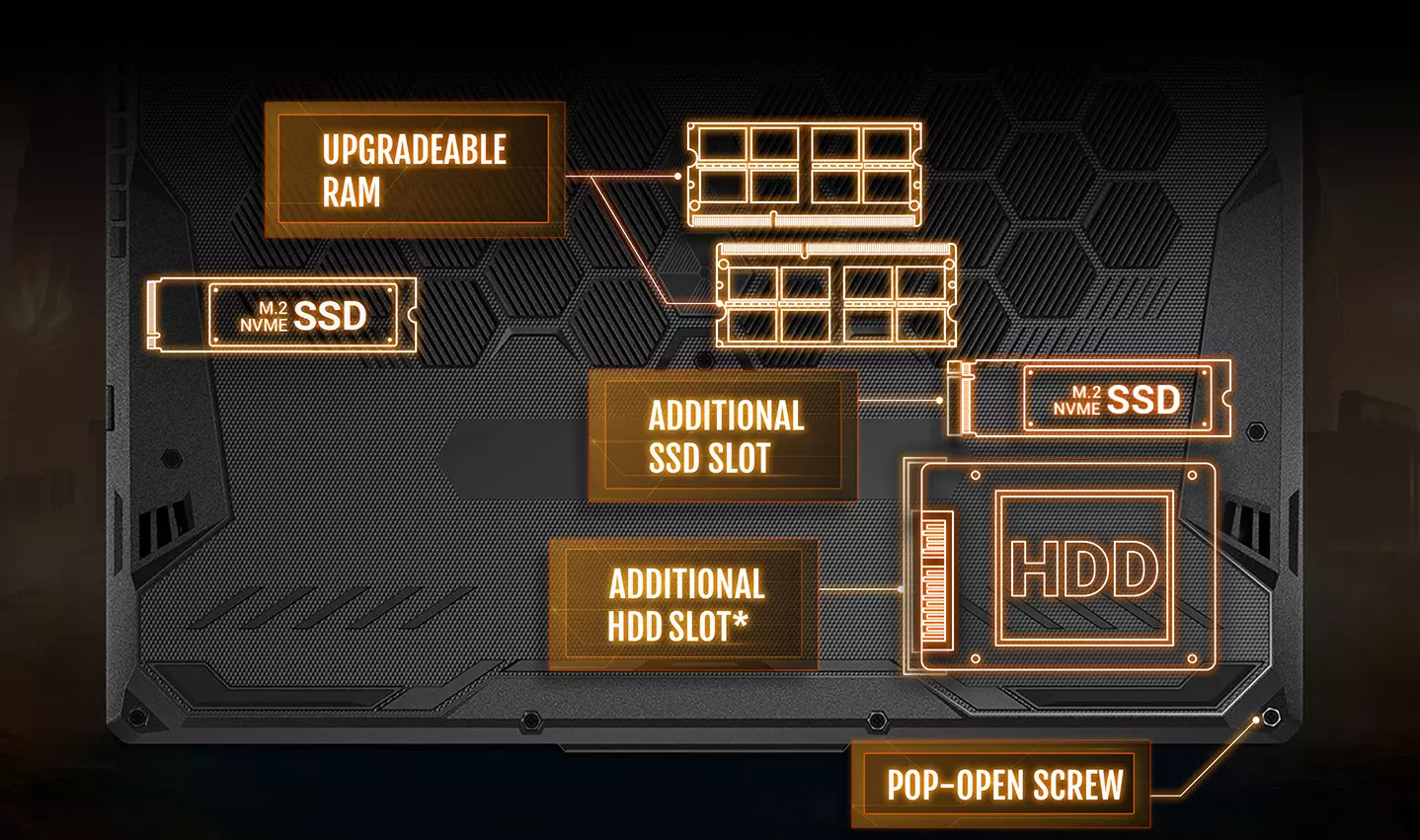 Next gen speed with Wi-Fi 6:
The super-fast Intel® Wi-Fi 6 in asus laptop lets you play games safely on LAN speed with Gig + (802.11ax) compatible connections. Wi-Fi 6 (Gig +) improves network speed and efficiency compared to previous Wi-Fi 5 standards, enabling better connectivity in crowded environments. It also reduces latency, which means less latency for emotional activities such as online games.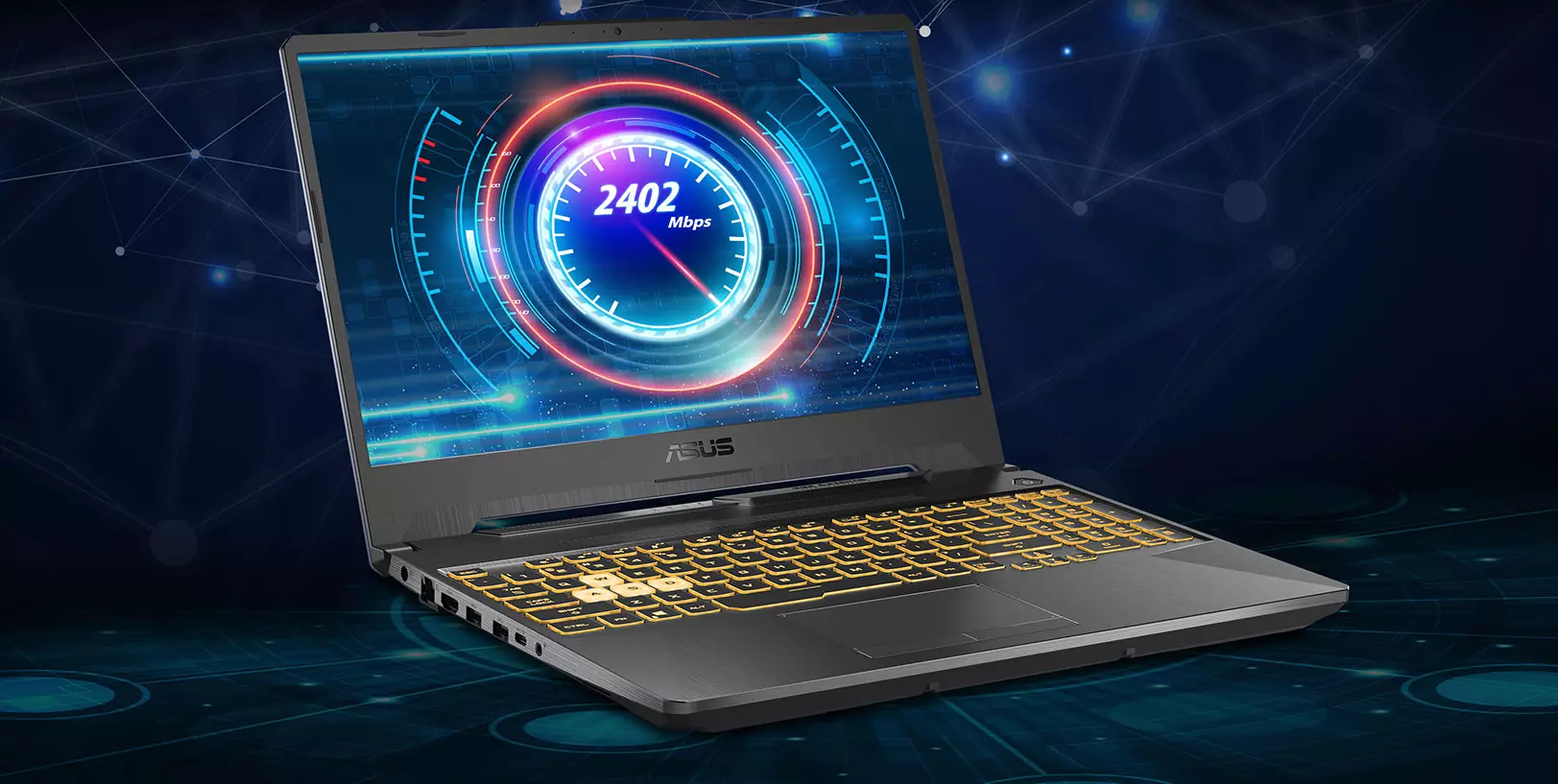 Comprehensive connectivity of Asus Tuf Gaming F15:
Multiple I / O ports in asus laptop allow you to plug in your favorite devices and get started anywhere. While two USB 3.2 ports provide fast data transfer, an additional USB 2.0 port provides a total of three inputs to selected components. Bluetooth technology allows you to connect mice, headphones, and other compatible devices to a clean workplace. Use USB 3.2 Gen 2 Type-C ጋር with DisplayPort ™ 1.4 to easily connect your super-fast G-SYNC ™ game controller.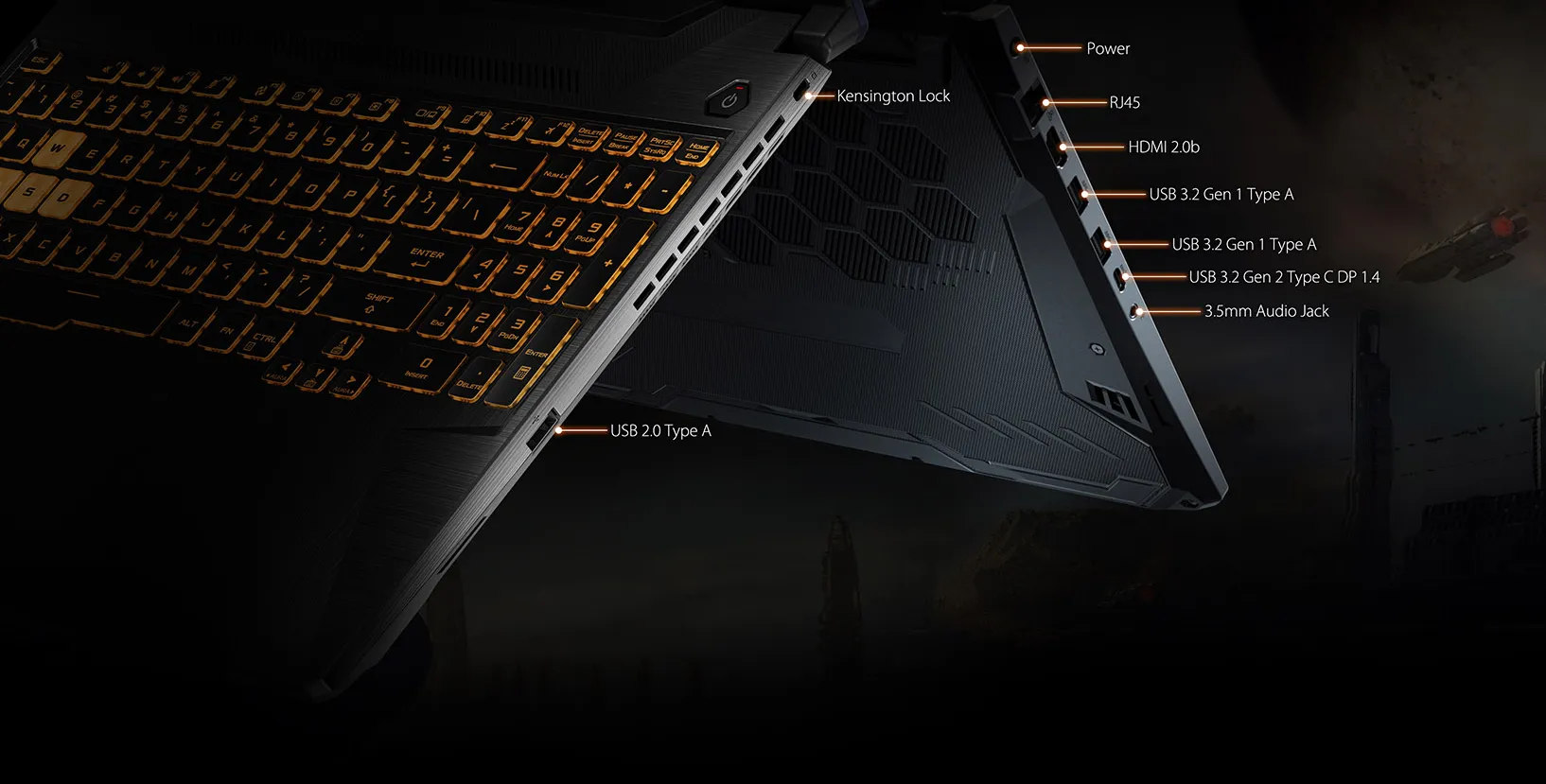 Unified system tuning and personalization:
Armory Crate combines system and lighting controls in asus laptop to keep important settings in your hand. Extensive customization options allow you to customize beauty effects, customize game profiles, and adjust audio settings with your preferences. In case profiles, you can specify custom settings that automatically adjust performance and other settings when you launch your favorite apps and games. Take full control of your experience and make it your own.