Intel Core i7-10750H (2.60 GHz, up to 5.00 GHz, 12M Cache, up to 5.00 GHz, 6 Cores)
NVIDIA GeForce RTX 2070 Max-Q 8GB
Backlit Chiclet Keyboard RGB
76WHrs, 4S1P, 4-cell Li-ion
HD 720p with dual-array mic and physical shutter
Wi-Fi 6(802.11ax)+Bluetooth 5.1 (Dual band) 2*2;(*BT version may change with OS upgrades.) -RangeBoost
36.0 x 25.2 x 1.99 ~ 1.99 cm
Find similar
Asus Rog Zephyrus M15
GU502LW-BI7N6
Asus, Rog Zephyrus M15, GU502LW-BI7N6, Intel Core I7-10750H, 1TB SSD, 16GB Ram, Nvidia GeForce RTX2070 Max-Q 8GB, 15.6" Inch, FHD, Win.10,
Power meets portability:
Creators, streamers, and players can take their craft to the next level with the sleek ROG Zephyrus M15 and Windows 10 Universal Interface.., And AAA games, up to 1 TB RAID 0 SSD will speed up your entire library. Choose from a 4K Ultra HD display that covers 100% Adobe RGB color space or 240Hz / 3ms playback smooth and fast action. Hi-Res Sound ESS Saber provides rich, rich sound for games, beatings and broadcasts.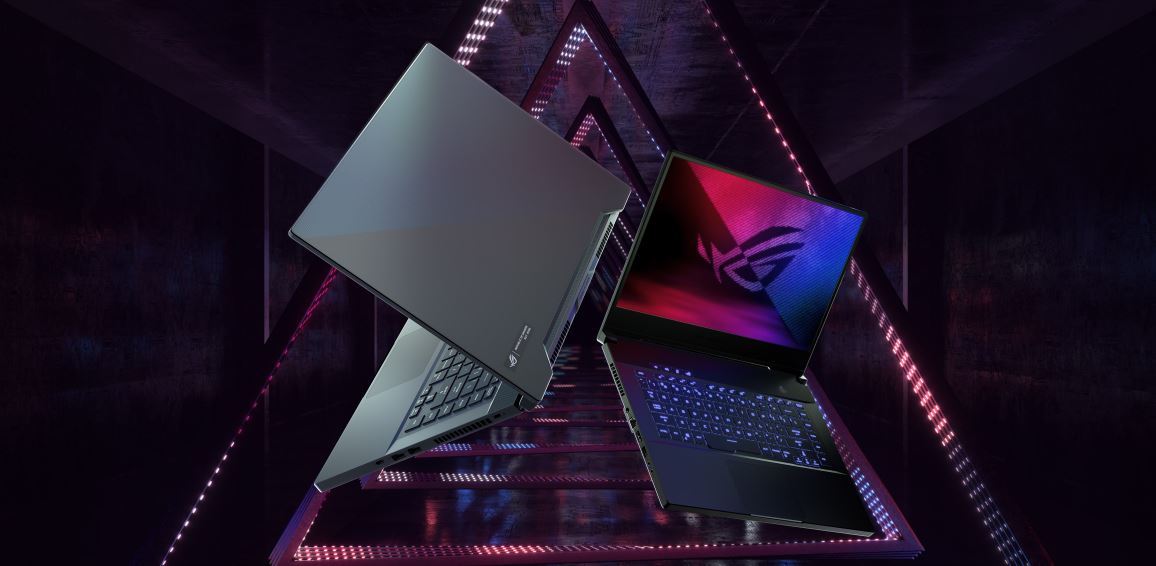 Sleek, Strong, And ultra-slim:
Reinforced metal body with thin matte black, prismatic black or prismatic gray makes the Zephyrus M15 durable for everyday use. The new Priscilla color options bring players and content creators to Zephyrus Demonstration with a vibrant primitive effect that awaits a professional finish that blends seamlessly with any environment. Matte finish Black options are 18.9mm thick, while prism versions add one millimeter to the special cap. Both weigh less than 2kg, which makes the powerful machine 25% slim and 45% lighter than 15-inch gaming laptops.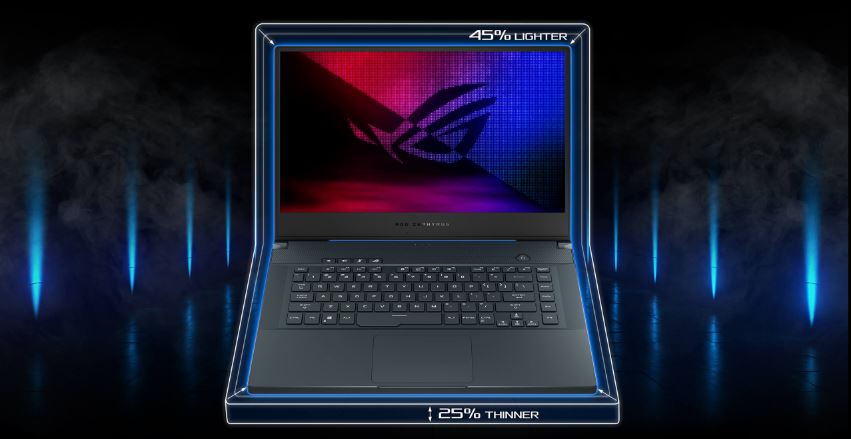 Overachieve with speed:
Speed, power and mobility are perfectly matched in the versatile ROG Zephyrus M15 laptop. The thinnest chassis is powered by a Nvidia® GeForce® RTX 2070 GPU processor in Turbo mode up to 1360 MHz @ 90W. Supporting up to 48GB DDR4-3200 * RAM and 1TB Fast RAID 0 storage you can get started quickly by loading your daily work and many tasks at high speed, even for heavy applications and big games. The ROG Zephyrus M15 chipset is up to the task. i7-10875H needs processor or better. Please check with local suppliers to find suitable configurations. ROG carefully selects advanced components to ensure system stability and performance. To ensure the best experience, we use 1.2V DDR4-3200 memory. This speed is not guaranteed by third party modules. Please contact your local ASUS Support Center for more information on memory expansion options.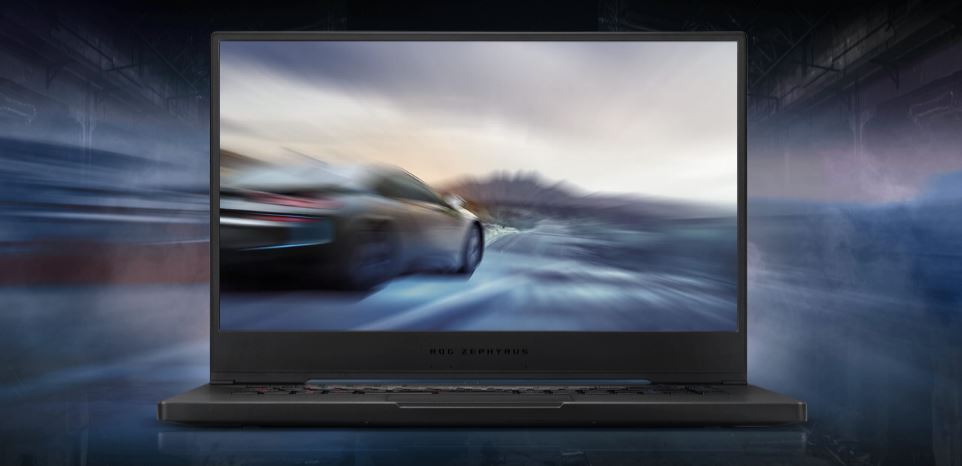 Create everywhere:
Increase your workspace with Thunderbolt 3 connectivity with additional controllers, external GPUs, and high-speed storage for Thunderbolt 3 connectivity, which gives you the ability to expand for heavy media editing. You can work and play anywhere with Intel® Wi-Fi 6 (Gig +) technology, which provides low latency connections for network-focused tasks such as online multiplayer games. Performance may vary depending on system configuration. Battery life tested by Nvidia® GeForce® GTX1660Ti GPU, Intel® Core™ i7-10750H processor, 144Hz display, 16GB DDR4 SDRAM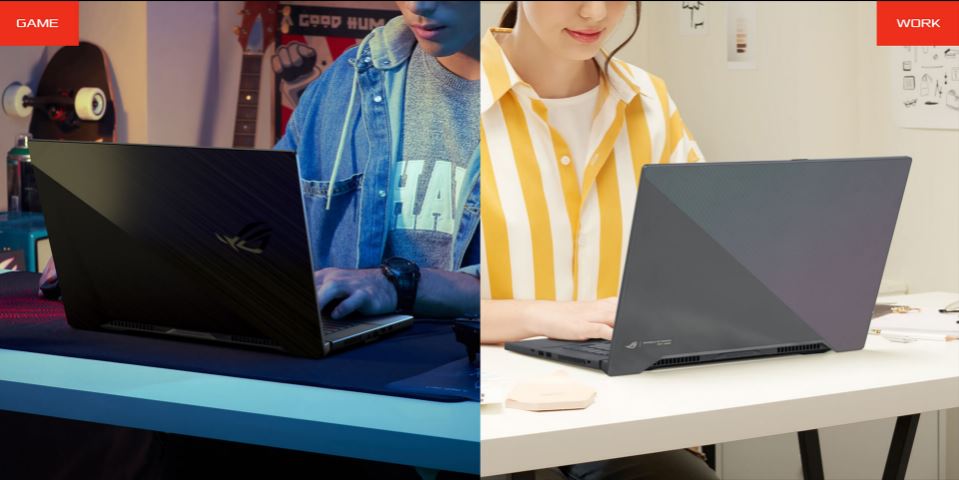 Tap into type-C charging:
USB power supply supports extra charge from portable power banks, so you do not have to struggle to get out when the battery runs out. When it comes time to fully charge and recharge the Zephyr M15, the reverse flow allows fast charging of up to 3 amps smartphones and other devices. If you do not have a CPU or special GPU installed with enhanced functionality, you can use an adapter of up to 65 watts, which will ease the workload in the future. USB Power Adapter and C Type Adapter are sold separately. 65W Type-C Inverter is available as an accessory in some regions.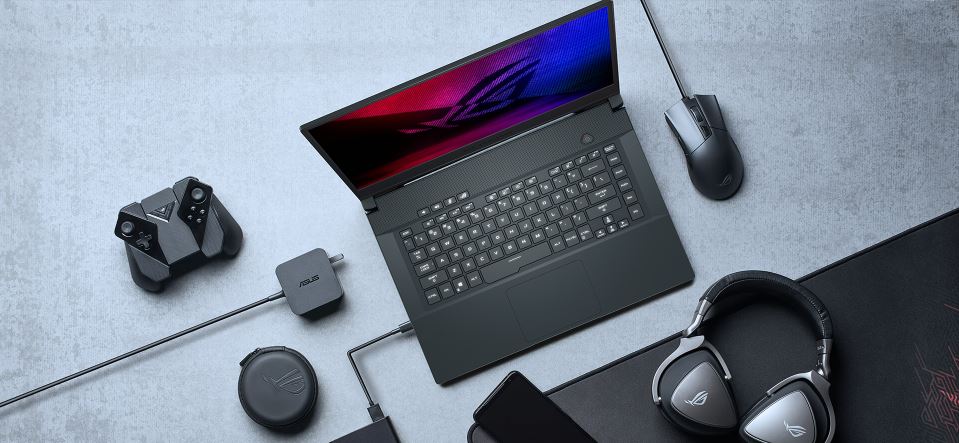 True color and speed on display:
Choose the board that best suits your needs. Content creators will appreciate the high quality detail and wide range of 4K UHD display optimized for color accuracy in 100% Adobe RGB color space. With this 240Hz, 3ms FHD dashboard, players can enjoy incredibly smooth play crazy shooting games. Both 15.6-inch panels are framed by thin 6.2-mm-thick glass, resulting in an 81% screen-to-body ratio, making it wider. Both Pantone® are certified and have wide viewing angles for planning viewing and multimedia content.

Hear ESS® sabre audio roar:
Renew your headset experience by connecting Hi-Res Audio Certified ESS® Saber HiFi Digital-to-Analog Converter (DAC). The DAC offers a wide range of dynamic range with slightly distorted, rich and clear high and low levels as well as deep immersion in a 7.1-channel virtual surround sound. Sans headphones, Zephyr M15 Smart Speakers with sub woofer allow you to increase the volume to increase bass and dynamic range without damaging the cones or reducing the sound quality.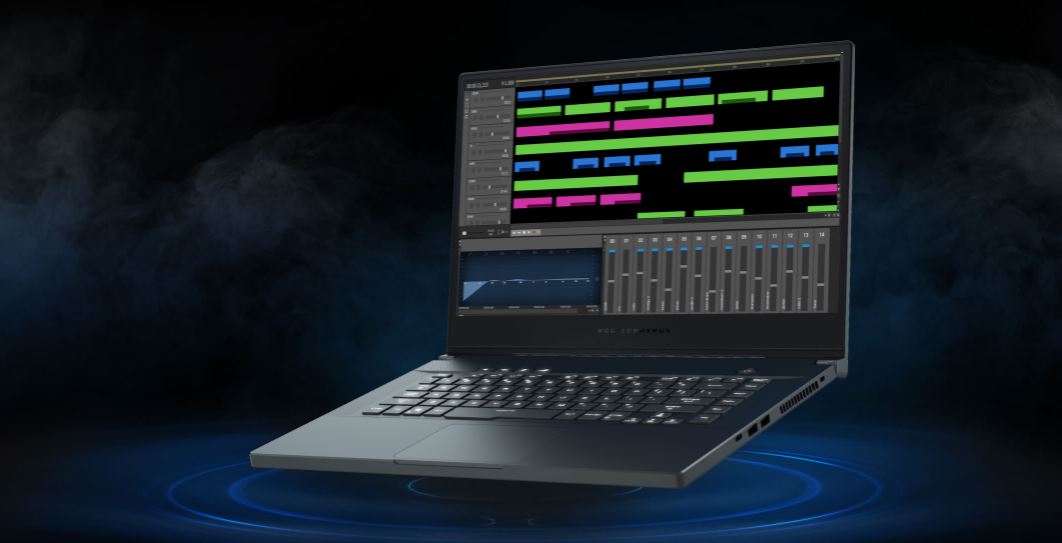 The keys to customization:
Type in a desktop-style keyboard style for gaming. Functional keys for quick identification are grouped together and assigned to special hot keys that hold close commands. The N key full pass ensures that the simultaneous keystrokes are recorded correctly. The Zephyrus M15 Prism versions have a more subtle backlight in one area, and the brushed black versions provide RGB * at each key to highlight key controls for different games and workflows. Coordinate color and visual effects across all Aura Sync compatible accessories.
FBS Mode: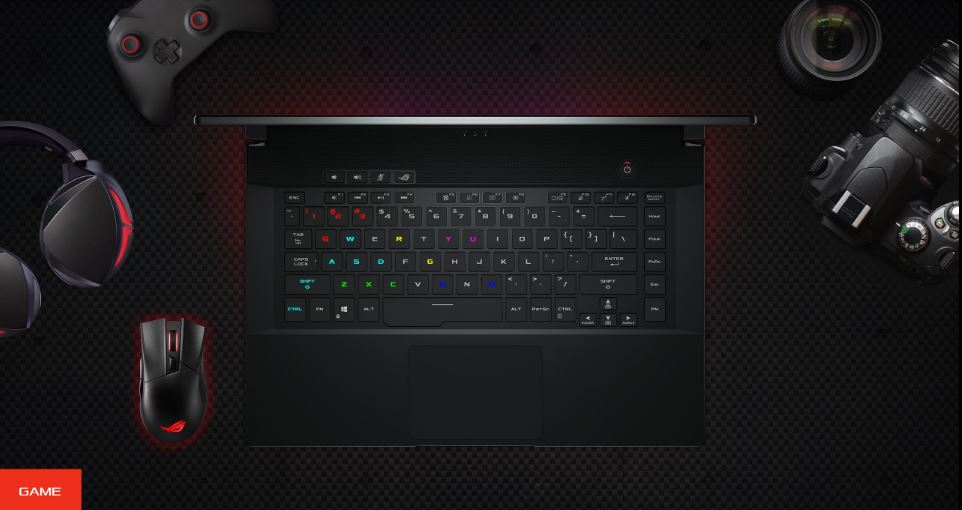 Work mode: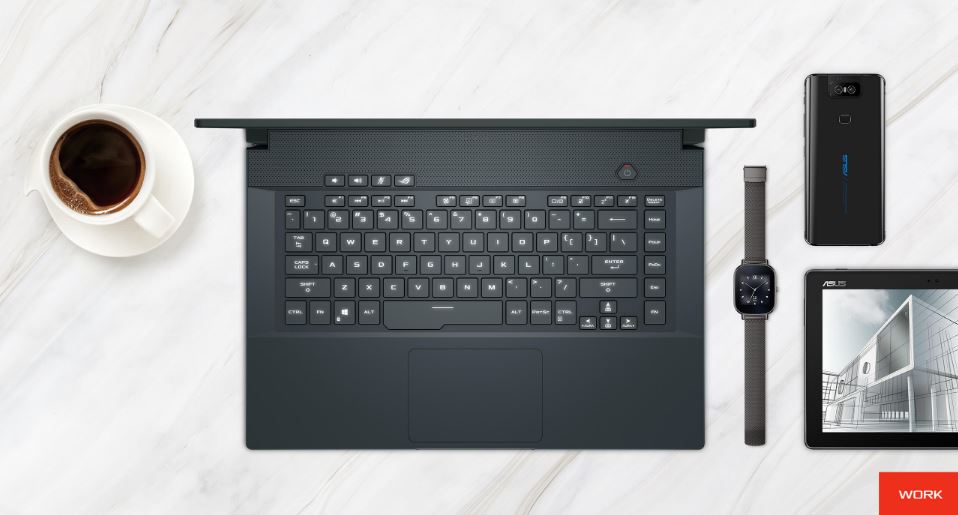 Intelligent cooling with liquid metal:
The ROG Intelligence Cooling Philosophy combines the right features and system settings to ensure the best possible experience in each case and body. In the Zephyrus M15, a strange liquid metal CPU coating lowers the temperature, dual n-Blade 83 fans rotate to increase airflow, and a self-cleaning heat block emits dust for life and long-term performance. ROG Armory Crate can easily switch between modes to improve performance and acoustics for each task.
Comprehensive connectivity:
ROG Zephyrus M15 Thunderbolt ™ 3 with USB 3.2 Gen 2 Type-C ™, DisplayPort ™ 1.4 and Power Delivery, Type-A port for fast data transfer and two USB 3.2 Gen 1 ports suitable for mouse and keyboard.. Play or enjoy HDMI 2.0b output on a large screen that supports 4K UHD resolution up to 60Hz. Super Fast Wi-Fi provides fast online access to daily activities, gigabit Ethernet connector for multiplayer matches and minimal latency for LAN parties.

Unified system tuning and personalization:
ROG Armory Crate combines system and lighting controls, making it easy to adjust key settings with one tool. You can easily define and customize Scenario profiles that automatically adjust when your favorite games are released.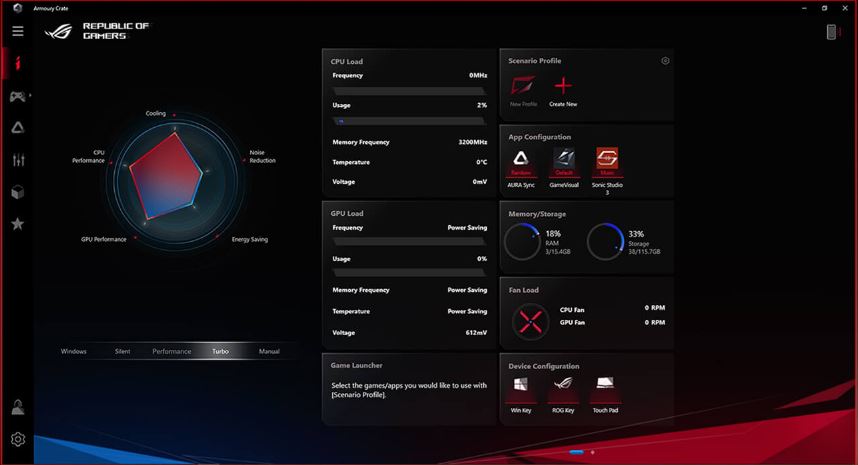 Gear up and go:
Equip yourself with a complete set of toys and accessories. Stream full HD video at 60 fps with an ROG GC21 external camera. Compatible with Aura Sync with ROG Gladius II Optical Gaming Mouse and Strix Impact. Enhance your audio experience with the perfect ergonomically designed and comfortable ROG Delta headphones to immerse yourself in rich high quality audio. And carry them all with a rugged 15-inch bag with a ROG logo.