Monitors Features
DisplayPort 1.2 x 1 HDMI(v1.4) x 1 Earphone jack: Yes USB Ports: Yes(2 ports USB 3.0)
Asus, Rog Swift, 27 Inch, PG279QE, WQHD, IPS, 165Hz, 4Ms, Gaming, Monitor,
27-inch, WQHD 2560 x 1440 resolution display feature IPS technology for wide 178-degree viewing angles and lifelike gaming visuals
World-first 165Hz refresh rate and NVIDIA®G-SYNC™ technology for seamless visuals and smooth gameplay
ASUS-exclusive Ultra-Low Blue Light, Flicker-Free, GamePlus, and GameVisual technologies provide a comfortable gaming experience
Ergonomically-designed stand with full tilt, swivel, pivot, and height adjustment for comfortable viewing position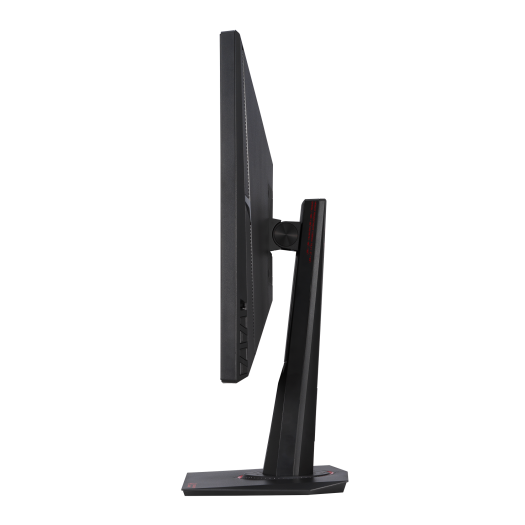 ROG Swift PG279QE gaming monitor is built for victory in the professional gaming arena, and features a WQHD panel with overclockable 165Hz refresh rate. Integrated NVIDIA® G-SYNC™ technology synchronizes the display's refresh rate to the GPU for smooth visuals and lag-free gameplay. This monitor features the latest technologies and design touches to make it a must-have weapon for all enthusiast players.

Impeccably lifelike:
gaming visuals A 27-inch 2K/WQHD display for highly detailed visuals and more onscreen space The ROG Swift PG279QE represents a new generation displays, with a WQHD 2560 x 165Hz IPS panel that delivers four times the resolution of 720p and 109 pixels per inch. You get to enjoy greater image detail and up to 77% more onscreen desktop space than standard Full HD (1920 x 1080) displays. These add up to give you a major in-game advantage.
Conventional 27-inch 1920 x 1080 monitor:
Shows less detail and spacing with less room for work bars on the side. Images are relatively blurrier.
ROG Swift PG279QE 27-inch 2560 x 1440 monitor:
See more detail and spacing with more room for working bars on the side. Images are much more crisp and detailed.
Ultra-smooth graphics for seamless gameplay:
Incredibly-fast 165Hz refresh rate The ROG Swift PG279QE's gaming monitor 165Hz refresh rate decimates lag and motion blur to give you the upper hand in first person shooters, racers, real-time strategy, and sports titles. This ultrafast refresh rate lets you play at the highest visual settings and lets you react instantly to what's onscreen — so you'll get that first strike in.

Recommended for games which are much slower in pace, such as MOBA games, can be played just fine with lower pace.

Recommended for games which have a lot of fast motion and hectic action, especially first person shooters.

Gain a Competitive Edge with NVIDIA®G-SYNC™ Technology:
The ROG Swift PG279QE incorporates NVIDIA® G-SYNC™ display technology to deliver the smoothest, fastest, and most breathtaking gaming imaginable. G-SYNC™ synchronizes the monitor's refresh rate to the GPU in your GeForce GTX-powered PC, eliminating screen tearing and minimizing display stutter and input lag. ROG Swift PG279QE lets you enjoy seamlessly-smooth and lag-free gameplay when playing the latest fast-paced first-person shooters, sports, and action-adventure titles.

Gamer-centric technologies:
ASUS-exclusive GamePlus technology The ASUS GamePlus hotkey gives you in-game enhancements so you get more out of your game. This function is co-developed with input from pro gamers, allowing them to practice and improve their gaming skills.

ASUS-exclusive GameVisual technology:
ASUS GameVisual Technology has six pre-set display modes to optimize visuals for different types of content. This unique feature can be easily accessed through a hotkey or the On Screen Display (OSD) settings menu.

Multi-display gaming at its finest:
Super-narrow bezel design for seamless multi-display setups The ROG Swift PG279QE's slim profile and super-narrow 6mm bezel makes it perfect for almost seamless multi-display setups so your eyes move swiftly from one monitor to another. It can also be VESA wall-mounted – an even easier way to have a multi-display gaming setup.

Robust connectivity with exclusive gaming hotkeys:
ROG Swift PG279QE gives you flexible connectivity options for WQHD (2560 x 1440) input via its DisplayPort1.2 and HDMI ports. It also has two USB 3.0 ports for your mouse and keyboard, and can charge your mobile devices while gaming.

Smart cable management A cable management design feature found on the back of the monitor allows you to organize and hide your cables to keep your gaming area tidy.
Flicker free technology:
Flicker-Free technology reduces flicker to give you a comfortable gaming experience. This minimizes instances of eyestrain and other damaging effects when you're embroiled in long, drawn-out gaming sessions.
Ergonomic tilt, swivel, pivot, and height adjustable stand:
The ROG Swift PG279QE is specially designed for marathon gaming sessions. It has an ergonomically-designed stand with tilt, swivel, pivot, and height adjustment so you can always find that ideal viewing position whether you're on the couch or sitting on your bed.