U.P.S Specifications
Multi-function LCD status and control console
CD with software , USB cable , User Manual
APC SRV6KI
6000VA/6000W On-Line 230V Easy UPS
The APC SRV6KI is a robust On-Line UPS with a power capacity of 6000VA/6000W. It operates at 230V and is specifically designed to offer reliable power protection in challenging and unstable power environments.
The Easy UPS features a double-conversion On-Line design, ensuring continuous power supply by converting incoming AC power to DC and then back to AC. This process eliminates fluctuations and irregularities in the power source, safeguarding connected devices.
The UPS is built in a tower form factor and comes equipped with a hardwired 3-wire (1P+N+E) outlet. It also includes an Intelligent Card Slot and an LCD display, providing advanced monitoring and management capabilities for enhanced convenience.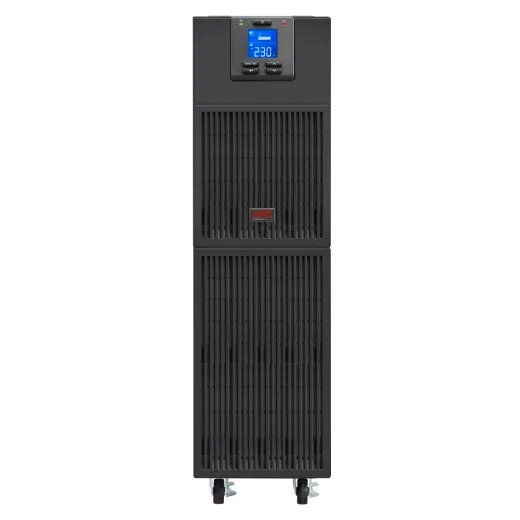 Technical Specifications:
The APC SRV6KI is an On-Line UPS with a power capacity of 6000VA/6000W and operates at a main input voltage of 230V. It also supports input voltages of 220V and 240V. The main output voltage is 230V, with additional output voltage options of 220V and 240V.
The UPS comes with a hardwired 3-wire (1P + N + E) output connector, allowing for secure connections. It is equipped with a lead-acid battery with a voltage of 192V. The UPS does not have any battery filled or free slots for additional batteries.
The battery recharge time for the UPS is approximately 4 hours, and the battery life is estimated to be between 3 to 5 years. The battery charger power is rated at 235W.
Included with the UPS are several accessories, such as a USB cable, an RS-232 configuration cable, and a user manual. These accessories aid in the setup and operation of the UPS.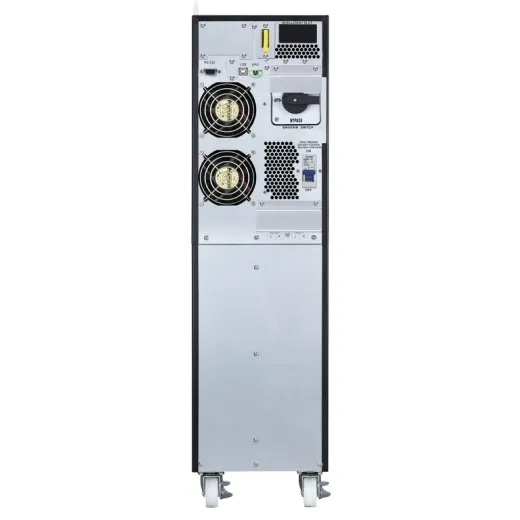 The APC SRV6KI Easy UPS On-Line is available in a sleek black color (RAL 7010) and has a height of 68.5 cm, width of 19 cm, and depth of 37.4 cm. It has a net weight of 54 kg.
The UPS is designed to be mounted in a vertical position with no specific mounting preference. However, it is not rack-mountable and is intended for front mounting.
It features a USB port for connectivity and is compatible with USB devices.
The input voltage limits for the UPS are 110V to 300V at 60% load and 176V to 300V at full load. It has one input connector, a hard wire 3-wire (1P + N + E).
The APC UPS operates at a network frequency of 40Hz to 70Hz, automatically sensing the frequency. The maximum configurable power is 6000VA/6000W.
The output frequency of the UPS is 50/60Hz with a +/- 3Hz synchronization to the mains. It produces a sine wave output with a harmonic distortion of 1%.
The UPS is a double conversion online type, providing high-quality power protection. It has an efficiency rating of 94% at full load.
Additional features include configurable output voltage options of 220V, 230V, or 240V, an internal bypass for automatic and manual operation, and a crest factor of 3:1.
The APC SRV6KI is certified with CE, UKCA, EAC, and TISI standards. It complies with EN/IEC 62040-1:2019/A11:2021 and EN/IEC 62040-2:2006/AC:2006, as well as EN/IEC 62040-2:2018.
The UPS can operate within an ambient air temperature range of 0°C to 40°C and has a relative humidity range of 0% to 95% (non-condensing). It is suitable for operation in altitudes up to 3000m.
For storage, the recommended ambient air temperature is -15°C to 60°C, and the relative humidity should be 0% to 95% (non-condensing). The UPS can be stored at altitudes up to 15000m.
The UPS has an acoustic level of 55 dBA and dissipates heat at a rate of 1172 Btu/h. It has an IP20 degree of protection, providing limited protection against solid objects.
The UPS is equipped with an alarm system that alerts when on battery power, low battery, and overload conditions. It also features an emergency power off function.
It has one free slot for additional components and comes with a multifunction LCD status and control console for monitoring and managing the UPS.
The surge energy rate is 600 J, and the unit is packaged as a PCE (Piece). The package dimensions are 91 cm (height), 29 cm (width), 49.5 cm (length), and it weighs 66 kg.
The APC SRV6KI Easy UPS On-Line comes with a warranty of 2 years for replacement.