U.P.S Specifications
LED status display with On Line : On Battery : Replace Battery and Overload indicators, Multi-function LCD status and control console
APC SMT3000RMI2U
3000VA/2700W Line Interactive Smart UPS
3kVA/2.7kW line interactive pure sine wave 2U rackmount UPS.
Ideal for servers, storage, network closets, business VoIP and retail POS.
Automatic Voltage Regulation helps correct utility voltage.
Graceful shutdown using serial or USB cables via PowerChute Business Edition.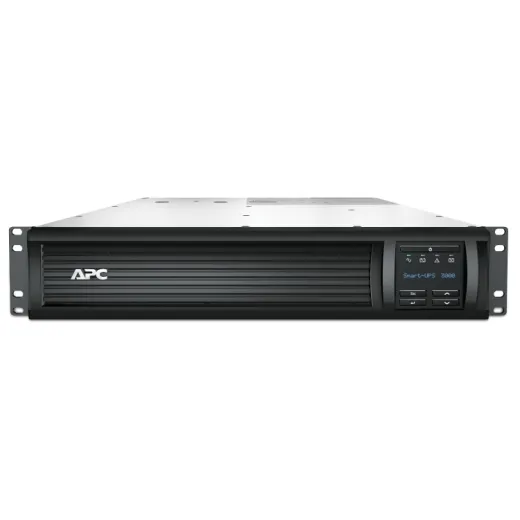 This APC Smart-UPS is designed for IT professionals or network administrators to maintain business uptime and continuity. The 3kVA line interactive 2U rackmount UPS provides pure sine wave power to support critical electronics during power disruptions. It comes with IEC 320 C20 input, BS1363A British and Schuko CEE 7/EU1-16P input cables, 8x IEC 320 C13 and 1x IEC 320 C19 outlets, and 3x IEC jumper cables. It has a SmartSlot for optional Network Management Card that enables graceful shutdown of physical servers, virtual machines & HCI Clusters via PowerChute Network Shutdown. The UPS can connect to EcoStruxure IT or third-party centralized management platforms. It provides surge protection against lightning strikes, power sags, brownouts and surges. The SMT UPS has a 3-year warranty, and the built-in lead-acid battery has a 2-year warranty. It is compatible with a dedicated user-replaceable battery, and the APC replacement battery cartridge helps restore UPS performance to the original specifications.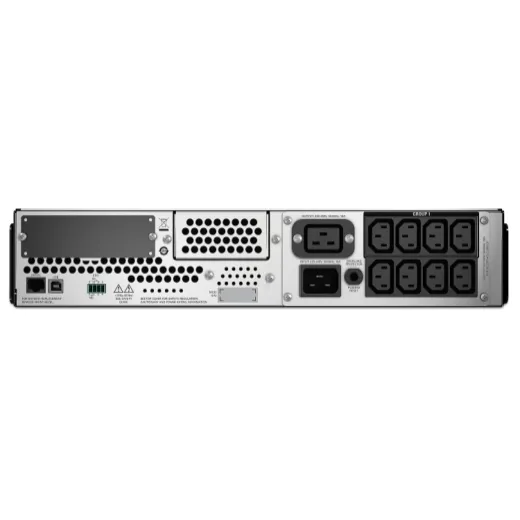 Technical Specifications:
The APC SMT3000RMI2U 3000VA/2700W Line Interactive Smart UPS is a high-quality uninterruptible power supply (UPS) designed to provide reliable backup power for critical equipment. With a rated power of 2700W and a capacity of 3000VA, it offers ample power for a variety of devices. The UPS features multiple input and output voltage options, including 230V, 220V, and 240V, making it suitable for various international power systems. It comes with a range of input and output connection types, including IEC 320 C13 and C19, as well as British and Schuko plugs. The 2U rack-mounted design and included rack mounting support rails make it easy to install in server racks. The UPS utilizes a lead-acid battery, which provides reliable backup power during outages, and it includes a USB cable for easy connectivity. With its advanced features, including a multifunction LCD control console and LED status display, the UPS offers convenient monitoring and control options. The APC SMT3000RMI2U is a robust and dependable UPS solution for protecting critical equipment in various environments.