U.P.S Specifications
Output voltage at on-line 12V dc +/- 5% Output voltage at discharge 12V dc +/- 5%
Power button switch On / off Power button LED Green – On (on-line and discharging)
Runtime at 3W 150 mins Runtime at 5W 90 mins Runtime at 7W 60 mins
APC CP12010LI
Connect Mini Power Supply With Battery Backup Lithium Battery For Network Device
Home User:
UPS Connect is an ideal solution to power your voip modem routers and survelliance devices during an unexpected power outage ensure your home internet stays online.
Not only will Back-UPS Connect protect your modem routers, lot and survelliance from power surges, but it will provide you peace of mind that during a power disruption you will have battery back up power for your home connected devices in case of an emergency and to stay in contact with loved ones.
UPS Coment is easy to install and requires minimal effort to set up with your compatable network devices. Ensure your home internet stayes powered during prolonged power outages to keep your laptops, tablets, smartphones and smart devices connected to the internet.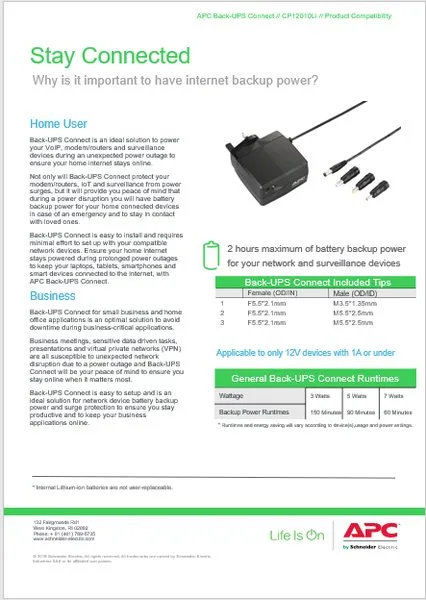 Business:
Back-UPS Connect for small business and home office applications is an optimal solution to avoid downtime during business-critical applications.
Business meetings, sensitive data driven tasks, presentations and virtual private networks (VPN) are all susceptible to unexpected network disruption due to a power outage and APC Back-UPS Connect will be your peace of mind to ensure you stay online when it matters most.
APC UPS Connect is easy to setup and is an ideal solution for network device battery backup power and surge protection to ensure you stay productive and to keep your business applications online.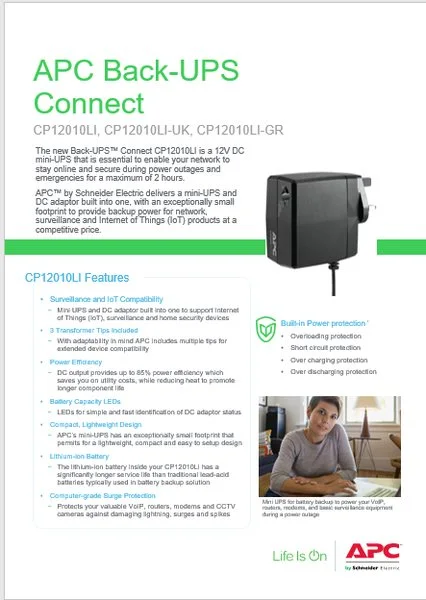 Technical Specifications:
APC CP12010LI is a power supply unit with a main input voltage range of 220 V to 240 V. It provides a main output voltage of 12 V DC with a rated power of 12 W. The unit is compact and lightweight, measuring 7.8 cm in height, 4.8 cm in width, and 7.6 cm in depth, weighing 0.2 kg. It does not have any specific mounting preferences and is not rack-mountable, but can be mounted using a two-post mounting mode. The power supply is not USB compatible. It conforms to standards such as EN 55024 and EN 60950 for safety and performance. The operational ambient air temperature range is 0°C to 40°C, and the relative humidity range is 5% to 95%. It can be stored in temperatures ranging from -15°C to 60°C. The unit does not require any batteries and does not have any battery slots. It comes in a single package measuring 11.3 cm in height, 9.9 cm in width, 5.2 cm in length, and weighing 0.28 kg. The product has a contractual warranty of 2 years, offering repair or replacement services.