AMD Ryzen™ 5 5600G MPK - Asus Prime B550M-K micro ATX motherboard - HP V6 CL16 8 Gb DDR4 P3200Mhz Ram - WD Blue 1TB HDD Hard - HP EX900 Pro 256GB NVMe Internal PC SSD M.2 Hard - EVGA 500W1 80+ WHITE 500W PSU - NZXT H510 White Compact Mid-Tower Case
AMD Ryzen™ 5 5600G MPK - Asus Prime B550M-K micro ATX motherboard - HP V6 CL16 8 Gb DDR4 P3200Mhz Ram - WD Blue 1TB HDD Hard - HP EX900 Pro 256GB NVMe Internal PC SSD M.2 Hard - EVGA 500W1 80+ WHITE 500W PSU - NZXT H510 White Compact Mid-Tower Case
AMD Ryzen™ 5 5600G MPK:
General Specifications:
Platform
Boxed Processor
Product Family
AMD Ryzen™ Processors
Product Line
AMD Ryzen™ 5 5000 G-Series Desktop Processors with Radeon™ Graphics
# of CPU Cores
6
# of Threads
12
Max. Boost Clock
Up to 4.4GHz
Base Clock
3.9GHz
Total L2 Cache
3MB
Total L3 Cache
16MB
Default TDP
65W
AMD Configurable TDP (cTDP)
45-65W
Processor Technology for CPU Cores
TSMC 7nm FinFET
Unlocked for Overclocking
Yes
CPU Socket
AM4
Thermal Solution (PIB)
Wraith Stealth
Max. Operating Temperature (Tjmax)
95°C
*OS Support
Windows 11 - 64-Bit Edition
Windows 10 - 64-Bit Edition
RHEL x86 64-Bit
Ubuntu x86 64-Bit
*Operating System (OS) support will vary by manufacturer

Asus Prime B550M-K micro ATX motherboard:
AMD AM4 socket: Ready for Ryzen™ 5000 Series/ 4000 G-Series/ 3000 Series Desktop Processors
Comprehensive cooling: PCH heatsink and Fan Xpert 2+
Ultrafast connectivity: Dual M.2, PCIe 4.0, 1 Gb Ethernet, USB 3.2 Gen 2 Type-A
5X Protection III: Multiple hardware safeguards for all-around system protection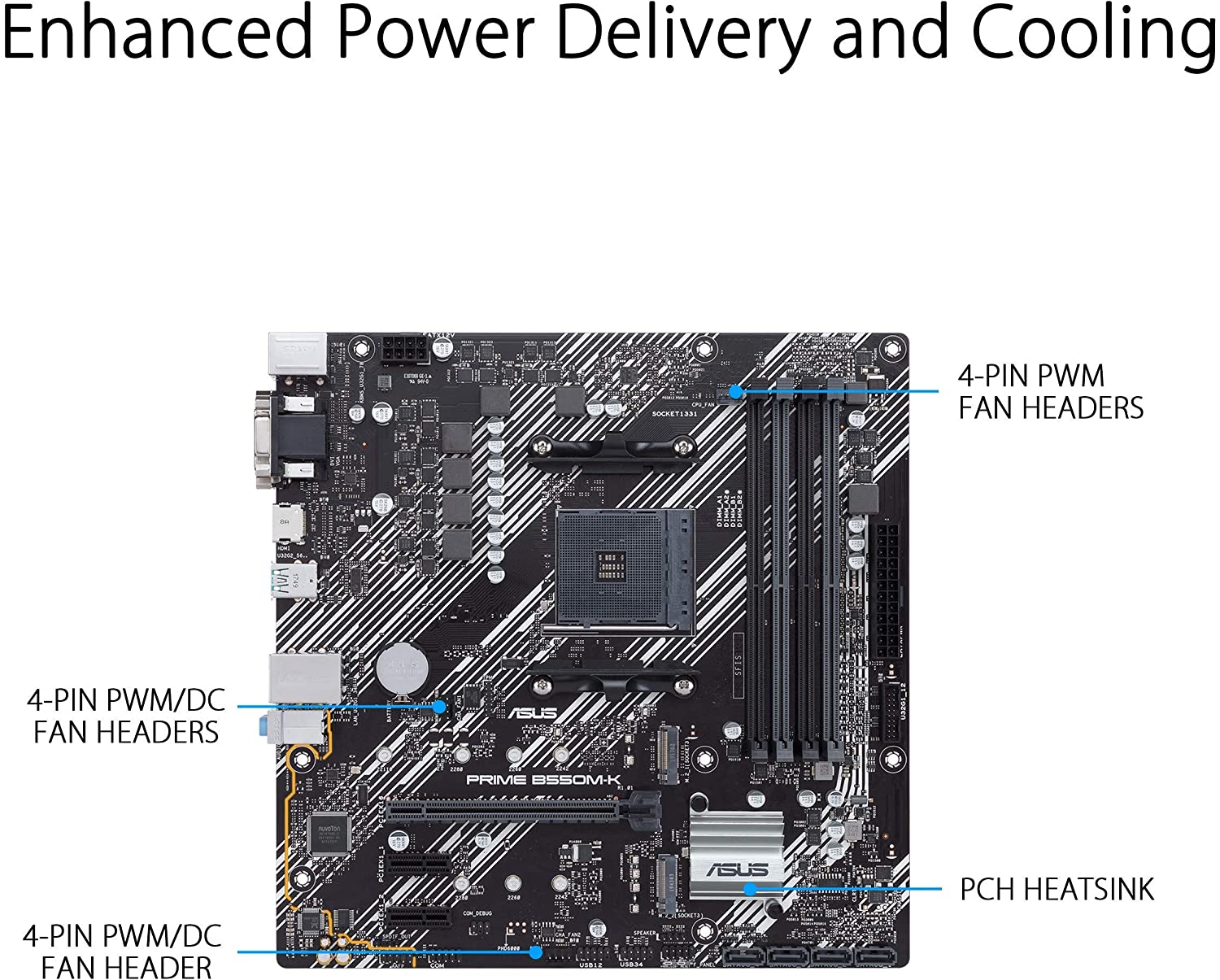 HP V6 CL16 8 Gb DDR4 P3200Mhz Ram:
DDR4 overclocking DRAM memory module, high performance gaming experience. Overclocking enhances gaming experience with immediate lag-free response.
Top quality DRAM IC sorting ensuring reliability and durability. With high-quality DRAM ICs carefully sorted, it has passed most rigorous tests to guaranty overclocking ability in a stable manner.
Efficient heat dissipation, enhancing performance. The heatsink is made of top-grade aluminum , which allows better thermal conductivity, keep DRAM ICs cool by improving heat dissipation efficiency.
Cool appearance, tech-savvy's choice. With its aggressive looks and performance to back up, V6-series comes in distinctive choice of colors (black, blue and red) which corresponds to different clock speeds.
Individually tested, widely compatible. It has passed compatibility testing with a wide variety of performance motherboards to ensures long-term reliability and stable operation.
Uncompromised high performance. The new generation of DDR4 memory, is available in densities of 8GB and 16GB, and clock speeds ranging from 2400 through 3600MHZ to meet and exceed expectations from most demanding gamers and enthusiasts who want to reach the maximum potential of his PC system.
HP EX900 Pro 256GB NVMe Internal PC SSD M.2 Hard:
HP SSD EX900 M.2 is a new generation SSD with ultra-high performance that supports PCIe Gen3x4 interface and new NVMe 1.3 specification. With read and write speed as high as 2100MB/s and 1500MB/s respectively, it is the key for high speed in gaming notebooks and advanced desktops to meet the demand for ultra-high performance and reliability of advanced hardware players, e-gamers and professional media producers.
HP High-end Controller with 4 Channels:
Configured with an HP Controller offering 4 flash memory channels, EX900 supports PCIe Gen3(8Gb/s)x4 and new NVMe1.3 specification. The performance of SSD is further improved to bring the potential of PCs into full play and improve system responsiveness.
Adopt 3D Nand Flash:
EX900 adopts 3D NAND Flash, offering better storage density and reliability than general 2D Flash. With the high performance and reliability, EX900 is applicable as both a system disk and a data storage disk.
Excellence in reliability:
EX900 series supports NCQ full-speed command queues and TRIM instructions to provide continuous and fast response to notebooks and PCs. The NAND Xtend ECC technology of EX900 greatly enhances the durability and data storage ability of NAND, meeting the expectation of workers with high demands.
Make the data more secure:
HP secure end to end internal firmware and professional-level security key write process can effectively protect against viruses and hacks. HP EX900 series offer a 3-year limited warranty with HP brand quality assurance.
With a size of 22x80x2.4mm (2280), EX900 M.2 SSD is a new storage solution with ultra-high performance, lower latency and power consumption. Compatible with Intel and AMD new generation motherboard architecture, EX900 unleashes the potential of computers and is applicable to notebooks and desktops with PCIe M.2 interface.
With continuously improved storage technology, HP SSD provides customers with the latest storage solution of high performance in the server and consumer market .HP SSD can improve the performance of your entire system, providing: superior performance, improved start-up time, faster application load times, longer battery life, and better system reliability.As the leader in the PC industry, HP SSD quality assurance begins at the R & D design stage and continues through the whole production process. Quality is designed into every product in accordance with HP's corporate philosophy. HP SSD series fully supports HP computer DST self-test to ensure that the product will seamlessly support all HP branded PC systems. By the same token, since HP computers use the majority of contemporary computer platforms, the HP SSD is a highly compatible drive regardless of PC brand.HP has an excellent global network of service outlets to support users with questions about the product. We also offer a toll-free customer support hotline, and you can find more details from our HP website.
EVGA 500W1 80+ WHITE 500W PSU:
Quiet and Intelligent Auto Fan for near-silent operation
Heavy-duty protections, including OVP (Over Voltage Protection), UVP (Under Voltage Protection), OCP (Over Current Protection), OPP (Over Power Protection), SCP (Short Circuit Protection), and OTP (Over Temperature Protection)
3 Year Warranty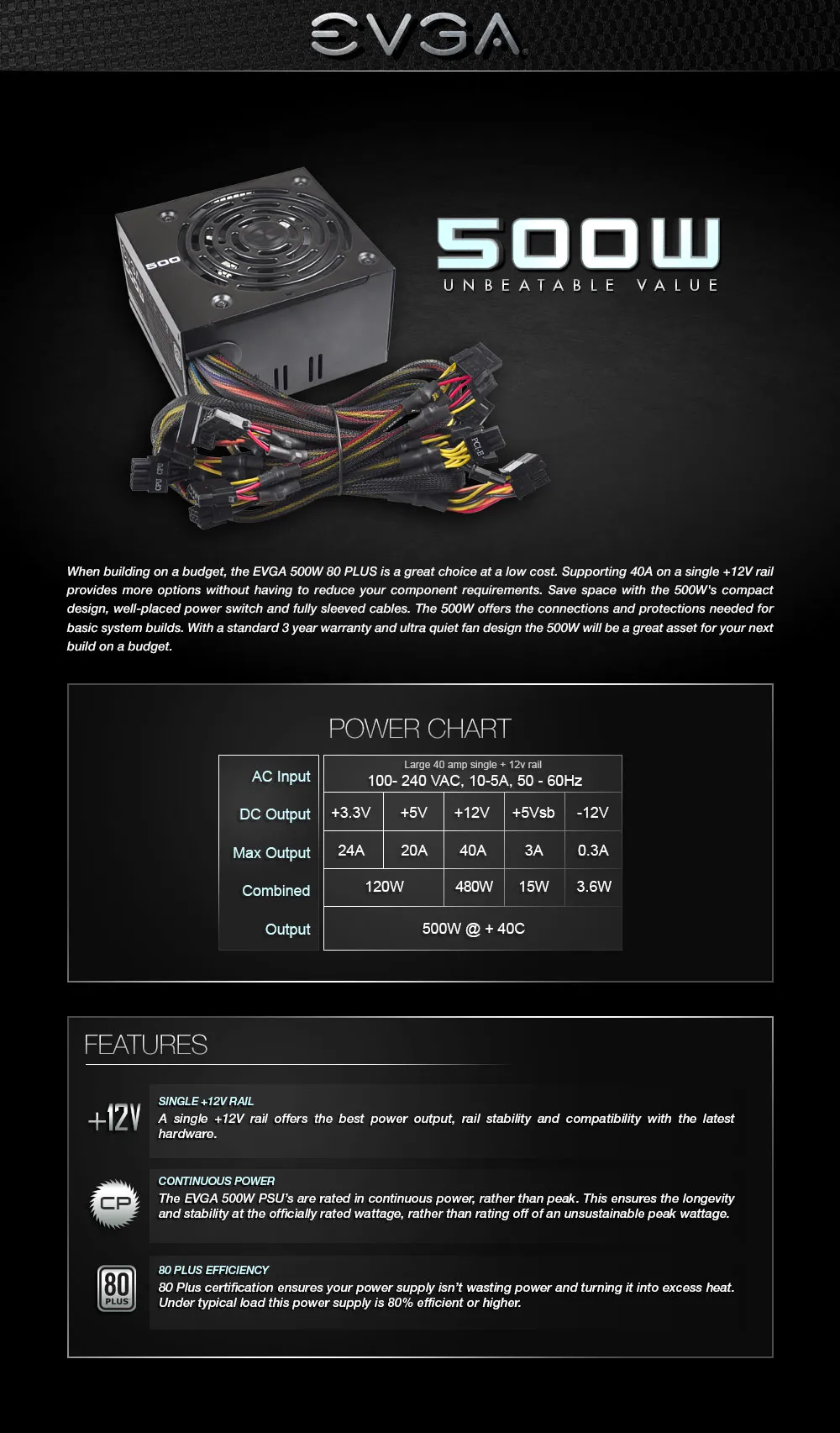 NZXT H510 White Compact Mid-Tower Case:
This compact mid-tower is an ideal case for the majority of builds. The H510 is easy-to-build-in and offers flexibility for a variety of ATX parts.
Iconic cable management bar and uninterrupted tempered-glass side panel
USB 3.2 Gen2-compatible USB-C connector on the front panel
Cable routing kit with pre-installed channels and straps
Two Aer F120mm fans and removable filter on PSU intake
Removable bracket designed for radiators up to 280mm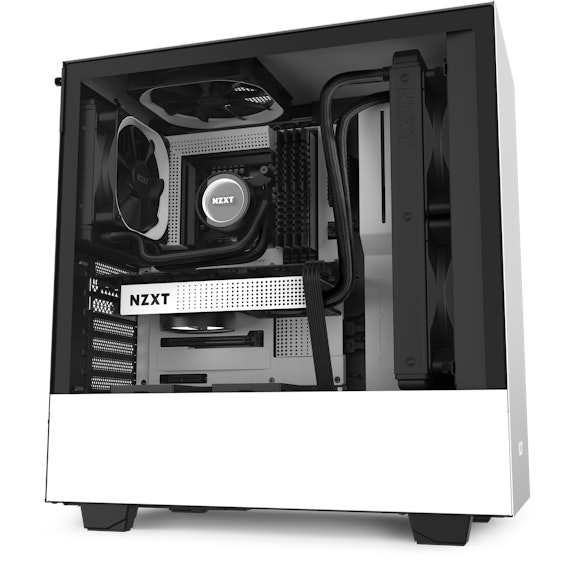 Computer Components
8GB DDR4 P3200Mhz HP V6 CL16
EVGA 500W1 80+ WHITE 500W PSU