AMD Ryzen 5 4650G PRO Tray + CPU Fan Processor - Asus Prime A520M-E Motherboard - Kingstone 250GB NVME SSD - Crucial 8GB 3200GHz Ballistix Ram -REDRAGON Gaming PC Case GC-618 REDRAGON 600W PSU 3 FANS RAINBOW LED
AMD Ryzen 5 4650G PRO Tray + CPU Fan Processor - Asus Prime A520M-E Motherboard - Kingstone 250GB NVME SSD - Crucial 8GB 3200GHz Ballistix Ram -REDRAGON Gaming PC Case GC-618 REDRAGON 600W PSU 3 FANS RAINBOW LED
AMD PRO technologies
Built for modern business, AMD PRO technologies provide layers of protection, seamless manageability, and reliable longevity.
AMD Ryzen™ 5 PRO 4650G
Specifications# of CPU Cores 6
# of Threads 12
# of GPU Cores 7
Base Clock 3.7GHz
Max Boost Clock Up to 4.2GHz
Total L1 Cache
384KB
Total L2 Cache 3MB
Total L3 Cache 8MB
Unlocked No
CMOS TSMC 7nm FinFET
Package AM4
PCI Express® Version PCIe® 3.0
Thermal Solution (MPK) Wraith Stealth
Default TDP / TDP 65W
cTDP 45-65W
Max Temps 95°C
*OS Support Windows 10 - 64-Bit Edition RHEL x86 64-Bit Ubuntu x86 64-Bit *Operating System (OS) support will vary by manufacturer.
System MemorySystem Memory Specification Up to 3200MHz
System Memory Type DDR4
Memory Channels 2
Graphics SpecificationsGraphics Frequency 1900 MHz
Graphics Model Radeon™ Graphics
Graphics Core Count 7
Key FeaturesSupported Technologies AMD PRO technologies
Display Port Yes
HDMI™
Yes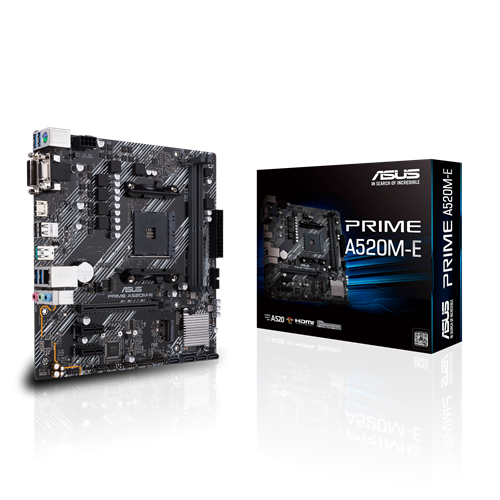 Asus Prime A520M-E Motherboard:
AMD AM4 socket: Ready for Ryzen™ 5000 Series/ 4000 G-Series/ 3000 Series Desktop Processors.
Comprehensive cooling: PCH heatsink and Fan Xpert.
Ultrafast connectivity: M.2 support, 1 Gb Ethernet, USB 3.2 Gen 1 Type-A.
5X Protection III: Multiple hardware safeguards for all-around system protection.
Kingstone 250GB NVME SSD:
Reliable, Fast And Plenty Of Capacity:
Reliable by experts who are leaders in solid-state storage technology, SanDisk improves speed and performance with SanDisk SSD Plus. Enjoy faster boot, shutdown, data transfer, and application response times than hard drive. SanDisk SSD Plus provides quiet and reliable operation and monitors the status of your favorite media applications on three dashboards.
Extend the life of your laptop or desktop PC:
When you upgrade your laptop or desktop computer with a fast and reliable sata3 solid state drive from a world-renowned brand, your old computer suddenly runs up, with fast startup and shutdown times, and fast application response times. It feels like a new machine.
Faster boot-ups, shutdowns, and app response:
High sequential read speeds up to 545MB / s4 and sequential write speeds up to 350MB / s4 deliver better performance than traditional hard drives and performance for any task.
Durable solid-state design:
SanDisk SSD Plus has no moving parts, withstands shocks and vibrations, and protects your data from shocks and wear.
Ideal for typical PC Workloads:
SanDisk SSD PLUS provides SLC caching with improved fast write performance, making it an ideal storage solution for PC workloads such as web browsing, email, casual games, office work, audio / video entertainment and more...
Easy set-up:
SanDisk SSD Plus comes with easy-to-follow instructions and cloning software to help you set up your new drive.
A more efficient drive:
SanDisk SSDs are cooler, quieter and more efficient than HDDs, so your laptop's battery will last longer on a single charge.
Crucial 8GB 3200GHz Ballistix Ram:
Modern Design
Anodized aluminum heat spreader available in black, white, or red. Low-profile form factor is ideal for smaller or space-limited rigs.
Bold RGB Effects
Customize your rig's color scheme with 16 RGB LEDs in 8 zones on each Crucial Ballistix RGB module.
Computer Components
Asus Prime A520M-E Motherboard
crucial 8GB 3200GHz Ballistix Ram
REDRAGON Gaming PC Case GC-618 REDRAGON 600W PSU 3 FANS RAINBOW LED