AMD RYZEN 5 2600X, Asus Prime B450M-K-II Motherboard, Kingston Hyper X Fury 8 GB DDR4 P3200Mhz Ram, Nvidia GeForce GT 730 2GB,
AMD RYZEN 5 2600X:
Specifications
# of CPU Cores
6
# of Threads
12
Base Clock
3.6GHz
Max Boost Clock
Up to 4.2GHz
Total L1 Cache
576KB
Total L2 Cache
3MB
Total L3 Cache
16MB
Unlocked
Yes
CMOS
12nm FinFET
Package
AM4
PCI Express® Version
PCIe 3.0 x16
Thermal Solution (PIB)
Wraith Spire
Thermal Solution (MPK)
Wraith Spire
Default TDP / TDP
95W
Max Temps
95°C
*OS Support
Windows 10 - 64-Bit Edition
RHEL x86 64-Bit
Ubuntu x86 64-Bit
*Operating System (OS) support will vary by manufacturer.

Asus Prime B450M-K-II Motherboard:
AMD B450 (Ryzen AM4) micro ATX motherboard with M.2 support, HDMI/DVI-D/D-Sub, SATA 6 Gbps, 1 Gb Ethernet, USB 3.2 Gen 1 Type-A, BIOS FlashBack™.
Comprehensive cooling: PCH heatsink, and Fan Xpert
Ultrafast connectivity: M.2 support, 1 Gb Ethernet, and USB 3.2 Gen 1 Type-A
5X Protection III: Multiple hardware safeguards for all-around system protection
LED illumination: Lighting control for both PCIe slot and audio trace paths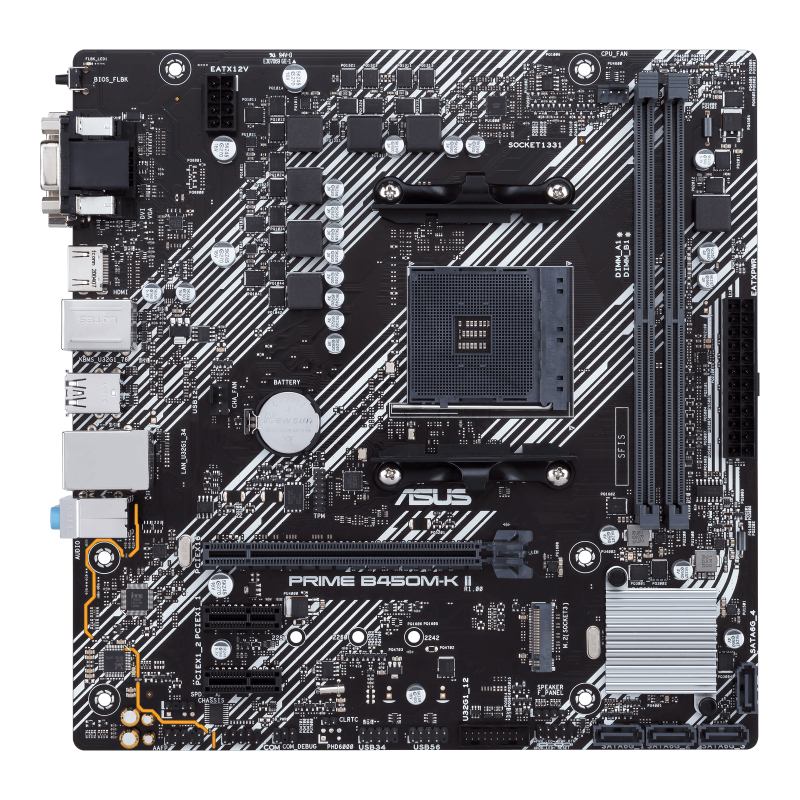 Prime
ASUS Prime B450M II Series motherboards provide the solid foundation needed for your first build, plus flexibility to grow with your ambitions. We've melded all the good stuff that's packed into AMD Ryzen™ processors with essential ASUS design and engineering, so you benefit from industry-leading technologies including automated system tuning, comprehensive cooling controls, and immersive onboard audio. When you build with an ASUS Prime B450M II Series motherboard, you build smart, easy and affordably.
Tune It Your Way
Comprehensive controls form the foundation of the ASUS Prime series. The Prime B450M II motherboard packs flexible tools to tune every aspect of your system, enabling you to tweak performance settings to perfectly match the way you work – maximizing your productivity.
Cooler by Design
PRIME B450M-K II is engineered with an array of hybrid fan headers and features comprehensive cooling controls that are configurable via Fan Xpert software or via the UEFI BIOS, ensuring your rig stays cool and stable under intense workloads.
Build on a Solid Foundation
Prime B450M II motherboard provides all the fundamentals to boost daily productivity, so your system will be ready for action with stable power, intuitive cooling and flexible transfer options.
PCIe 3.0 M.2
(up to 32 Gbps)
Achieve speed with onboard M.2
M.2 Slot supports data-transfer speed up to 32Gbps via x4 PCI Express® 3.0 bandwidth. It's the perfect choice for an operating system or application drive, providing fast access to data.
Little Things Make a Big Difference
Prime B450M II series adds the nuanced details that improve every experience, from exclusive codecs that provide pristine audio quality to intuitive interface that let you customize your system to create a unique personal look.
Outstanding Audio
Combined onboard features deliver elevated audio
Intelligent design and premium hardware create audio quality unlike anything you've ever experienced.
Audio Shielding
Separates analog/digital signal domains, significantly reducing multi-lateral interference.
Separate Layer for Left and Right Tracks
Ensures minimal crosstalk between audio paths.
Premium Japanese Capacitors
Premium parts provide an immersive sound signature, with exceptional fidelity.
Kingston Hyper X Fury 8 GB DDR4 P3200Mhz Ram:
HyperX® FURY DDR4 provides a powerful performance boost for gaming, video editing, and rendering with speeds up to 3733MHz. This cost-effective upgrade is available in 2400MHz–3733MHz speeds, CL15–19 latencies, single module capacities of 4GB–32GB, and kit capacities of 16GB–128GB. It features Plug N Play1 automatic overclocking at 2400MHz and 2666MHz speeds and is both Intel XMP-ready and Ready for AMD Ryzen. HyperX FURY DDR4 stays cool with its stylish, low-profile heat spreader. 100% tested at speed and backed by a lifetime warranty, it's an easy, worry-free upgrade for your Intel or AMD-based system.
Updated low-profile heat spreader design
Cost-efficient, high-performance DDR4 upgrade
Intel XMP-ready
Ready for AMD Ryzen
Speeds up to 3733MHz and kit capacity up to 128GB
Plug N Play functionality at 2400MHz and 2666MHz
Updated low-profile heat spreader:
The sleek-looking new heat spreader is a great upgrade for your battle station's style.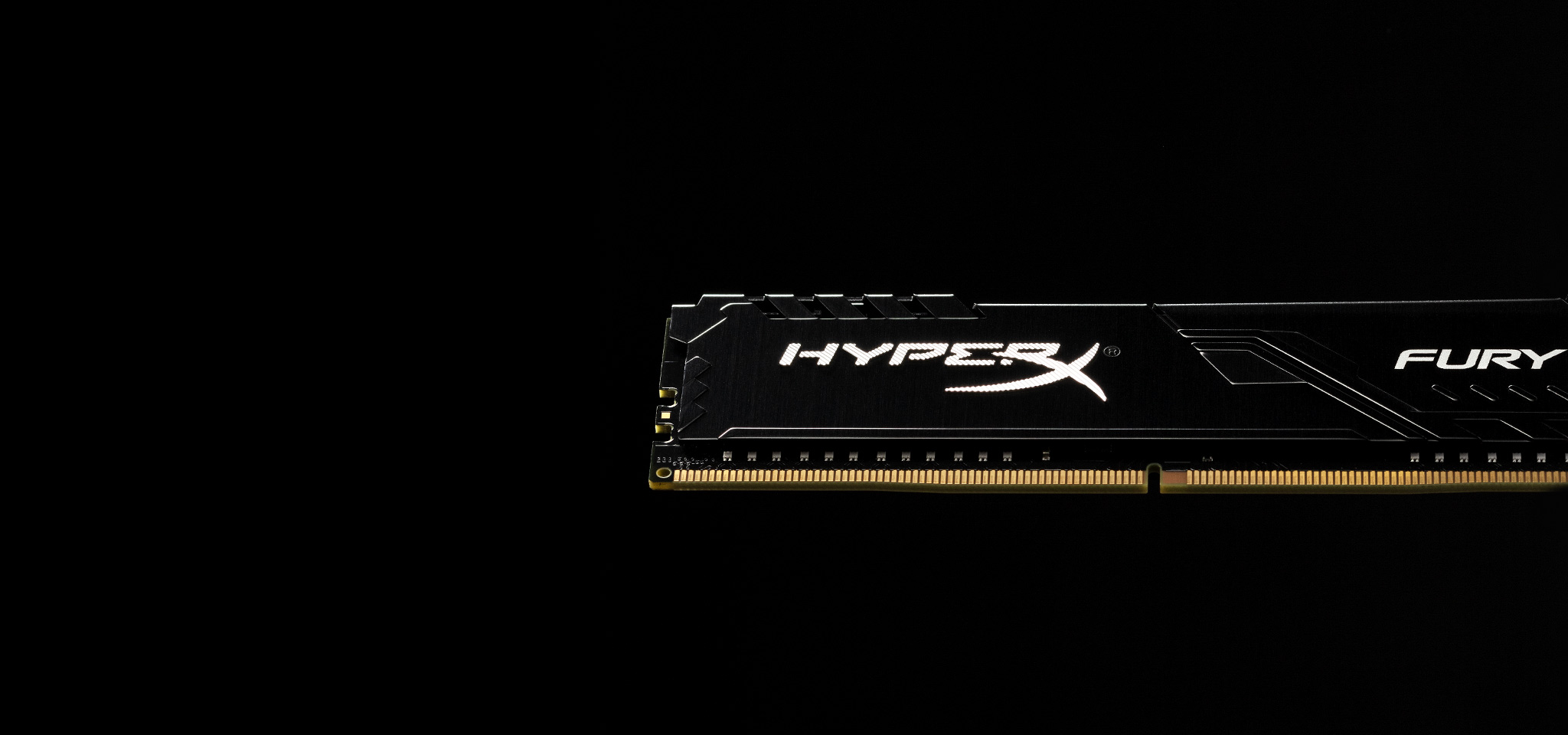 High-performance, cost-effective upgrade:
HyperX FURY DDR4 is the perfect choice for a system builder, or someone looking for an upgrade to jumpstart their sluggish system.

Intel XMP-Ready:
Our engineers have predefined Intel Extreme Memory Profiles designed to maximize the performance of our memory modules, reaching speeds up to 3733MHz.

Ready for AMD Ryzen:
Get memory that will seamlessly integrate with your AMD-based system. A reliable, compatible performance boost for your build.

Plug N Play – Automatic overclocking up to 2666MHz:
A simple and easy Plug N Play upgrade, HyperX FURY DDR4 will auto-overclock itself to the highest listed speed allowed by the system BIOS.

Nvidia GeForce GT 730 2GB:
Model Dell Nvidia GT 730
Memory Size 2GB
Memory Type GDDR5
Memory Bus 64-bit
Memory Bandwidth 40.10 GB/s
Base Clock 902 MHz
Turbo Clock N/A
Thermal Solution Active
Height Single-Slot
Length 5.7 Inches (145 mm)
Bracket Full Height Bracket Included
Outputs 2 x DisplayPort
Maximum Power Consumtion 38 W
Power Connectors Required None