ABB 11T G2 1KVA B 1000VA / 900W
Tower Online Double Conversion UPS
ABB Power Value 11T G2 is a dual circuit breaker input/output uninterruptible power supply (UPS) that provides clean, reliable power up to 10kW per UPS for mission-critical single-phase applications. Power Value 11T G2 not only saves energy in server rooms, billboards, turnstiles, laboratory equipment, signaling systems, ATMs or vending machines, it also regulates input power to eliminate peaks, emissions, noise and harmonics To do. Power Value 11T G2 Tower minimizes power loss and saves costs with dual switching efficiency up to 95% (up to 98% in eco mode) with voltage and frequency independent (VFI) topology. Two or three modules can be connected in parallel to increase power up to 30kW or to provide redundancy. Power Value 11T G2 is easy to install and maintain, inexpensive to operate, with the smallest UPS footprint on the market, very tight output voltage regulation, stable, stable and transient-free pure sine Provides wave AC power. All units can be equipped with up to 4 External Battery Modules (EBM) to extend runtime to over 2 hours. Each EBM is designed for its own UPS and can be easily configured using the LCD menu.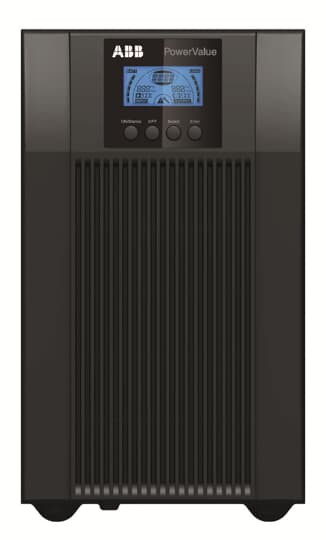 General Information:
The ABB 11T G2 1KVA B is a Tower Online Double Conversion UPS that provides reliable power backup. It has a product ID of 4NWP100160R0001 and an EAN of 7640169261886. The UPS, with the extended product type "UPS Power Value 11T G2 1 kVA B," offers VFI online double conversion technology and has an output power of 900W or 1000VA. It is equipped with an input voltage range of 220V-240V AC and can operate at either 50Hz or 60Hz frequency. The UPS features communication interfaces such as USB and RS-232 for easy monitoring and control.
The UPS comes with a C13 connection type and four output connections. It has options like an auto shut down function, potential-free switch contact, and network management capabilities. The battery used in this UPS is a portable lead-acid battery with a weight of 2.5kg. There are four batteries included with the UPS.
In terms of environmental considerations, the UPS is compliant with the RoHS directive (EU Directive 2011/65/EU). It has no specific environmental declaration required. The dimensions of the UPS are 144mm (width) x 228mm (height) x 356mm (depth/length), and it weighs 9.3kg.
The package contains one unit of the UPS and has dimensions of 240mm (width) x 330mm (height) x 436mm (depth/length), with a gross weight of 10.3kg.
The ABB UPS is accompanied by the following documents: Declaration of Conformity - CE (4NWD003869), Environmental Information (no declaration needed), Instructions and Manuals (4NWD003883_EN), and RoHS Information (4NWD003869).